With Ubisoft giving Far Cry fans worldwide a taste of Far Cry 6, it would be a sin not to talk about the preview of the upcoming game.
Many thanks to Ubisoft for letting us preview the gameplay features and mechanics of Far Cry 6. You can watch some of the cool highlights that we put together here:
The world of Yara
Far Cry 6 takes place in Yara, an isolated nation located in the heart of the Caribbean. Inspired by Cuba from real life, Yara is the franchise's more ambitious open world yet. Yara is a dictatorship ruled by El Presidente Antón Castillo.
The world of Yara is crafted to immerse the player in the feeling that they are exploring a country instead of just a single region. There is a diverse range of landscapes and environments across Yara, from jungles, beaches and swamps to villages, towns and cities. Guerilla military personnel, citizens and non-combatants on top of the island's wildlife help turn Yara into a living, breathing world.
Players explore Yara through the shoes of Dani Rojas. Players can pick the gender of Dani, a Yaran who dropped out of the military and rises up to fight Antón. Early on, Dani will encounter Clara Garcia, leader of the revolutionary group Libertad and her mentor, Juan Cortez who also acts as spymaster.
Guerilla gameplay
In Far Cry 6, players will take on Antón and his force guerilla-style. Players are always outnumbered and outgunned. Thus, to even the odds, you have to make the enemy feel like there is a thousand of you even though there is just one Guerilla.
As a result, guerilla camps, where players can prepare for their upcoming battles, are hidden all across the Yaran landscape. The guerilla makes use of many hidden paths around the islands to fight against the military. Players may also also find valuable gear, intel and vantage points while navigating new paths.
In addition, a new feature coming to Far Cry 6, is the ability to holster weapons. This will be very useful as a one-man guerilla army as you can interact a lot closer to the world without constant harassment from Antón's soldiers if your weapon is holstered. As long as you do not get too close or enter a restricted area, players should be fine, most of the time.
An interesting idea which the developers use to enrich the guerilla experience is the resolver philosophy. Resolver is a real-life concept that originated from Cuba, which means "to resolve". It is the philosophy of resourcefulness and creativity which many Cubans live by to make the most of what they have as Cuba was largely cut off from the rest of the world for a decade. In-game, the resolver philosophy is taken to another level as this resourcefulness is reflected in some of the gear and weapon options available to the player.
Tools of the trade
Players will have complete freedom to customise their character with every piece of equipment they can find. Be it a stealthy operation or a head-on assault, players will have tonnes of choices to gear themselves up for the task at hand.
Reflecting this freedom is the large roster of weapons. Far Cry 6 boasts over 49 fully customizable military grade weapons, the largest roster of weapons in any Far Cry title thus far. Each weapons is customisable with a lot of different add-ons, such as suppresors, scopes, laser sights and more. Staying true to the resolver philosophy, customisations can also come in the form of DIY modifications, such as explosive arrows and auto pistols
A neat feature from the preview of Far Cry 6 which got us super excited is the resolver weapons. These weapons are crafted from everyday objects such as motorcycle engines, sardine cans, fireworks and even CDs. Nearly anything can be turned into a weapon in this game, and it definitely looks awesome to wield a homemade, crudely put together weapon.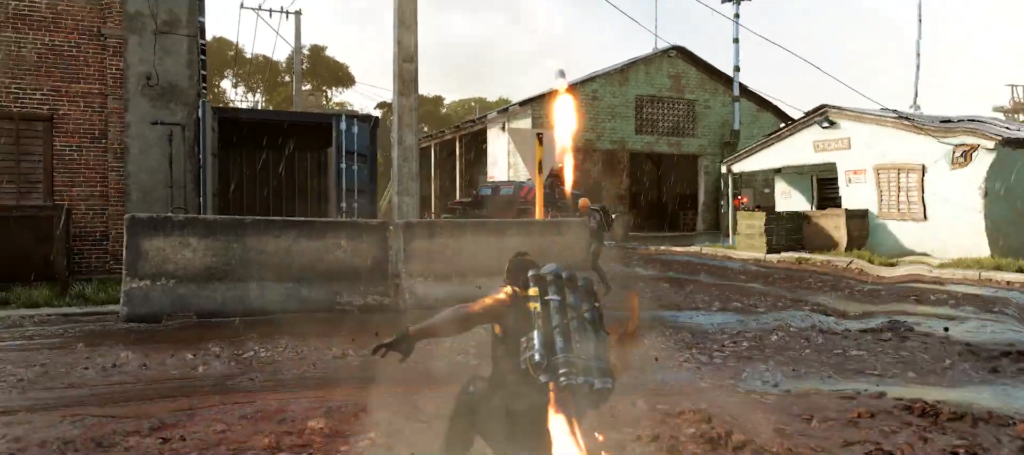 Far Cry 6 also has Supremo Backpacks which will appeal to gamers' power fantasy. These backpacks let players unleash special abilities, such as blasting fire in all directions or rain down rockets on the enemy.
Vehicles and Amigos
Vehicles can also be customised guerilla-style, turning average every day transport into weapons capable of taking on the military. They can be customised both inside and outside and then delivered to almost anywhere around the world. Note that for planes and helicopters, players will need to deal with the military's anti-air weaponry first, or they will be shot down almost instantly.
Besides their rides, players will also have companions in the form of Amigos—the players' animal friends. Honestly, the Amigos are our favourite part of the Far Cry 6 preview. This is because you can pet them. There is Guapo, a soldier-eating crocodile who is also great at navigating through water and Chorizo, an adorable dog who can distract enemy troops for you to take them out.
Final Thoughts
Far Cry 6 looks like a crap ton of fun. We loved the resolver weapons and customisation. The world looks really immersive and we cannot wait to get our feet into it. Last but not least, the Amigos are a huge selling point. Who wouldn't want to stage team with a crocodile to take down an oppressive dictatorship?
Far Cry 6 will be available on PS4, PS5, Xbox One, Xbox Series X and S, Stadia and PC via Epic Games Store and Ubisoft Store on October 7th 2021 For more information, farcry.com.