Dorothy is the newest character to be added to SINoALICE Global! Dorothy can now embark on her quest to find her Wizard of Oz in the newly added chapters for Act of Hatred. There will also be new Act of Hatred chapters for Little Mermaid.
Dorothy gets chapters 1 to 4, while Little Mermaid will have chapter 3 (crossover story) and chapter 4.
The STEP Grimoire: Wizard of Oz features Dorothy/Gunner. The usual summons will progress you to the next STEP, and guarantees an SR item on STEP 5. The banner will be available from 24 September 2020 07:00 to 8 October 2020, 05:59 UTC +0.
If you summon the SR weapon Research Syringe, it will unlock the class Dorothy/Gunner! Other SR weapons such as Golden Harp, Golden Staff, and Golden Sword are also available! All characters have their own main story and each class has their own character story.
To celebrate Dorothy arriving to the game, a gift campaign will commence on the global SINoALICE social media accounts where players can participate to earn in-game items. This campaign will be a game centered around her fixation with research and the peculiar. Items players can earn will be based on the total amount of interactions from users on all official social media platforms. The more users participating, the greater the rewards!
10 lucky users who react to this campaign post will win a purification nightmare plush (with carabiner).
The event will run from 25 September 08:00 to 6 October 2020 14:59 UTC +0.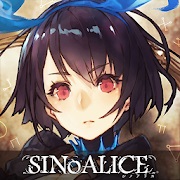 SINoALICE
Android, iOS
Fairy tale characters fight to "revive their author". Enter the dark world of SINoALICE as imagined by Yoko Taro (Drakengard, NieR).