In the aftermath of the Phyrexian invasion, Wizards of the Coast is returning to the Eldraine plane for Wilds of Eldraine. In a world inspired by fairy tales, European folklore and someone's fear of sentient baked goods, this set is sure to appease anyone looking for a more classic fantasy-flavored Magic: The Gathering (MTG).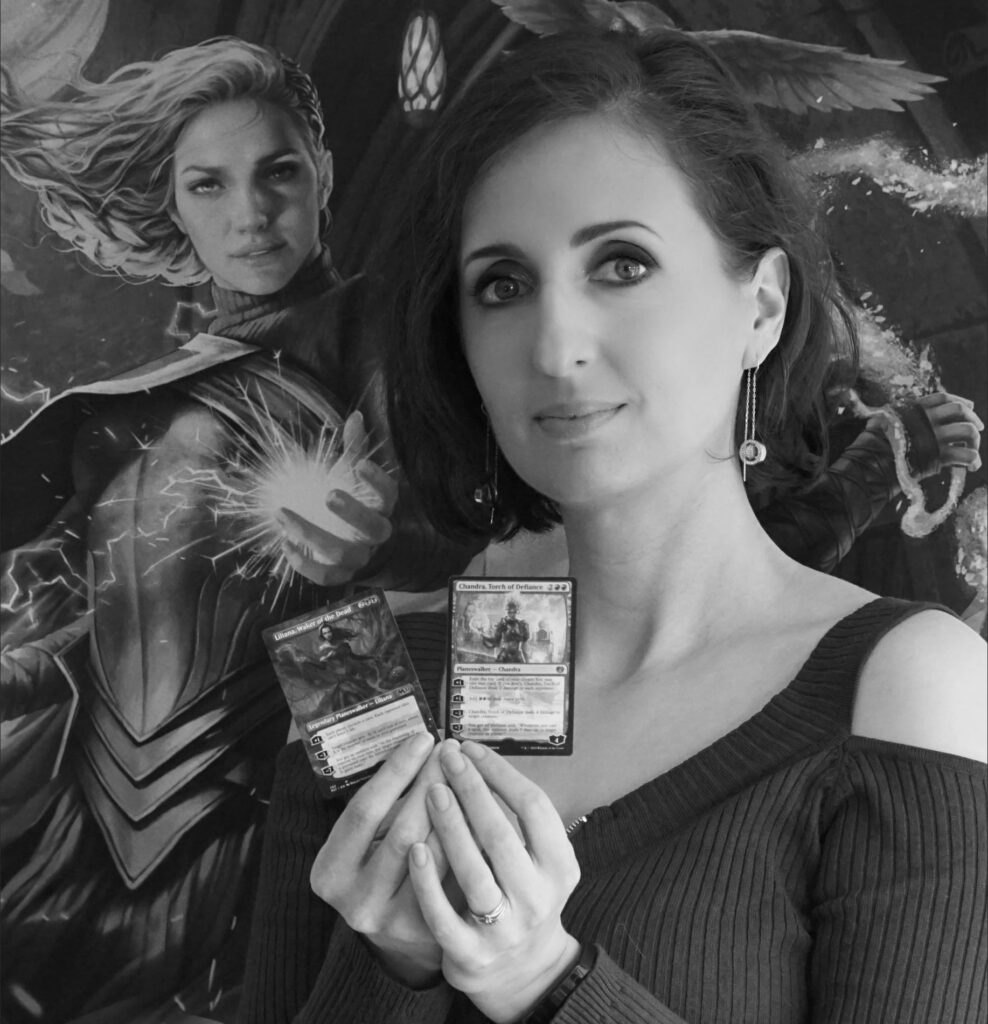 We spoke to Deborah Garcia, Art Director on Wilds of Eldraine and Magali Villenueve, illustrator on the set about how they brought this set to life and the sheer ecstasy of a set that's right in your wheel cage.
How do you guys balance the Dark Fantasy angle as well as the Fairy Tale influences in this set?

Deborah: So I would say that Wilds of Eldraine, it's not necessarily dark fantasy. I wouldn't want to frame it that way exactly. It has many elements of dark fantasy that are integrated throughout the set. But its central story and theme is an adventure tale through the lens of a new character that both leans into storybook and fairy tale nature that Eldraine players really love.
You also get to see the epic nature of the impact of the Phyrexian invasion has had from the previous arc. So we first took a look at what happened to Eldraine during the events of March of the machines and worked to include them at a concept level. Hard to. For example, showing a castle, Ardenvale in ruins or knights that have lost their kingdom and now roam the realms and the wilds. The wicked slumber was a huge event that started during March of the Machines and continues throughout. And well, making sure to design visuals during the concept push and place them strategically throughout the concept push will  connect Wilds of Eldraine to the Phyrexian Invasion.
At a card level, we tried to carve out a space and for the card illustrations that had that darker tone that was made to be more unsettling or, crueler than what we explored in Throne of Eldraine and just returning to the sources of many of the fairy tales was pretty fruitful. Thing is, originally those stories are fairly dark and darker than our current cultural perception.
As for Easter eggs, it's like the Wicked Slumber. It's something that's integrated throughout. Like, the Phyrexian invasion has physically scarred the land and there's the appearance of the Tanglespan, which divides the realms and the wilds. So you'll see like a lot of dangerous environments that are now choked by thorny vines and plants. And then like I said, smaller scale remnants of the invasion, like the nightmare creatures that take the form of Phyrexians like that.
Considering how many recent MTG sets have had new treatments and art directions, can you talk about the challenges of keeping each set feeling new?
Deborah: I can only kind of approach that from the perspective of being handed this set by Andrew Vallas and speaking with him on his visual goals for the set. The amazing quality of the art is due to his vision. To ensure that it's fresh and exciting It's something that art directors, all of us, including myself and Andrew, put into curating the artist pool.
We wanted to land on a lot of artists that were especially great at being creative with light sources and able to paint magical effects in a really enchanting way and elasticity in their ability to paint like physical and facial expression, lots of momentum and movement and like physicality. And while a great deal of our typical pool is capable of this, we're still very careful with assigning. And we also brought in a lot of new artists like Quentin Gleim or Kisung Koh or Julia Griffin. We put a lot of work into making sure that the assignments fit their skill set and that their skill set matches the tone and needs of what Eldraine needed.
And it's also context. Like a lot of what Andrew and I, for instance, were did a lot of brainstorming about, working within the context of fairy tales and also medieval England, things like the sagas, using illuminated manuscript, wood carving, tapestry, even like cake frosting. Magali's, Huntsman's Redemption is probably my favorite saga. And I don't know, that jewel like vibrant quality was just something that we, really aimed for from the start.
What kind of Media would you say you guys used as references for Wilds of Eldraine?
Deborah: So usually when we start a concept push, we will give the artist a list of media comps. Magali, did Andrew share a list of media comps with the Concept Push Group where he provided like different TV shows or films or books as inspiration to get into the zone.
Magali: I gotta say, I don't remember exactly what was invited I think that the general tone that Andrew was looking for and that Deborah explained earlier was really, clear. Plus, we already had the first Eldraine set to work from, which is a good help to understand what the set is gonna be about. But in this case, we had to add the the darker touch to the original work. As far as I'm concerned, I would tend to say that the Eldraine set was pretty close to references I already had.
When I was a child, I remember I had this fairy tale illustrated book of the Andersen Tales. And I remember that it was illustrated in a really peculiar way.
That is, it really didn't look like children book at all that, I mean, that it was, it had such a darker approach than what you could expect from, for a fairy tale. But it really left an impact on me and probably on the way I always imagined a fairy tale would look like. And I put a good deal of that into Eldraine, to be honest.  If I could give a comparison. And it was an inspiration I used a lot when I worked on the concept push.
The French illustrator, Gustave Dore, who was an illustrator in the 19th century. And he illustrated a lot of fairy tales too. But he has a really dark and realistic approach that is being able to express both the magic of a tale, but also all the different emotions they bring.
I mean, they're not just simple stories for kids. There is much more than the about them. And that was really interesting to try to do the same thing with Eldraine, to bring something more to something everybody knows.
What would you say are your favorite cards from the set?
Magali: As far as I'm concerned, I of course, I can mainly talk about the visual side. I'm only a baby MTG player so let's consider that all things about the game itself is put aside as far as I'm concerned, if I had to choose a card from a fellow illustrator I would say I was really impressed by the Werefox Bodyguard by Nestor Ossandon. Then I really loved the The Werefoxes during the concept push phase and I was really looking forward to seeing to seeing them in the game I think he really did a great job and I gotta say that I really had a love at first sight thing with the Saga by Julia Metzger.
Both cards show how incredibly interesting Eldraine is as far as art is concerned. You can have, I mean, both cards have very different styles, but they still have the same  atmosphere. And I really think that Eldraine for that is really rich material to work from.
Deborah: That card is the Princess Takes Flight. Yes, I agree. I commissioned that card and it was amazing seeing it come to life. For sure. If I could pick my own, probably my very favorite card is Valera Lutfullina's Ego Drain. And it's a High Fae like with their arms across a man's face, like  mentally pulling him apart. It really lands on that sense of texture and crispness that I wanted to see. And it has really stark colors and really striking contrast to me. It really lands completely in all three of the tones, which is like whimsy, darkness and enchantment. So that's my favorite for sure.
What would you say are the biggest differences between working with MTG versus other IPs?
Magali: Well, I would say that with Magic, there is a big art legacy. And whenever I'm working on concept art for the game or, well, one of my main preoccupations is to stay true to this legacy and to be worthy of this legacy.
I can say that not all IPs have that. I mean, not all IPs have seen so many incredible and different artists produce incredible pieces of art through decades, because we're talking about decades with a steady evolution through the years and the different artistic movements in fantasy illustration, because magic also evolves with its time.
So in that, magic is a pretty unique case in my career, I would say. And that's probably the reason, the No. 1 reason why it's so interesting to work on, as far as I'm concerned. It's always different and it's always in movement.
Deborah: From my perspective as an art director, I've always worked in cards. So I can't really say how, besides what Magali has so elegantly said and Magic's long art legacy coming from, for instance, I came from a smaller studio before that also commissioned card art, mostly for established IPs.
Part of producing art and working with artists for Magic is needing to really understand its lore and its purpose and its history. It has such an incredibly long history that you always have to keep aware of with anything new that's made. To not overstep or recycle. Keeping things new and fresh and interesting and fun to work on and fun to paint is big goal in mind that all the art directors have. Certainly.
Who would you say are your big artistic inspirations? What do you guys look at to get into the groove for designing something like Wilds of Eldraine?
Magali: Well, with no hesitation, I would answer Old stuff. Well, oh, not really old, because it doesn't have to be old, but I would say rather classical stuff. And I love really different types of classical artists from very different horizons.
So, I could drop names like the Caravaggio and or John William Waterhouse or Gustav Klimt or Frank Dixie, Alex Venezia, Bouguereau, et cetera. I also have like more, I would say surprising, maybe direct influences and especially two artists that were really, that really was a starting point for me, namely Glen Keane and Katie Zielinski. They were both Disney animators actually back in the 90s, and they worked on the some of the most memorable Disney movies, in my opinion, of course.
Thanks to them, because I am completely self taught. So I Learned everything through the artist I loved. And they were the people, the artist who inspired me to, you know, for magic, I am really known for my humanoids representations in general. That's because from a really early age, I had a really, I was really drawn to that. And that's no surprise that I really, that I loved Disney animators so much because they were all about drawing people and making them move and making them look believable and expressive and on. So they, they were my really first inspiration sources. And after that came more complete works such as paintings and Italian paintings and Pre Raphaelites paintings, etc.
Deborah: Oh, that's so wonderful. Immediately made me think of Eyevind Earle, which is one of my very loved artists, also a Disney painter, probably most famous for his work on Sleeping Beauty. Oh, especially backgrounds. Oh, I just love the way he carves out painting on like pitch black backgrounds I went to the Guillermo Del Toro exhibit in, I think, 2017 and saw a lot of his original Eyevind Earle there. And they were, oh, outstanding and breathtaking and so small. It's amazing how you imagine them as being massive paintings, but oftentimes they're work assets. So they're quite small.
For me, for it, I was thinking about this question in context to wilds of Eldraine. So, in, in that direction, I was thinking about the work of Justin Gerard and Annie Stegg and Iris Compiet. And like Brian Fraud, a lot of that like earthen and textual work but personally also as an illustrator and art director, a lot of the Golden Age illustrators like Leyendecker, Howard Pile, anything that was like that type of painting that had a momentum to it that always looked like it was moving. Leyendecker especially. Definitely. And like more modern artists, I love James Jean. He's James Jean was who has inspired me to pursue art from when I was a teenager.
Speaking of Magali's interests, it feels like you're really at home with Eldraine's motifs. Could you talk about using your history with Dark Fantasy for Wilds of Eldraine?
Magali:
For Eriette There is more to her design than there is. It's pretty obvious, but it's important. The roses and thorns motifs everywhere in her card art. It's in the lace on her sleeve, the gold lining on her dress, even the carvings on her throne. It's a very fairy tale evocative symbol. First, of course, and also it's a perfect mix of beauty and danger, just as Eriette should be, So it was really suitable for her. And I gotta say that you were talking about the general atmosphere of the sets. And yes, Eldraine really did feel like home for me.
I think it's probably one of the MTG sets that is the closest to my personality as an illustrator, precisely because of the what we could call the darker fantasy feel with this touch of magic. I have to say that I probably spent more time than necessary working on the cards such as Eriette or the the saga, the Huntsman Saga and the others, because I really didn't want it to end. I could really spend my whole career on Eldraine, I think.
Did that lead to any personal goals with the Eldraine set?
Magali: I really was hoping I would be commission one of the cards for the Beauty and the Beast, a green white archetype. This fairy tale has a very special meaning for me as beauty and the beasts movie, back to the 90s again, you know, the Disney Beauty and the Beast movie was actually the reason why I started drawing at all. And and I think that after that, I've been haunted by this story in all its different adaptations and forms since then.
So I have a card in this archetype. It's the Syr Armont the Redeemer card. So it is an achievement for me because it's like I went full circle from the tiny Magali in her child bedroom, and drawing things like crazy, drawing the beast from Beauty and the Beast and all. And now I'm like professionally doing something related to that story I love so much.
With the return to Eldraine, we're also getting more Gingerbread people, could you talk about the return of Syr Ginger?
Deborah: So the fan reception to Syr Ginger was what she was first featured in the throne of Eldraine trailer. And the popularity of Gingerbrute was like something we loved seeing that reaction and we wanted to feature her and ginger folk. So giving Syr Ginger a Card in Wilds of Eldraine, bringing back gingerbrute, introducing a new ginger person in the card, Tough Cookie, I think. It was our way of showing some more love for fans of the ginger folk, these fun creatures I don't want to give too much away necessarily, and we don't know a ton about them yet as released. But I think, gosh, should I say Bernard, a card that's featured in the set might have some knowledge, some clues as to how they came to life. And that's all I'll say for that for now.
But they're fun, they're cool I commissioned the Syr Ginger Card and that was a huge delight. And I like laughed the whole like some, I love when a sketch, when sketches come in and I laugh because it really nails like what we were going for. The humor, the delight, the expression and the physicality of Eldraine. So I understand the hype for sure.
Finally, what sort of advice would you have for artists trying to break into your field?
Magali: I would say that this question is becoming really important these days. And what I would say, first of all, and mainly, if you want to do that job, if you want to be an illustrator, an artist, whatever, I would say do it for the good reason.
In my opinion, being an illustrator is not about any kind of fame. If you're looking for fame, it's probably not a good choice, I would say, or wanting to produce dozens of pieces, no matter the means just to make money. That's also really poor motivation. I would say. I would say work, of course, to hone your skills so you can be proud of yourself.
It's really important to keep on moving, to be happy with what you do, or at least learn how to be happy with what you do. And also to show the audience who you really are and have no fear if your style is weird or different, or even not perfect.
When I started as a Magic illustrator, I mean, if you look at my very first cads, even I, sometimes I'm halfway between laughing or crying. I don't know exactly what to think, but it's so different from what I am able to do right now. But I think that even if my style was not perfect back then and even if it's not perfect today, if you put your soul into what you do, if your art has a soul, then there is a place for you.
But I also think it's really not an easy job. Of course, like all the jobs in the world, it has its toughest parts and all. And I think the main challenge as an illustrator is to keep on finding inspiration and to stay motivated. And that's also why I think that really aiming at improving and wanting to be better and not trying to find shortcuts for a result is so important because that's what makes you grow as a person too.
Deborah: There truly is no fast track to making art for something like Magic or concept work in film or just being a fantasy illustrator. Getting into this kind of illustration and artwork. It takes a tremendous amount of work. Being a part of your community is very important. Like understanding the work that's coming up around you, that's being produced by your fellow artists. The history of art in your chosen field. Fantasy art has its own history and its own giants.
I studied illustration and work in illustration. And as a as an art director, one of my favorite things to do was portfolio reviews from when I was in school to reviewing portfolios at conventions. And that really built up into becoming an art director, that guidance and talking to artists about how to build their portfolios.
For artists coming up, I think it's besides working hard, developing your style, communicating with your community seeking out portfolio reviews, building one's portfolio to reflect the kind of work that they would want to do is really key to finding work and being seen in the industry, making yourself available to Art directors by attending conventions and making making your portfolio accessible.
I know I spend a lot of time scouting online and looking through online portfolios and attending conventions to look through portfolios and getting, grabbing business cards. So really putting yourself out there is pretty important. Even the greatest giants in the industry are going to conventions and sharing their work and making themselves visible.
Wilds of Eldraine releases September 8th, and features the works of Magali and many more artists to bring to life a world inspired by fairy tales and medieval Europe. Given the prominence of fairy tales in pop culture, it's cool seeing just how the team drew on influences to make the themes both familiar,but also unique.
Our thanks to Deborah and Magali for taking the time to talk all things MTG with us, and Wizards of the Coast for the opportunity to talk to such high caliber talents. Don't forget to also check out our card preview for the upcoming set, which features an interesting artifact for your collection.
---
Check This Out Next
---