Cookie Run Kingdom has unveiled the latest information about a small Halloween update that will premiere on the 28th of October right before the day itself.
The update's content will come in the form of a new character and new costumes.
New Cookie: Pumpkin Pie Cookie
The Cookie Run Kingdom Halloween festivities begin with the magical Pumpkin Pie Cookie will be brought to life by English voice actor, Suzie Yeung. Voice actors Garyung Kim and Kaede Hondo will voice Pumpkin Pie Cookie in the Korean and Japanese versions respectively.
Pumpkin Pie Cookie is the 62nd addition to the Cookie Kingdom and she will leave players wondering if she's truly a Cookie or a paranormal phenomenon. Made from a pumpkin and born in the garden of an abandoned house, Pumpkin Pie Cookie joins the battle just in time for the spookiest time of the year. She uses her pie throwing skills and tattered doll's help to attack her opponents.
As with the other playable cookies, players can obtain Pumpkin Pie Cookie through the game's Gacha feature or by collecting soul stones. She is a magic-based cookie, meaning that she naturally stands in the middle row.
Her attack seems to involve summoning pumpkin-themed monsters to attack enemies. We don't know exactly how effective this will be in PvP or PvE but we'll see soon enough.
I really like the gothic lolita design she has going on, it's very cute and fits with Halloween. Let's hope I can get some good rolls for her.
We've even made a new guide for using Pumpkin Pie Cookie, check it out!
Cookie Costumes 
The latest update reveals 47 different outfits including limited-time Halloween-themed costumes for GingerBrave, Fig Cookie, Madeleine Cookie, Latte Cookie, and Strawberry Crepe Cookie. Players can acquire the limited-time costumes through the collection of Rainbow Cubes earned through various game challenges or purchased at the in-game Shop.
This will be the first time that the Cookie Run Kingdom has released new themed costumes for existing cookies and it would be cool for them to continue baking more for future events or festivities.
I must say, while all of these new costumes look great, the idea of GingerBrave actually wearing clothes might be the scariest idea of all of them.
Cookie Run Kingdom is available for mobile devices.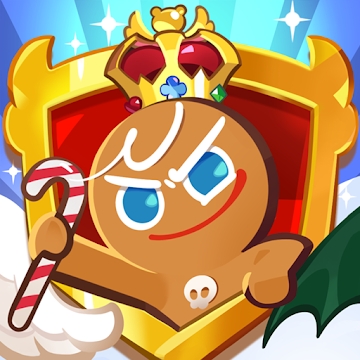 Cookie Run: Kingdom
Android, iOS
Build your dream Cookie Kingdom and reclaim the land lost against the evil that lingers in the shadows. Fresh out of the oven and from the Cookie Run: OvenBreak creators comes Cookie Run: Kingdom! Build a delectable Kingdom while battling against evil dessert monsters! Team up with friends in Guild Battles! Fight alongside other Guild Members and defeat new rivals. Battle against powerful enemies to level up together. Earn soul stones, guild level-up items, guild treasures, and more!
---
Check This Out Next
---