The past weekend, Arknights Global had livestreams for their first anniversary for the English and Japan side, while Korea had a video premiere. While the English stream is presently unavailable, you can peruse the Korean and Japanese ones to check out their stats:
First off, Chapter 7 of the main story, the Birth of Tragedy, will go live on 30 December. The official English account warns that there will be untranslated text which will be fixed in the mandatory January 2021 update.
With the next update, there will also be:
Refresh of double paid Originite Prime
5-star Guard, Savage

For those who already have Savage, this will raise her Potential by one

Paid packs

Bundle containing Originite, 1x 10 Headhunting Ticket, variety of supplies
Bundle with 6-star Operator Selector and 1x 10 Headhunting Ticket

All Operators up to Blaze release

Bloodline of Combat skins

15OP: Midnight,  GreyThroat
18OP: Executor, Lappland, Saria, Angelina
Free: Beagle

New Furniture set
Cremation Last Wish 

Limited

Headhunting

6-star Operators: Specialist Weedy (not limited), Sniper W (limited)
5-star Operator: Vanguard Elysium (not limited)

This banner will have the "spark" system, where 300 pulls will allow you to redeem a banner 6-star Operator

1x 10 Limited Headhunting Ticket
New Operator, 1-star Specialist Robot, THRM-EX
New skin for Amiya
Log in bonuses

3000x Orundum, 3x D32 Steel
3x Bipolar Nanoflake, 30x Strategic Battle Record
3x Polymerization Preparation, 60,000x LMD

Special event with limited supplies in January
To cap off the first anniversary for Arknights Global, here's an animated short from Yostar Pictures: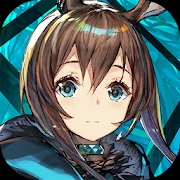 Arknights Global
Android, iOS
Take on the role of a key member of Rhodes Island, a pharmaceutical company that fights both a deadly infection and the unrest it leaves in its wake. Together with your leader Amiya, you'll recruit Operators, train them, then assign them to various operations to protect the innocent and resist those who would thrust the world into turmoil. Your tactics will determine the future of Rhodes Island. Fight for the Dawn!