Warcraft Arclight Rumble is the latest entry in the Warcraft series and the first RTS game since Warcraft 3. This is very different games from the classic strategy games and World of Warcraft, a light-hearted mobile game where you control miniatures of the various Azeroth characters to duke it out. So how does it turn out?
It should be noted that I haven't played a Warcraft game (or Clash Royale for that matter) before however, the developer says that you don't need to have prior knowledge of the series in order to enjoy this game so I'm going to hold them to that.
I'll also note that in order to unlock new levels, you have to pay with in-game coins. You also have to unlock enough skulls to get certain modes which you get by getting achievements through further play. Getting skulls can be a bit of a pain if you just want to go in and play PvP or Raid battles, but I suppose it's a good way to get people to try out the PvE which is supposed to be the focus of the game.
The Story
In taverns around the land of Azeroth, there's a hit new game being played, Arclight Rumble. In this game, miniatures based on famous heroes are made with Arclight Gnomish technology and sent to fight against each other.
It is an interesting concept that shows a more lighthearted side to the Warcraft universe however there isn't really much story to the game beyond that. The game has you jump from the map to the map fighting new enemies and that's about it. That's alright for the most part but if you're a more hardcore Warcraft lore hound, this game won't do a lot for you.
That being said, the game has plenty of references and callbacks to World of Warcraft and its many expansions that will likely mean more to long-time fans of the game.
The Graphics
The game has a cartooney article that looks bright and vibrant on a smaller screen. The menus and sound effects likewise have a good weight to them which gives the game a certain amount of polish compared to other mobile titles.
There are a couple of issues with the performance of the menus, however. The game has fairly long load times when starting up and between battles. It also doesn't let you zoom out on the overworld map which, while not game-breaking can be frustrating considering how big it is.
The Gameplay
Arclight Rumble has classic RTS gameplay. The developers say it's less tower defense and more tower offense you set down your different troops which waddle towards the enemies and checkpoints. Conquer a checkpoint and you can send units from here.
To put down units you need to use gold which you get overtime however you can get some more quickly by putting down a Kobold unit to mine some on the field. This is pretty important as getting units on the map faster could mean the difference between victory and failure.
Units are split between five tribes: Alliance, Horde, Undead, Black Rock, and Beast however outside of aesthetics there is not much difference between them (although certain stat buffing items can be used tribe wide). The importance of a unit comes with their battle typing: melee, flying, or ranged as each one specializes if defeating the other in a Fire Emblem style weapons triangle.
Right from the start, taking time to think about what unit you're putting down does matter. Spamming down minis willy nilly will almost always lead to my death even in the first world of Elwynn Forest. The game encourages you to take time, look at the enemies you're going up against, and really think about what unit you want next to counter them. It almost makes Arclight seem more like a puzzle game and well you crack your enemy's strategy, it felt legitimately satisfying.
Upgrading Your Troops
Completing a map will give exp to one of your units. This will raise their levels which in turn will give them greater attack stats and health. The fact that clearing a map only gives exp to one unit means it can take a while to raise your troops to higher levels. This can make exp grinding a pain, especially in later levels when the difficulty racks up. As such the best way to grind is with Quest mode (see below)
The significant feature of the game is that your unit will also have a commanding general, who is usually a more well-known figure in Azeroth's world. On the map, these are usually the most powerful unit in your army. Each leader also has one leader ability that will affect offer units in your army while they are on the battlefield. For example, when Rend is in play, it costs one less piece of gold to summon flying units.
Choosing the right leader and building an army that allows the full potential of their ability is key to winning a battle as you get through the harder areas of the game. Each unit also has 3 passive abilities called 'talents' which can be unlocked later in the game. These further augment how a unit functions in battle adding to the customization. Now if only they weren't so expensive, seriously they can cost more than a new character in the store.
Extra Modes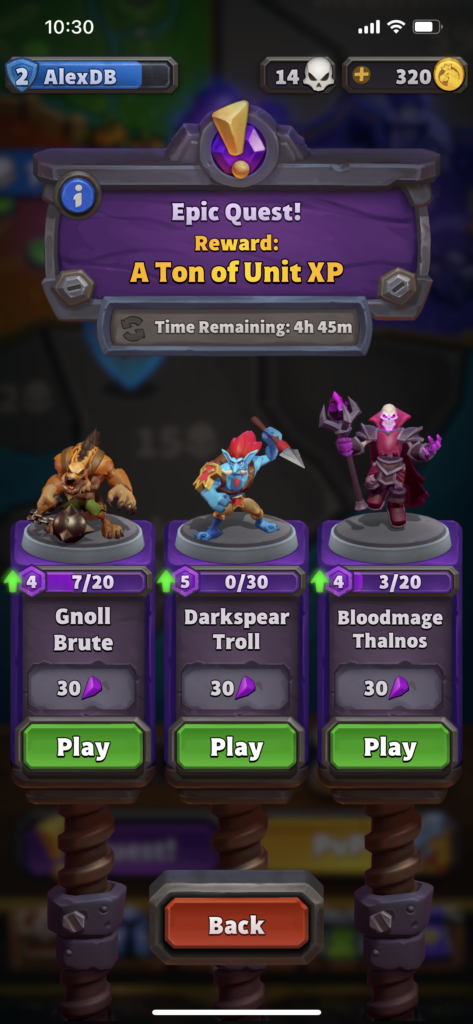 Aside from the main PvE mode, you can also do quests, which involve playing old maps to gain exp for specific units. This is by far the best way to gain exp as at least you can choose which unit will be getting the experience boost.
There is also a Dungeon mode, which is a 3-map gauntlet with a single army, a survival mode if you will. It's quite fun and pretty challenging. For every map, you get to pick one new relic. The treasure could potentially provide tribe-wide buffs, to increase certain types of troops' speed or health. After each successful dungeon is cleared, the dungeon will level up. Dungeons will only be available for a certain amount of time (alpha is 3 days). This is the only place for you to earn a resource called Valor, which can be used to upgrade your army through your leader. 
There is also a PvP mode you can unlock which allows you to take on other players through the online servers. The PvP connection worked fairly smoothly and it is more challenging than the PvE due to playing against another person with more unpredictable strategies. You don't get a lot for playing PvP though, just more exp, which helps with PvE but some people may want more rewards.
The Monetization
There is no gacha system in Warcraft Arclight Rumble. There's a shop where you can unlock miniatures either by buying them with coins earned by playing games or by paying real-world money to get the in-game coins.
That being said the shop does an interesting grid system where you have 9 items at one time. It will reset once you buy something. This means that if you want a particular item, you'll have to pray to the RNG gods that it appears.
Final Thoughts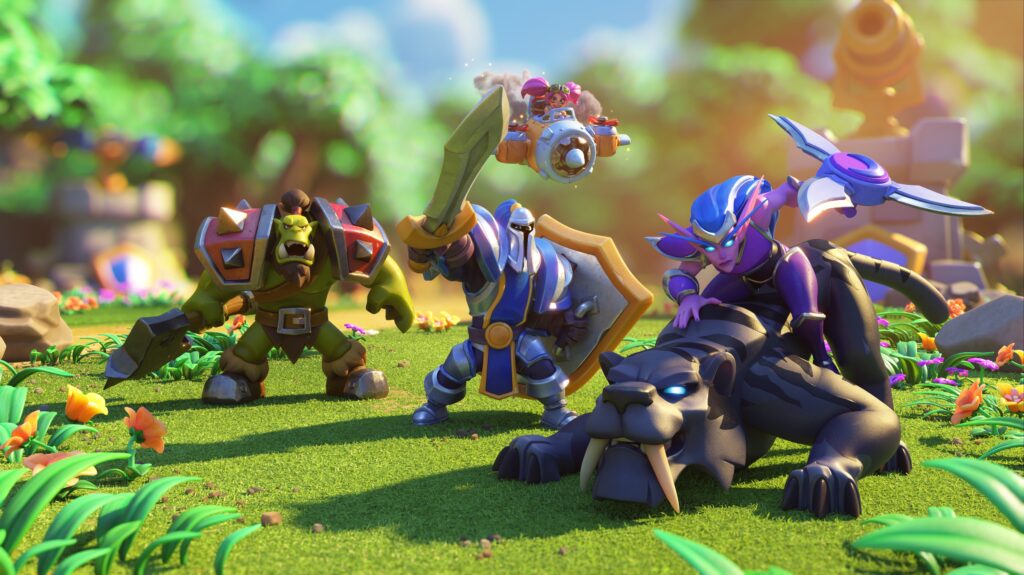 Warcraft Arclight Rumble is a fun and accessible RTS game that is well-fitted for mobile devices. The graphics are good, the gameplay is engaging with a lot of customization, and the absence of gacha is very much appreciated.
The biggest flaw of the game is how stingy is it with the exp, making it feel like a chore grinding in higher levels. It would be nice if there was more of a story or more unique characters from WoW. For now, it's a fun tower offense with a Warcraft coat of paint, one that is genuinely fun, but not a lot more than that. The game has a lot of potential, it's up to the developers to bring out that potential going forward.
Warcraft Arclight Rumble will be available for mobile devices later this year. We are grateful for the opportunity to try out the Alpha. For more information on the game, check out our interview with the game's developers.
Disclaimer: Whatever impression we have of the Alpha version of Warcraft Arclight Rumble, might not be the same as when the game launches.
---
Check This Out Next
---