Warcraft Arclight Rumble, or WAR for short, has been announced, bringing the world of Warcraft to mobile devices.
We got the chance to speak with two people on the development team at Blizzard. Art director Jeremy Collins and Senior Software Engineer Andy Lim were nice enough to tell everything fans can expect in this latest Warcraft installment.
What is Warcraft Arclight Rumble
Warcraft Arclight Rumble is a real-time strategy game being released for mobile devices. Here players take control of miniatures of various Warcraft heroes and monsters. The miniatures are filled with a substance called "arclight" which animates them and allows them to do battle in an arcade-style arena.
According to Jeremy and Andy, this is a lighthearted pinball-like game that the warriors of Azaroth play in the taverns for fun, similar to Hearthstone.
"You toss these minis onto the map, they come to life, and they're using their abilities to fight each other. This story will take you across the world of Azeroth, we start you off at Elwin, to Westfall, Duskwood, and other many other familiar locations."
Mini Figure Mayhem
The first notable thing about WAR is the use of cartoon-like figures as opposed to the more traditional warcraft designs. There will be 60 minis in total at the launch of the game to choose for. We thought they kind of looked like Amiibo or Skylanders. According to Collins though, they decided on figures due to the need to make the characters stand out more on the smaller screens of phones.
"It's a mobile game and that comes with a bunch of challenges, especially with the RTS camera angle where we have a top-down view of the characters. That means that you basically only see the top third of them so we have to be really intentional about the silhouette that each model has, about the color breakups that they have. The player needs to be able to see the character and go "Oh grey and orange, that's gonna be dark iron miner, or "That's a big red unit, oh that's gotta be a drake". 
So that's where it started and the toys basically evolve into it. We got into the idea of the printing furnace at the bottom of our game machine making minis and we just took off with a bunch of references to arcades, and pinball. We really like the idea that this is the game played in taverns underneath the Heartstone Areas you can go down, take that old musty cloth from the arcade rumble game, and just like put your coin and start playing. We are really excited about the theme of the game."
Choose From Five Families
In WAR, you get to choose between five different families that characters come from: The Alliance, The Horde, Black Rock, The Undead, and Beasts; an army made up of the many monsters found through Azeroth.
The game does not force you to only pick one faction, rather you can buy and recruit characters from all five to better customize your army. Each unit is also either a ranged, melee, or flying unit which are super effective against each other in a triangle rock-paper-scissors system.
"We wanted to make we have a wide variety of units. We didn't want to go in with just Alliance and Horde, we wanted to make sure there's a good balance of representation from across the Warcraft universe.
You might think "ooh, my leader unit is going to be Gromm, but I want to be able to pick other units from other families and build my own vision of what a strong army is."
It will primarily focus on PvE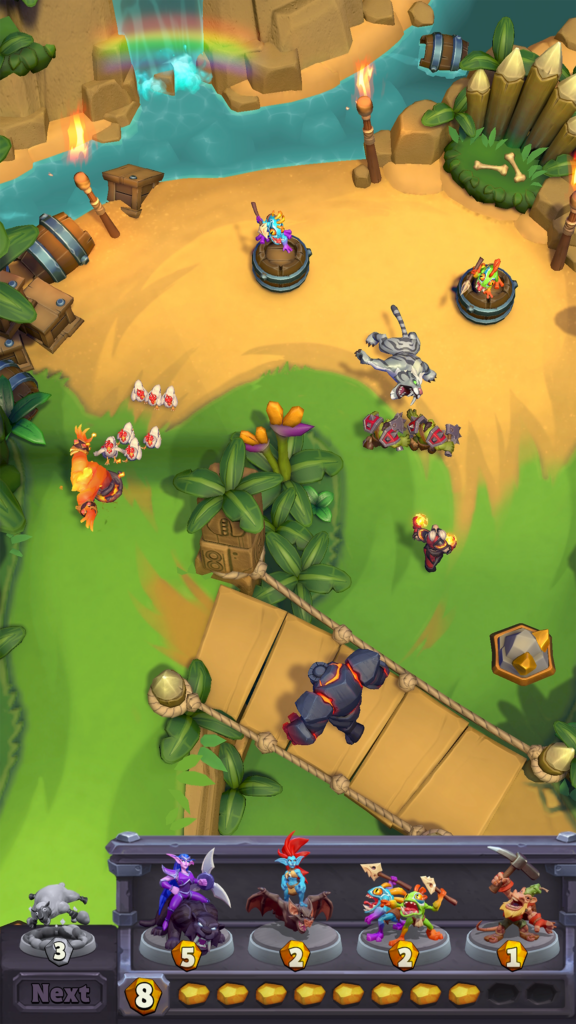 The game will primarily focus on single-player PvE with 70 maps at launch, each having a different boss, and each of them having a different mechanic that you'll have to workaround.
"The fun of the game is figuring out how to build your army around a couple of core units on each map and it's gonna change per map. Not each boss is gonna do the same thing. You have to adapt and experiment with your army."
That being said, there will still be a PvP mode in which will see players battle it out over who has the superior army. The winner will gain experience which can be used to strengthen units and recruit more of them.
How is it different from Clash Royal?
One of the first things most people probably thought when seeing Arclight Rumble is how much it reminds them of Clash Royal. With the cartoon-like designs and gameplay, they seem pretty similar.
The devs were able to tell us what makes the game stand apart from Clash and others in the genre.
"There are definitely some similarities for sure, we played a ton of a clash royal but I think WAR has a lot to offer in terms of differences. We have the concept of leaders in our game. Leaders are units that exist in each of the five families. We have beasts, black rock, horde, alliance, and undead in the game. Each of those factions has different leaders in the game. You actually build an army around those leaders. 
We also have high ground and low ground in our game. We have a separation between ranged characters, melee characters, and siege characters. If you have a ranged character, you can shoot from the high ground to the low ground. There is a distinct height advantage to being on high ground as opposed to low ground."
No loot boxes, gacha, or NFTs
Despite being a hero collector, it has been confirmed that Warcraft Arclight Rumble is not a gacha game and will not have loot boxes. Players will be able to purchase any unit they choose either with their own money or by saving up in-game units.
"There's no loot box mechanics or anything like that in the game. If you want to purchase a unit, you basically scroll down to the bottom of the store, we have various different bundle sizes, you buy a bundle coin and spend it exactly on what you want because it is already in your store and you can buy it right then. So there's no conjecture on what you're getting at the end of the day."
They have also confirmed that there will be no NFTs in the game. We didn't expect that there would be, but it's good to know that there won't.
Esports and Other Platforms?
Despite the recent news that Diablo Immortal would be making its way off phones, they couldn't tell us if WAR would be coming to other consoles. They also couldn't tell us if they would develop an esports scene for the game however considering the PvE focus, I doubt it was a priority.
Perhaps both of these could come eventually but they won't be there at launch.
Hopefully, this has given you more insight into Warcraft Arclight Rumble. What do you think of the game so far? Do you plan on downloading it when it comes out for mobile devices?
To know what we thought of the game, check out our first impressions of Warcraft Arclight Rumble.
---
Check This Out Next
---