After some very limited looks, fans finally got a proper look at fan-favorite boss-turned-playable-character Vergil from the Devil May Cry series. He comes as part of the next-gen Special Edition, but will also be available as DLC for current gen consoles next month.
Vergil has been playable in special editions of the past two mainline Devil May Cry games, as well as the DLC for the less-talked about DmC: Devil May Cry. While his only canon mainstay weapon has been the Yamato, a keepsake from his late Father, the Son of Sparda's movesets have always paid homage to his boss fights from Devil May Cry 3, where he has the Force Edge and Beowulf.
What's New
I'm Vergil, You're Vergil. Are There Any More Vergils I Should Know About?
In Devil May Cry 5, Vergil has lost access to his Devil Trigger. Well, sort of. Hitting his DT button no longer turns you into his sick demon form, designed by Kazuma Kaneko of Shin Megami Tensei fame. Instead, those of you who fought him in DMC 5 may remember his new Doppelganger ability in which a spectral form of his Devil Trigger goes on the offensive for him.
Technically, this isn't entirely new to Vergil. In DmC: Devil May Cry, the Vergil fight there also uses the Doppelganger ability. Similarly, the Doppelganger is also Vergil's Devil Trigger for his playable segments in that game as well.
While both DmC and DMC 3's Doppelganger abilities allowed you to "program" the double, it's unknown if DMC 5 will have the same feature. As is, the Doppelganger can only use Yamato, same as in the boss fight.
I See A Devil Has Awakened Inside You As Well
That being said, it's a shame to waste the sick new look for Vergil's demon form. Instead, this transformation is relegated to the Sin Devil Trigger, which works the same as Dante. You can hold down the DT button to consume your meter, charging the Sin DT meter instead. When it's full, holding down the Sin DT will allow you to access the powerful form.
We don't know if Vergil will have his own equivalent of Quadruple-S, Dante's must-have skill for effective styling using Sin DT. But fingers crossed.
There's also the case of his V transformation, which we're still not quite sure on. Stabbing himself with the Yamato, he releases V and his summons, who clear the screen for you and even get you free health orbs.
What's Returning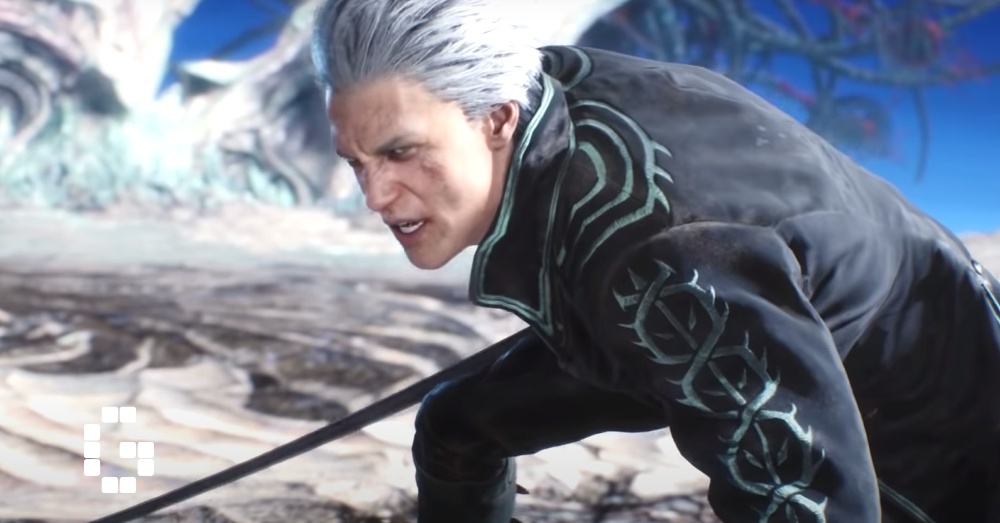 Show Me Your Motivation
Those who played as Vergil in DMC 4: Special Edition will remember the brilliant new mechanic, his Concentration meter. This meter punishes foolish gameplay, whereby you lose it for whiffing attacks, getting hits or using the game's dodge roll.
In exchange though, keeping your Concentration meter high gets you new moves. We don't know if having full concentration still increases your attack range, but the idea of "play like Vergil" is such a cool mechanic that we're glad it's back.
One thing that is new is Vergil's block, which is also tied to his concentration. This gives Vergil his own equivalent to Dante's Royal Guard, which can only mean good things for the Combo MAD community.

Jackpot
Fans hoping Vergil would finally get some new weapons are in for some disappointment. Vergil retains his classic moveset, using Yamato, Beowulf and Force Edge. Technically, the latter is a new weapon called "Mirage Edge" but it behaves functionally similar to Force Edge, with the only difference being that it uses one of Vergil's magical summoned swords.
For those not familiar, Beowulf is Vergil's extreme close-range option, using the gauntlet weapons from DMC 3. In DMC 3 he couldn't charge the gauntlets like Dante could, so it's interesting to see if the developers will implement anything new with them here.
Yamato is Vergil's signature weapon, capable of powerful long-range slashes as well as dimensional "Judgement Cuts". They've also maintained the mechanic from 4 where you can hold the attack button at the end of your combo to let off a Judgement Cut as your combo ender, which should please fans.
As for Mirage Edge, it's always served as a way for Vergil to have a moveset similar to Dante. All your Dante favorites are there such as Stinger and Million Stab. Round Trip is present and accounted for as well, though we don't know if it retains its vacuum properties from 4 when you have Concentration.
Vergil's big finisher, Judgement Cut End, is still in the game as well. We don't know the specific mechanics of getting it out, though if its anything like 4 it probably needs a full Concentration meter. You may know this move from the Vergil Boss fight, where he slashes through space itself in a big bubble around him.

Sworn Through Swords
Vergil's projectiles, the Summoned Swords are also back, though we're not sure how much of the new additions to their kit from DmC are in, such as the ability to teleport to Set Swords. Considering they were good enough to come to DMC 4, we're certainly hopeful.
Naturally, he still has the ability to set his swords around him to increase his damage, as well as use the Blistering Swords to fire off the otherwise-slow projectiles at machine gun speeds. The more advanced Summoned Sword attacks use DT, so you're going to want to make sure you're keeping that meter topped up.

Darkslayer
Vergil's variant of Dante's Trickster, this Style makes up for Vergil's inherent lack of a double jump. Instead, Vergil can "Trick" up or down, depending on his current position. In the air, Tricking up effectively acts as his second jump, and can also be used for combo resets.

I Need More Power
Vergil is possibly one of the most iconic characters to be supported by fan popularity. Despite not having a personality in the original Devil May Cry, his memorable bossfights in 3 and laughably cheesy dialogue has made it so that he's been in every Devil May Cry game outside of 2. Even before he was added in 4, both Nero and Dante were given movesets that paid homage to the Devil In The Blue Coat.
With his appearance in 5, it's cool to see a Vergil that's iterative to the one in 4, who in turn was a reiteration of the one in DmC. It leads to him feeling very familiar, instead of feeling too alien to play because the devs wanted to make him feel fresh.
Devil May Cry V: Special Edition Judgement Cuts its way onto next-gen consoles on launch, and Vergil himself comes to current-gen consoles via DLC December 15th.
---
Source: GameInformer
---
Check This Out Next
---