With a single act of destruction, Sylvanas Windrunner has ripped open the way to the afterlife. Prepare to step into the Shadowlands with the World of Warcraft: Shadowlands Collector's Edition unboxing.
A huge shoutout to our friends from Blizzard for gifting us this wonderful set.
Covenant Sigils
First on the list of goodies are the covenant sigils which are in the form of a set of four-pin collector's set which includes the four orders who rule over the realms of the Shadowlands.
Show your loyalty to either the Kyrian of Bastion, the Necrolords of Maldraxxus, the Night Fae of Ardenweald or the Venthyr of Revendreth by adorning these pins on your backpack, lanyard, or clothing of your choice.
Art of the Shadowlands
Explore the visual development of Azeroth's multifaceted afterlife through this hardcover book, and learn about an aspect of the Warcraft universe that has been little explore, well until now. The artbook consists of concept art of the characters sketches and early environmental design of Shadowlands.
On the cover of the artbook shows a nicely designed patterns as well as the logos of the four orders gives the book a neat touch which fits into the theme of the whole collector's edition set.
Shattered Sky Mousepad
Witness the moment Sylvanas shattered the veil between this life and what lies beyond, changing Azeroth's fate forever, in the form of a neat mousepad! Following the theme of the whole collector's edition set. Why not play World of Warcraft: Shadowlands with this Shadowlands themed mousepad.
Digital Code & Soundtrack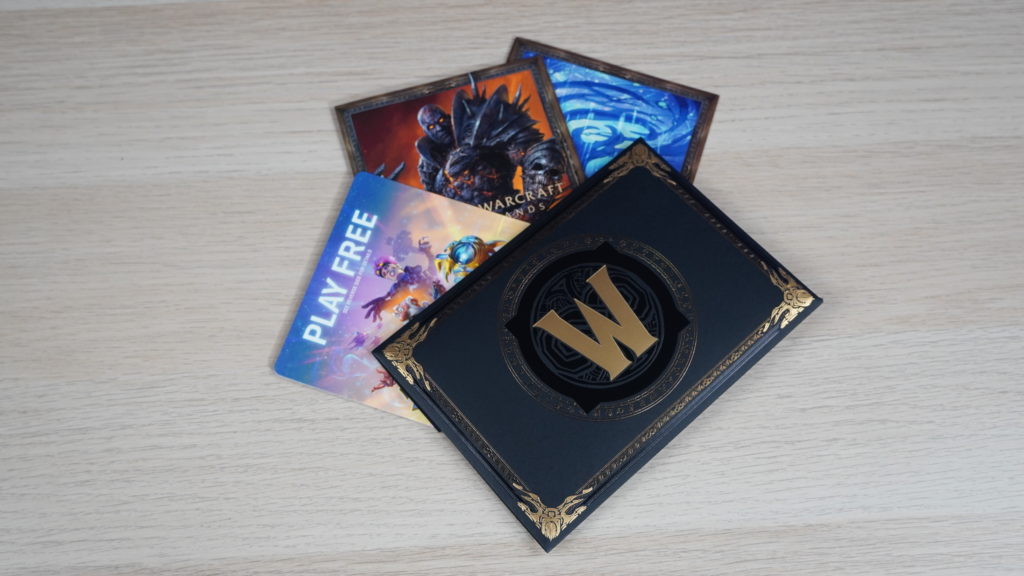 Along with the stirring orchestral pieces from the Shadowlands soundtrack which the perfect mood music to explore the realms beyond the veil comes the digital code for some in game content for those who get the collector's edition.
The in game items contain:
Ensorcelled Everwyrm mount: Set off on your next adventure on a supernatural being of pure anima.
Anima Wyrmling pet: Explore the afterlife alongside your new companion.
Vestments of the Eternal Traveler: Use your Everwyrm to begin a quest for the Vestments of the Eternal Traveler, an all-new transmog set.
Wraithchill cosmetic weapon: Unlock a chilling new cosmetic effect for your weapon. As with other Illusions, Wraithchill can be applied only to certain weapon types.
Eternal Traveler's Hearthstone: Return to your Hearthstone bind location with a reality-bending cosmetic effect.
Shadowlands-Level Character Boost: Instantly boost a single character to be ready for Shadowlands-level content.
For those who are interested in getting the collector's edition for themselves, you can check out the official website for more details.
---
Check This Out Next
---