Square Enix and developer Soleil have revealed new details about their upcoming RPG Valkyrie Elysium including more about its characters, the Einherjar, and its' battle system.
The game is due to launch on the PS4, PS5, and Steam on the 12th of November 2022.
Here is a look at one of the main characters of Valkyrie Elysium.
Armand (voiced by Harry McEntire in English, Natsuki Hanae in Japanese)
"I'm out here looking for something, despite the world being in the state it is."
A male human whom Valkyrie encountered in Midgard. He appears to be searching for something in the collapsing world, despite not knowing exactly what it is he seeks.
We are also introduced to a group of characters in Valkyrie Elysium called the Einherjar, spirits that serve Valkyrie. In this title, the story revolves around the dynamics between Valkyrie and Einherjar. In battle, they fight alongside Valkyrie, and play a supporting role, assisting in combos and imbuing elements while summoned. By using Einherjar skillfully, players can gain an advantage in battle.
Kristoffer (voiced by Cassie Bradley in English, Maaya Uchida in Japanese)
"It is the duty of the strong to look out for those who cannot defend themselves."
An Einherjar specializing in spear combat. Before her death, she was the princess of South Lucarda.
Taika (voiced by Safiyya Ingar in English, Saori Hayami in Japanese)
"It is me, though my mind is utterly lost, crippled by regret."
An Einherjar who wields magic. She was once a Guardian who protected her motherland with magic.
More details of Valkyrie Elysium's battle system have also been revealed.
Summoning Einherjar
The soul gauge will fill up when the player collects items and/or blue souls. Use the energy stored in your soul gauge to summon an Einherjar. When summoned, the Einherjar grants their elemental properties to Valkyrie, strengthening her attacks.
While the Valkyrie is under the effects of an Einherjar's elements, the color of her body will change.
Divine Arts
These are special attacks learned by obtaining scrolls from treasure chests. Once these Divine Arts are equipped, they can be utilized by consuming charge out of the arts gauge, which fills up from items and landing combos. Each Divine Art has an associated element; using these to exploit an enemy's weakness may provide an advantage in battle.
While an Einherjar is summoned, Divine Arts with the same element will be strengthened as well.
Soul Chain
Soul Chain allows for the player to extend a wire to a point in the distance to travel quickly. Not only will this allow the player to go where a simple jump cannot reach, but it can be utilized to quickly move in on an enemy.
Combos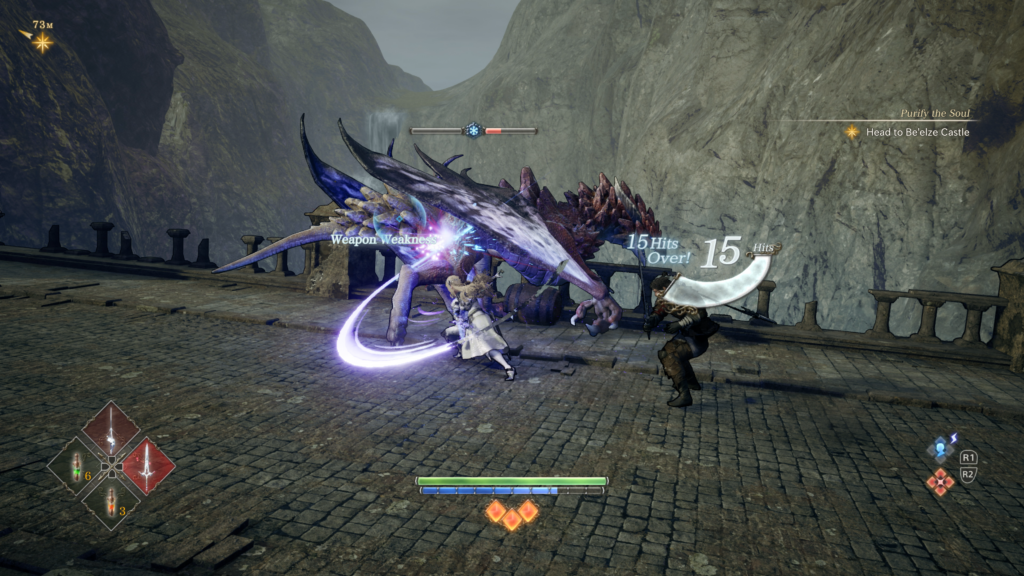 Landing an attack on an enemy will increase the combo gauge; land another attack before the gauge is emptied to maintain the combo. By continuously accumulating combos, the arts gauge will fill up, enabling the player to utilize Divine Arts.
Aerial combos are great for attacking enemies without worrying about their counter-attack, plus there's a better chance of item drops.
Weapons
Up to two weapons can be equipped simultaneously, and they can be swapped depending on the enemies you face or your personal playstyle preference. Players can raise the level of weapons by enhancing them, increasing the attack power, and/or unlocking new attacks. Furthermore, once the weapon reaches a certain level, the player can attach runes to them, which will enhance offensive or defensive power.
Acquiring Skills
Acquiring skills enhances and unlocks Valkyrie's abilities and actions. Various effects, categorized as offensive, defensive, and supportive, can be customized to suit the player's playstyle.
If an enemy's attack is guarded at the right moment, a slow effect occurs and a large number of souls are dropped.
Vingolf
At a training ground called Vingolf, Valkyrie can summon enemies that have been purified in the past and train against them.
---
Check This Out Next
---