With a new banner refresh that will last until 28 April 2022, we have the addition of Yaeno Muteki to the Uma Musume stable.
★3[四白流星の襲]ヤエノムテキ(CV:#日原あゆみ さん)が登場!
先行でのレース運びを得意とし、磨き上げた走りで中距離を差し切る、武の道に通じたウマ娘です!
ガチャで獲得すると今だけ「ヤエノムテキのピース×90」がおまけで付いてきます!#ウマ娘 #ゲームウマ娘 pic.twitter.com/MHDKa675xY

— ウマ娘プロジェクト公式アカウント (@uma_musu) April 19, 2022

Although it does not always happen, the upcoming Champions Meeting serve as an indicator of who will be released, and this time around we are treated Yaeno Muteki, who won the Satsuki Sho, which is also incidentally its first G1 win.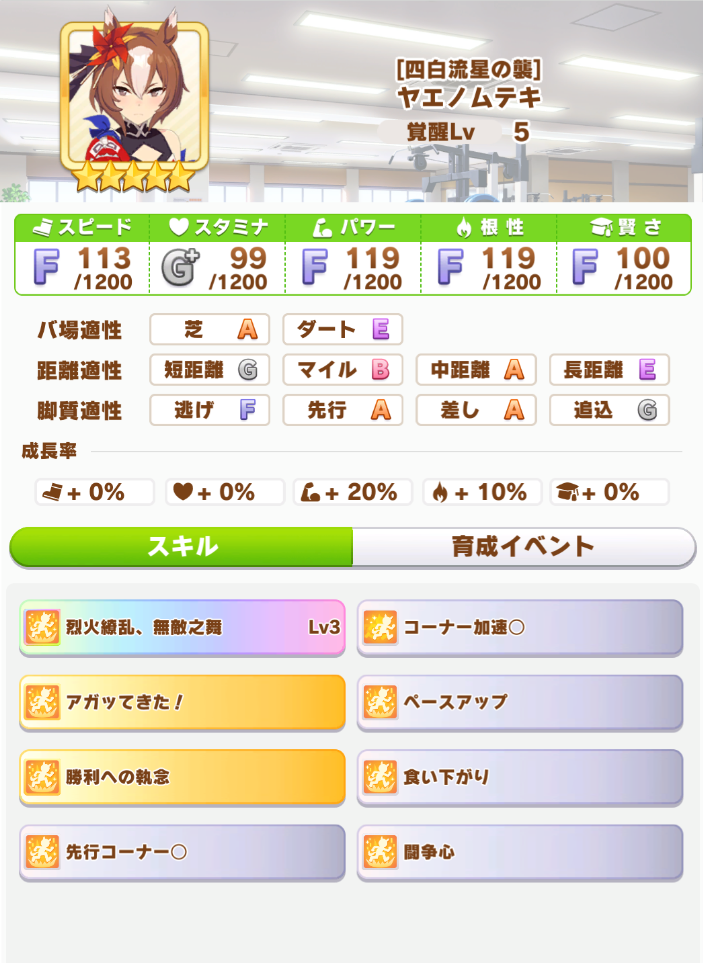 On paper, Yaeno Muteki appears to be adopting the leader strategy as her primary strategy, although you can spec her as a betweener as well. She does her best in medium distances, but with a little work, she can run in mile too. As expected Yaeno Muteki gets Now I'm Pumped! as one of her skills, and is still one of the better mid track speed up abilities still. Yaeno Muteki also gets the upgraded version of Stand Your Ground which is fairly situational, so we are going to have to wait for the numbers that. Cornering abilities are always good to have and she gets two of them. Overall, Yaeno Muteki looks fairly solid but not exactly necessary at this juncture, as there are plenty of alternatives for both leaders and betweeners.
Uma Musume: Pretty Derby is currently available on Android and iOS for mobile, and DMM Games for the PC.