With the new banner refresh that will last until 28 May 2021, we have the addition of Narita Brian to the Uma Musume: Pretty Derby lineup.
Just at a first glance of her distance preference, we have one of the more versatile horse girl yet, and she will be able to deal with just about every type of race with the exception of dirt and short, but even then those are nothing some inheritance factors cannot resolve.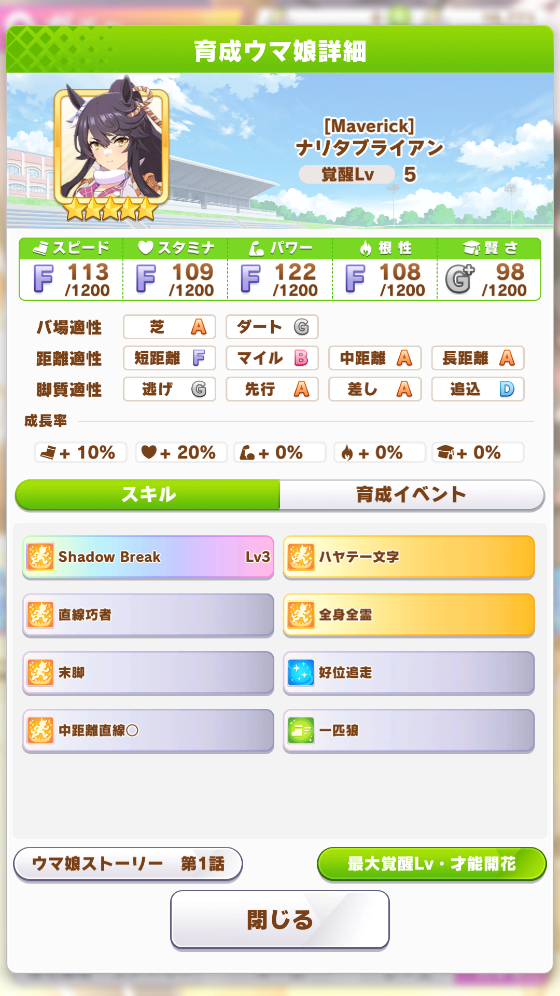 Furthermore, Narita Brian's neutral skillset means that you are able run her efficiently as either a betweener or chaser. With that in mind, that 20% natural gain in stamina means that she is best suited to run in the longer distances, though it also means you can pretty much neglect it in mile and below, while getting just enough to meet the minimum requirements. In summary, Narita Brian is a great addition to the stable if you have the resources to spare.
Meanwhile, Sakura Chiyono O follows up on what the previous banner's SR Zenno Rob Roy, in that they are stamina supports for betweeners. The inclusion of Speed Star makes Sakura Chiyono O a great alternative to Fine Motion, especially if you are training for the longer distances.  However, just like her wiz counterpart, there is a chance that you will get the lower tier version of the skill.
★3 [Maverick]ナリタブライアン(CV:#衣川里佳 さん)が登場!
無双の加速力で中距離や長距離を差し切る、硬派な一匹狼ウマ娘です!
ガチャで獲得すると今だけ「ナリタブライアンのピース×90」がおまけで付いてきます!#ウマ娘 #ゲームウマ娘 pic.twitter.com/IqoqUgFWN1

— ウマ娘プロジェクト公式アカウント (@uma_musu) May 17, 2021
Uma Musume: Pretty Derby is currently available on Android and iOS for mobile, and DMM Games for the PC.