You'd expect ASUS ROG Zephyrus line to be one of the best gaming laptops out there. The latest one sent to us by ASUS ROG Malaysia is none other than the ASUS Zephyrus G14 RMT01-ACRNYM, a special edition Zephyrus G14 released in collaboration with ACRONYM.
Touted to be the most powerful 14-inch gaming laptop in the world, it's been radically modified by ACRONYM to really widen the definition of what makes a gaming laptop. With a collaborative design with David Rudnick, the RMT01 utilizes a magnesium and aluminium alloy, precise measurements, specially formulated paint and more for the details. Our model came equipped with a Ryzen 9 4900HS, GPU Nvidia GeForce RTX 2060 Max-Q, 32 GB RAM, and QHD 60Hz display.
Without further ado, let's jump in.
From box to content for the Futuristic look
The laptop comes cushioned with some unusual Airpaks, printed and decorated with text and designs. They're also reusable and recyclable, so they're both stylish and eco-friendly! You can check out the packs for themselves below:
This black G14 has the dot matrix grace its lid, being tiny LEDs that can display and endless array of patterns be it text or image logos, the special included ACRONYM animations or your own GIFs. While the G14 series does have the AniMe Matrix, the RMT01 pushes it to the limit in its aesthetics and laptop design. If you want to change what shows up on the matrix, then simply open the ROG Armory Crate to customize it. If you want be a bit more lowkey, you can also choose to only display dates/notifications.
Below the lid is a geometric pattern that looks like a book rack. "ZPHYRS" is written across the back vent, also carved under the chassis with other patterns like the ROG logo.
The keyboard has quite a few eyecatching colours for selected keys: the WASD are coloured, the spacebar renamed to 'VOID', and the inescapable 'A' design dotted all around. Besides the design, it is, most importantly, functional, being very responsive and comfortable to use for either typing or gaming.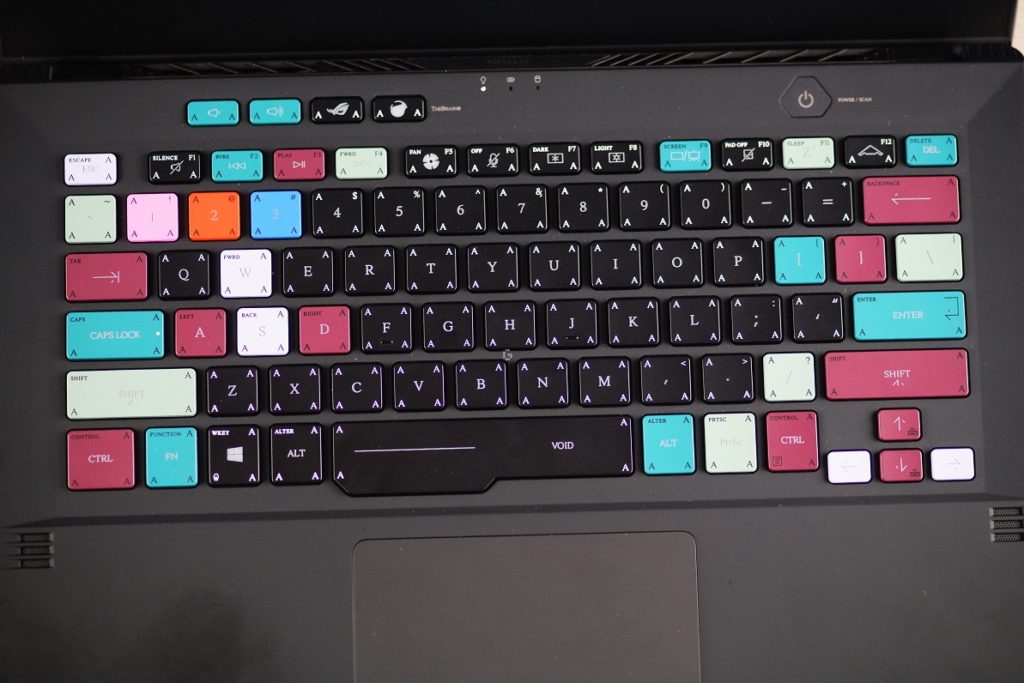 The 14-inch WQHD (2560 x 1440) screen does its best and is certainly quite impressive when compared to its size, being an IPS certified panel from Pantone with a 100% sRGB coverage and Adaptive Sync support. Those eyes won't get overly strained even over long hours of use.
Small package with incredible specs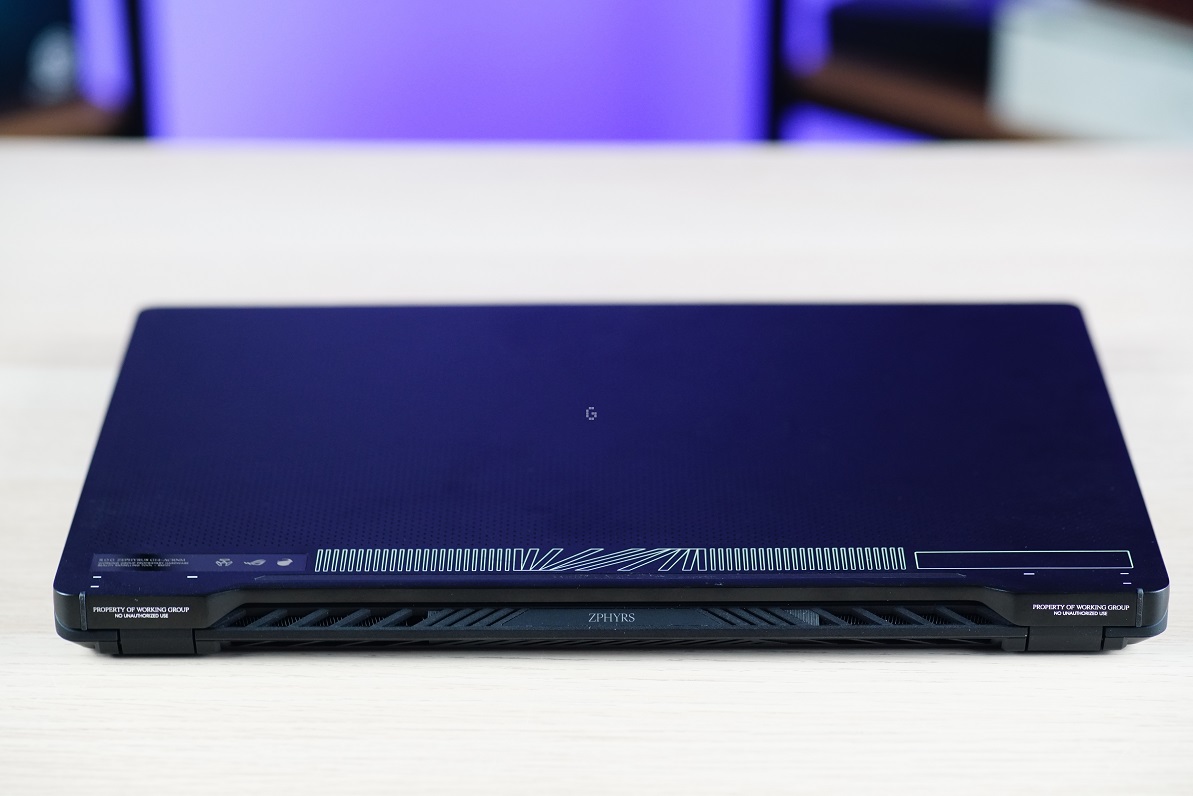 Despite its size, the 8-core AMD® Ryzen ™ CPU and RTX allows the RMT01 be capable of supporting not just dedicated gamers, but also for any professional creative use on demand on the go. Below are the brief specs:
| | |
| --- | --- |
| PROCESSOR | AMD® Ryzen™ "Renoir" R9-4900HS |
| GRAPHICS | NVIDIA® GeForce RTX™ 2060 6GB GDDR6 VRAM |
| MEMORY | 32 GB DDR4 3200MHz SDRAM |
| SSD | M.2 NVMe PCIe3.0x2 1TB |
| DISPLAY | 14-inch WQHD (2560×1440) IPS-level panel, 60Hz, 100% sRGB, Pantone® Validated, Adaptive Sync |
| KEYBOARD | Backlit Chiclet Keyboard, N-key support, 1.7mm travel distance, 4 Hot keys, Power key with Fingerprint |
| AUDIO |  2x 2.5W speakers with Smart AMP technology2x 0.7W tweeter, Array Microphone |
| I/O Ports | 1x USB3.2 Gen2 Type-C™ with DisplayPort™ 1.4 and Power Delivery, 1x USB3.2 Gen2 Type-C™, 2x USB3.2 Gen1 Type-A, 1x HDMI 2.0b, 1x 3.5mm headphone dan microphone combo jack, 1x Kensington Lock |
| POWER | 180W Power Adaptor; Plug Type: ø6.0 (mm); Output: 20V DC, 9A, 180W; Input: 100~240V AC, 50/60Hz universal |
| Wi-Fi / Bluetooth | 802.11ax 2×2 WLAN / Bluetooth 5.0 (*Bluetooth version may vary as the OS upgrades) |
| AniMe™ Matrix | V |
| SIZE/WEIGHT | [ 32.4 × 22.2 × 1.99 cm ];1700 g |
Without being plugged in, it's possible for the laptop to last up to 6 hours, though if you're going to be turning on the AniMe Matrix, or use it for gaming, then the battery can go for about 2 hours before you need to plug it in. To further assist users in making a laptop their own, the laptop's been fitted with handy applications. One of them is The Brain, an application crafted for this collaborative laptop.
The Brain
The Brain has its own hotkey to open the application, alongside the ROG Armory Crate Key. This software is, as its name suggests, meant to "map your brain": you can store a lot of your dailies in a repository known as a BrainBox.
It might sound dubious, but you just need to play around with it for a bit. It'll help you organize your tasks or general day to day things in neat compartments, and see it slowly branch out like a tree as you add on more things to keep track of. From lists to graphics and any additional uploads, it's easy to see at a glance what is what and you can use it as a to-do list too.
ROG Armory Crate
As with other ASUS ROG laptops, it comes with the Armory Crate to help you configure all your games under one intuitive-to-use application. Play around with the lighting and RGB effects and sync it across compatible devices with Aura Sync. It'll help you organize any other ROG products you have so that you can tweak it accordingly to your system needs, besides registering your accessories, follow any updates from ROG or simply connect with the ROG community.
Through here, you can also change the display for the AniMe Matrix with your choice of image or GIF.
MyAsus
Last but not least, MyAsus is your all-purpose software to give you easy access to the rest of the functions of the laptop: from diagnostics, to other Asus programs, updates or Asus Account access, you'll get them here.
Small yet gaming capable
All of the titles we try below work great on the RMT01, though it does falter when it comes to Ultra settings, much less RTX Ultra. You can still opt for medium RT settings, or the highest graphic settings without RT for your AAA games for the picture perfect views without lag. Quite impressive for a machine as small as this! See below for the titles we tried:
Call of Duty: Black Ops Cold War 
In single player mode, there weren't any major drops in frame on High or Medium, though it does stutter briefly on Ultra, which itself doesn't overtly affect gameplay. For Multiplayer or Zombie mode, it can start dropping frames on High or Medium. In Multiplayer's case, however, the problems don't arise from the network connection or graphical fidelity, but rather the laptop getting quite heated up. You'd want to add fans if you're going to play online.
Watch Dogs: Legion
While Ubisoft works to further optimize the game, the laptop will struggle on RT Ultra, where you can expect the FPS to drop 30 and below. On regular High settings, it'll run anywhere between 30 to 70 FPS, which will be playable if not necessarily perfect.
Cyberpunk 2077
This one is yet another AAA title that will need its optimization and bug fixes, but that's not the laptop's fault. In any case, you can expect 30 FPS and below on the RT Ultra settings. Without RT on Ultra, it'll run a much smoother 40 to 70 FPS, so you still can experience Night City in its high quality glory.
Verdict
Design wise, it's easy to fall in love with this compact machine, with some life breathed into it thanks to the design and coloured keys of the keyboard. It won't make loud clicking sounds and is highly responsive and great to use.
Besides the AniMe Matrix, the laptop is more or less on the minimalistic, futuristic side going from looks along. It's not a heavy machine, so you can bring it along anywhere and show off that AniMe Matrix back lid and maybe make a few people envious.
This laptop will function just fine for either creative uses e.g. photo editing, and for gaming. It's not the most high-end one out there, but it'll play those AAA games at close to maximum quality in an easy to carry package. It's not especially hot either, so it's both form and function! With a price tag of RM11,299, you'll get yourself this ASUS ROG G14 RMT01 – ACRNYM with AMD Ryzen ™ 9 4900HS / 16G + 16G (on board) / NVIDIA® GeForce RTX ™ 2060 Max-Q / WQHD (2560 x 1440) IPS-level display, 60Hz / 1TB SSD.