We're a month off to Tales of Arise at long last, and we got the opportunity for one more session till it launches. This is the final preview for the game, in which we get to play the whole intro sequence. "Intro" as it may be, it's still a 3 to 4 hour experience to immerse yourself in the story. Without further ado, let's begin.
STORY
We have Dahna, a medieval fantasy world, and the more 'advanced' Rena. While they are two parts of a whole, Rena's advancements allow them to conquer Dahna for 300 years. In the process, Dahna is divided into five main regions, each ruled by a Lord who oversees the elements of the Master Core. The Master Core is the source of a Lord's power and authority and their key to winning the Crown Contest. Winning said contest will let them become the absolute Sovereign of both worlds.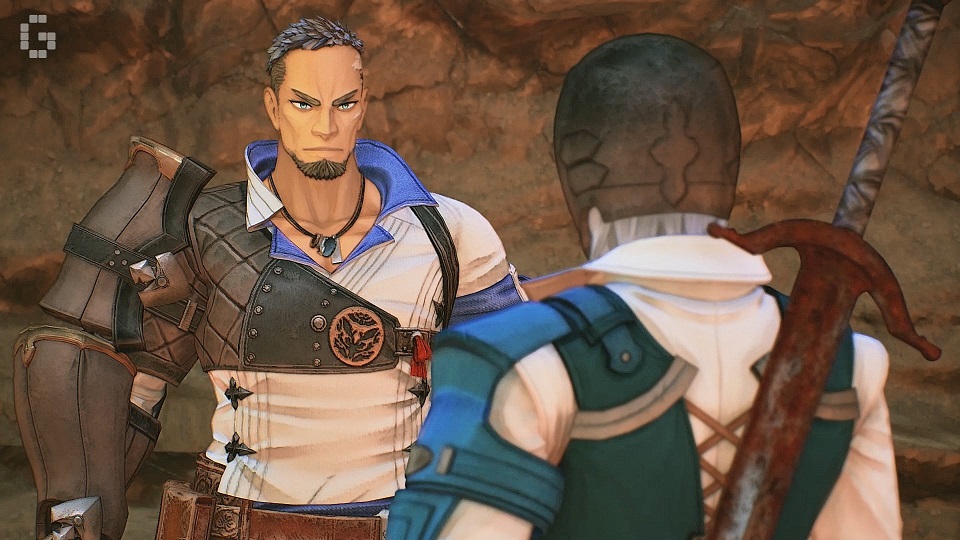 For all their advancements, Renans can only gain Astral Energy from a Dahnan's lifeforce. As such, the latter are enslaved to ensure they can strengthen the Master Core, by way of gathering their lifeforce by installing a Core. In this bleak landscape, we meet Alphen: a slave in Calaglia, a region ruled by Lord Balseph. Alphen suffers from severe amnesia, and is unable to feel physical pain. When he finds his chance to escape, he meets the mysterious Shionne and the Crimson Crows, a resistance group led by Zephyr.
Shionne is a Renan herself, who nonetheless wants to bring down the lords. She's already begun by stealing the Fire Master Core from Balseph, which contains a very powerful weapon. Due to the weapon being a fiery sword that burns the bearer's hands, only Alphen may wield it thanks to not feeling pain. His affliction also lets him touch Shionne, who's cursed to inflict pain on all who touch her. The motley band of Alphen, Shionne and the Crimson Crows, they infiltrate Balseph's castle to defeat him and liberate Calaglia.
That's as far as the preview goes, to kick off the grand adventure we'll have a month yet to fully dive in. The summary doesn't give justice to the excellent dynamic between Alphen and Shionne. Both of them carry their own baggage and secrets, after all.
GAMEPLAY
The battle system is what you've read about in the earlier preview; approach an enemy to begin combat in an instanced area and unleash combos both on land and in the air on the enemies. Now and again, you throw out your skills, so long you have enough Arte Gauge. You control one character in battle, while the rest are AI-controlled, though you can provide direct commands on cooldown with Boost Attacks and Boost Strikes. Boost Attacks summon your ally to perform a unique attack, while Boost Strikes are powerful blows that can execute weaker enemies. Each character also have their own traits to add flavour to regular combat. You can't spam consumables as they have cooldowns, and also take from a pool of "Cure Points".
Exploration basically consists of going from town to town with points of interest along the way and fast travel is available at any time. It's pretty much standard and linear, but the maps are more open and you can jump and swim around. Additionally, characters have Map Actions to enter otherwise inaccessible areas, at the cost of CP.
The typical side quests are around, and you can check on the objectives from the Activity Record. You can get stuff like Gald, SP, titles, items and a whole bunch more, and it's worth it for the supplies. These quests also have extra story bits and don't feel like hamfisted fetch quests. The Tales series tradition skits are in, as you'd expect, with a little change up using 3D models and presented closer to cutscenes than just simply their 2D talk sprite. You can rewatch them later, maybe when you're cooking meals on the road. Speaking of cooking, the meals can give temporary buffs which can vary depending on the character cooking it.
CLOSING
As always, the story starts strong, a tantalizing glimpse into the inevitable hours that will be put into it to find the secrets hidden in every nook and cranny. We obviously don't have the full story, and veterans will surely be on the look-out for the so-called classic Tales series plot staples. We're surely not that far off now, to watch the tale of two stars unfold before us.
You can also try it for yourself with the demo coming 18 August!
Further reading:
Tales of Arise
Microsoft Windows, PlayStation 4, PlayStation 5, Xbox One, Xbox Series X|S
300 years of tyranny. A mysterious mask. Lost pain and memories. Wield the Blazing Sword and join a mysterious, untouchable girl to fight your oppressors. Experience a tale of liberation, featuring characters with next-gen graphical expressiveness!