SINoALICE and Final Fantasy Brave Exvius, two mobile gacha games from Square Enix, are joining forces for a collaboration. Characters from Final Fantasy Brave Exvius will be making their debut in the global version of SINoALICE.
This collaboration will go live in the game on October 27 and will run for two weeks until November 10, 2021. It will add Rain/Breaker and Fina & Dark Fina/Gunner to the game. The former will be available as a login reward for all players.
Besides these characters from Final Fantasy Brave Exvius, Little Mermaid and Three Little Pigs will have new jobs as part of this event. Little Mermaid/Dragoon will be a Paladin while Three Little Pigs/White Mage will be a Cleric. The event will also add Bahamut, Odin and Shiva, popular summons from the Final Fantasy as Nightmares in the game.
On top of that, there is currently a social media campaign being held to kickoff the event. To take part, simply following the social media accounts for SINoALICE Global and retweet/comment on the campaign post. Three lucky winners will receive volumes 1&2 of the FINAL FANTASY BRAVE EXVIUS Original Soundtrack

While this is the first time SINoALICE Global is getting this collab, the Japanese version of the game had a rerun of it a few months back.
For more information, visit the game's Twitter account.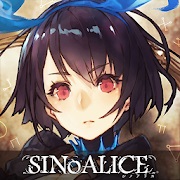 SINoALICE
Android, iOS
Fairy tale characters fight to "revive their author". Enter the dark world of SINoALICE as imagined by Yoko Taro (Drakengard, NieR).