Cinderella/Paladin, an Armor event and 3 Conquest events are coming to SINoALICE during the final stretch of the Slime collaboration. All of the new content will go live today, 26th February 2021 at 7.00 am UTC+0 after the maintenance.
Hopefully, Cinderella fans and Paladin mains still have some Twilight Crystals left as the upcoming grimoire features Cinderella/Paladin. This new character and her SR weapon, Spear of Depravity will be obtainable through the Bayonet of Contempt STEP Grimoire. Like most STEP grimoires, players get a guaranteed featured SR weapon on step 5.
Besides Spear of Depravity, other featured SR weapons include a tome, a projectile weapon and a staff. They are Book of Otherworldly Lights, Plagued Winds and Staff of Concern respectively.
In addition, 3 Conquest events will return after the update. They are Nightmare in the Chapel, Dragon of the Depths, and Nightmare in the Woods. Be sure to get their SR shell weapons and evolution materials if you haven't.
Besides the Conquest events, a new Armor event is also making its way to SINoALICE. Titled The Perfect Trio, this Armor event brings with it Marching Band's Series gear and a new Nightmare called The Nightmare Trio.
Finally, new Twilight Crystal packs will appear in the shop. Players can only purchase one of each pack during this promotion.
For more SINoALICE news, refer to the game's Twitter account.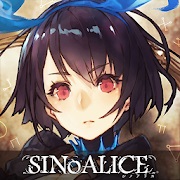 SINoALICE
Android, iOS
Fairy tale characters fight to "revive their author". Enter the dark world of SINoALICE as imagined by Yoko Taro (Drakengard, NieR).