Yesterday, the SINoALICE TIMES live stream revealed the characters appearing in the That Time I Got Reincarnated as a Slime (Tensura) collab. The crossover event will go live today, 18th February, at 8.00 am UTC.
A total of six event characters will be obtainable. The first four are from Tensura, while the remaining two Slime-inspired characters are from SINoALICE. They are:
Rimuru/Sorcerer
Shizu/Breaker
Shuna/Cleric
Milim/Gunner
Snow White/Slime
Alice/Ogre
While Rimuru, Shizu, Shuna and Milim's respective classes are self-explanatory, Snow White and Alice's are not that obvious. Apparently, Snow White/Slime is of the Mage class while Alice/Ogre is a Paladin.
Rimuru/Sorcerer and Shizu/Breaker are available through Magicules Summoning Part 1 Grimoire. On the other hand, players can summon Shuna/Cleric and Milim/Gunner in Magicules Summoning Part 2 Grimoire. Furthermore, both of these banners are STEP Grimoires, guaranteeing an SR weapon drop after step 5.
In addition, Snow White/Slime is a free login reward for players during this event. Alice/Ogre is a paid class. Players have to spend real money to purchase "Twilight Crystal x306 & Class Unlock & Weapon" to get her.
Besides that, the collaboration event, Lullaby of Reincarnation, offers new missions for players to take on. Magic-seal Mask medals drop in this event which players can exchange for rewards.
Finally, the game is running a social media campaign for all players. Once the event goes live, Global, Japanese and Korean SINoALICE players will need to react to social media posts within a limited time. Check out the campaign mechanics and rewards in the tweet below.
As always, stay tuned to the game's Twitter account for new information.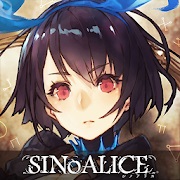 SINoALICE
Android, iOS
Fairy tale characters fight to "revive their author". Enter the dark world of SINoALICE as imagined by Yoko Taro (Drakengard, NieR).