Up to sashay for a bit on the dance floor? Don't get too close though, or you might just get spikes in your face! We interview the team behind Don't Stop the Party, whose game sees you fight your way to become the new ruler of Avalon, a so-called perfect paradise. The team consists of:
Sophie binti Azlan – Sophie (Project Lead, Narrative Designer)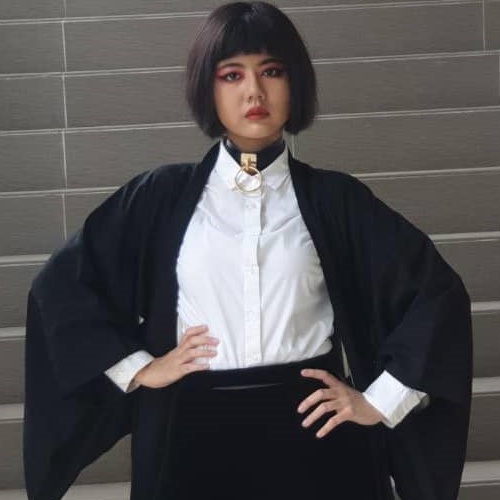 Nicholas Tung Ka Sin – Nick (Tech Lead)
Erick Ritcher Lim – Erick (Art Lead, 3D Modeller)
Amirul Zameer – Mo (Character Designer & Animator, Concept Artist)
Thomas Tai Man Kit – Thomas (Programmer, Audio) 
Felicia Wu Qiu Yi – (Programmer, UI)
Adam Danial Zalizam – Adam (Systems, Gameplay Mechanic & Levels Designer) 
---
Don't Stop the Party didn't start life as what it is today, which is hardly surprising. Sophie reveals that they did originally consider an RPG based off Hang Tuah, which is quite the leap to the party game we have today. They wanted to have a game you could have a fun time with friends together, hence the pivot and emphasis on local multiplayer. Characters and settings were inspired by games like the Persona series, and The Caligula Effect. Once Sophie got an idea, she jokingly says she hounded her classmates to make a game with these pieces and everyone got together to get started.
The organizing and planning was decided pretty early on, with Sophie as team lead, Nicholas on tech, Erick on art, and everyone else figured out what they wanted to do in the group – by extension, the industry as well, and everyone got focused on what they wanted to do. Scheduling saw them meet weekly, with daily updates done through Whatsapp. Sophie admits there had to be plenty of chasing due to taking a long time to build a prototype, but once that was done, things began falling into place.
Nick also helped assigning tasks to the other programmers, finding what's required then passing it on. Work simply saw him complete whatever he could, for his part. Likewise with the artists, with Mo and Erick, with communication being easy between the duo before they passed on their work to the programmers. In total, the project took 8 months with two months pre-planning by Sophie, with the actual length of time for the final year project being 6 months.
Making a game comes with its own set of challenges, with plenty in the team echoing the difficulty of making the very first character. Erick explains they wanted to model the hardest character first – Mo says the difficulty was mostly in rigging and animating chains – but hadn't expected it to take so long, but at least once that was done, the pipeline was settled, so the following three were much easier. The levels were also originally rectangular to facilitate 1 on 1 battles, but following lecturer suggestions to have it 4-player, the levels had to be remade to be more of a square instead. Designing clothes for the characters were done online, but mashing pieces from different sources started to conflict with one another with all three programmers working separately. Thomas chips in his issues with audio, it not being something he was used to, but he eventually got the hang of it.
The game is kinda like "what if you had the gameplay of Power Stone, but in the setting of Dank Central but everybody has a backstory like Persona 4?"

Sophie
Four people go to a party, and at the party, you can be whoever you want to be. Defeat the one who owns the party to make changes to suit yourself. The plot seems easy enough to get these four characters to go slug it out, but it's not quite as simple as that: the party is designed based on the host's motivation, their trauma, influence and decisions to want to run away from their real life and party forever. Each character is designed to be a specific stereotype:
Delilah the delinquent

As though befitting her stereotype, she caused the most trouble in development, but her chain whip deals a lot of damage and is fun to boot

Cain the robot

The fancy guy with a UwU expression on his monitor face

Clark the hero

The stereotypical hero who talks a lot about saving the world

Fay the DJ

The host of the party, written to be the villain of the game with plenty of taunts

The non-playable Lon the announcer
They had planned for deeper dives into these stereotypes, but they didn't have time for that single-player campaign, settling instead for various hints scattered throughout the game that unfortunately can be easily missed. Sophie and Mo worked together for the characters: Mo for the visual concepts, Sophie giving him the narrative and getting the looks down.
On the game's itch.io page, it was mentioned that there will be an updated build for Don't Stop the Party. Sophie explains it's to fix the within-reason bugs to patch out the few issues in gameplay and audio. Everyone else will have other things going on – completing their studies and internships for one – so this would be the last foreseeable update. They do have bigger plans for the game – Sophie even entertaining the idea of a franchise – but they lack resources to truly expand the lore, move sets and so forth. A publishing deal could see them make the game even better (hint).
Inspiration for making the game? Passing the class, Sophie answers, frankly. She pushed everyone to make a great game to have it be their calling card, to have something they're proud of to show when applying for internships and have it look like an indie project, not merely a student project. She herself wanted to be the last thing she did in their course program to be a good one, and have everyone share in the result as well. Nick agrees, also adding that it would be getting experience for the industry.
They certainly wouldn't mind getting the band back together to develop another game: back to that Hang Tuah RPG. The idea would be a single-player experience, with a focus on  Hang Jebat. Mo already has concepts for the characters, so given the chance, it would be a project to look forward to.
Whatever it is, support from the government would be important, if not vital for them to grow further. Sophie feels the local industry may need to mature more, as opportunities from the Game Dev Council and MDEC continue to provide support and platforms for local developers. Nick agrees, saying more experience and opportunities to create new IPs to perfect their craft would be good. Erick thinks now is a good time, with local studios like Passion Republic and Metronomik on the rise making games based on their own IPs, believing more original IPs would be good for the industry.
Aspiring game developers can take some leaves from the books of your seniors here:
Sophie: Do plenty of research and pre-planning, not just for what you want to do, but also the people you are working with. Work with your teammates, and know their strengths and weaknesses. Also learn how to say no to critique and have your own vision in mind: you can take the advice, but it's still your game too.
Erick: Be transparent with your teammates and tell them if you can or cannot do something within a given time frame so that you can build trust for future interactions. Give yourself extra leeway for tasks for the unexpected.
Nick: Have a clear understanding on your tasks and knowing how to break down and rearrange your logic when it comes to tech. Be curious and consistently double check and going through the code.
Mo: Have weekly milestones to complete assets to give the tech to test it out since you don't know how it might act. Also be open to trying out 2D or 3D art depending on what you're less familiar with.
Felicia: The engine might be scary, but finding tutorials online can be invaluable as a way for new programmers and designers to learn their tools.
Thomas: Besides understanding your teammates, also know your own limits. Reach out for help, and when it comes down to it, find online tutorials.
Nick: A "best" solution doesn't necessarily exist, and you need to understand what the tutorial is trying to do. It may not be what you need at the time to use in your project, so you need to know how to adapt it.
Adam: Being able to get as many people as possible to playtest your game, from those within your course or beyond to find bugs you normally don't encounter.
For the future, all want to enter the industry in some way. That'd be why they're in their course, after all, isn't it? Working for a few years, in their chosen field and gaining the experience of being inside the industry itself while expanding their repertoire of skills. Completing their remaining studies and pursuing an internship will be the next step for the immediate future, and establishing one's own studio for a future goal.
As a whole, the team would like to thank their family for being supportive, giving them the chance to enter the game dev course. There's also appreciation for each other, working the long hours to get their project done with advice from lecturers where needed. Also, thank Google for making tutorial searching easy!
---
With that all said and done, local Malaysian culture doesn't really have the biggest representation in gaming spheres. Should this dynamic group get together again, wouldn't it be interesting to see them develop that Hang Tuah RPG that's on the burner? Not even necessarily that, the possibilities are there for them to bring local flavour to any projects they will work on while they're in the industry.
We'll see where these students end up at in the future. The potential of the industry seems quite bright with much promising talent entering it, so nothing more but to look forward to it!