Revue Starlight Re Live / Revstar on the Japan side will be having a collaboration event with Love Live Sunshine, beginning 6 November 2020! The story for this collaboration sees the Seisho girls participate in a 100 year-running festival, where they encounter Aqours, coming together and celebrating the festival. All 9 of the Aqours girls will be making their appearances in the event story! In addition, the Seisho girls will also receive Aqours outfits.
The event 4-star from the Revstar Love Live collab will be Isurugi Futaba, accompanied by the Event Memoir featuring Mahiru and Hikari. As fitting the featured outfits, "Kimi no Kokoro wa Kagayaiterukai?!" will be added as a Revue song, and no, it is not a cover.
Additionally, a Karen Memoir will be given out for free, along with 3000 gems and Guaranteed 4-star Stage Girl ticket given out as a log in bonus! Use those gems to get the limited 4-stars Hoshimi Junna, Daiba Nana and Hanayagi Kaoruko, accompanied by a MayaKuro Memoir (because of course it's MayaKuro).
There will be collaboration theater items, stickers and corresponding collab VS Revue running as well.
The global servers should be also receiving this collab at some point, so save up those gems and good luck in your new school idol life!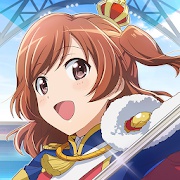 Revue Starlight ReLIVE
Android, Epic Games Store
The Adventure Begins on Stage in RPG Revue Starlight Re LIVE! A direct continuation of hit anime Revue Starlight, the story of the game picks up right where the anime leaves off, but you don't need to be a fan to enjoy all the excitement and drama that await in this RPG!
---
Check This Out Next
---