Star Wars Visions feels like one of the more interesting experiments to come from Disney +. An anthology of nine Star Wars anime shorts, each around 12-22 minutes long made by some of the most well-known animation studios in Japan including Trigger and Science Saru.
Star Wars has always worn its Japanese influences on its sleeves with sword battles based on Akira Kurosawa movies, to Darth Vader clearly being inspired by samurai armor, to the very ideology of the Jedi, being inspired by Eastern religions. In many ways, Star Wars Visions is the next logical step for Star Wars to make, and it's interesting seeing Japanese creators with their cultural backgrounds take on Star Wars. It expands on the concepts of the series all while being non-canon meaning that isn't restricted by existing lore.
For this review, we'll give each of the nine Star Wars Visions shorts a short review before looking at the anthology as a whole.
The Duel
Studio: Kamikaze Douga
We already know Star Wars was based in films like Seven Samurai and Yojimbo so why not start with a outwrite homage complete with a rustic black and white palette. A village is being attacked by a group of bandits, lead by a sith and equipped with empire weaponry. A lone warrior who travels through the village chooses to fend them off.
This one is pure action, a thrilling piece of sakuga with some seriously impressive sword choreography. The lightsaber umbrella of the Sith makes for a great weapon that leads to some interesting tactics. I won't spoil the twist at the end however, I think it's a sign of what this Star Wars Visions is about, making experimental spins on the Star Wars universe that you wouldn't usually see. Overall, a strong start.
Tatooine Rhapsody
Studio: Studio Colorido
After order 66 a young Jedi padawan is running away from The Empire when he is rescued by a Hutt, and they decide to start a rock band. Unfortunately, the Hutt is being hunted by Jabba and now the rest of them have to rescue him.
This one is really cute, it has a far more playful chibi art style which looks good with the more lighthearted story. A rock band story can be seen as cliched but you can sense genuine chemistry among these band members even within a few minutes, although I will say I don't think they're going to get too far as the dub actor's singing voice really wasn't the best (although he's fine otherwise).
We again see some different concepts with the character of Gee, a Hutt that defies Jabba to be a rockstar. Hutts are usually antagonistic characters in Star Wars so the idea of a good one that just wants to be play music is a fresh idea for the series.
Also, chibi Boba Fett, watch this just for chibi Boba Fett.
The Twins
Studio: Trigger
The Twins was the short I was the most excited for. Directed by Hiroyuki Imaishi of Kill la Kill and Promare fame, it was the most advertised of all the shorts. The story involves two twins Sith lords leading the first order. The brother attempts to steal a special kyber crystal that powers a planet-destroying weapon to take to the rebels. His sisters, still loyal to the dark side, attempts to stop him. A sibling rivalry ensues.
Knowing Trigger, I expected this to be balls to the walls actions, a huge fight scene between the twins akin to the Ryuko and Satsuki fights but the two actually spend most of the time talking. Whether it'd be explaining how the crystal works or just a general shounen pontificating about hopes and dreams. It honestly feels a bit underwhelming considering that this is supposed to be a fight on top of twin star destroyers where one of the combatants is essentially a waifu Darth Vader with enough lightsabre-wielding arms to make General Grevious blush.
That being said, it's not all bad. The animation is still fantastic and the ending brings in the Trigger insanity I'd expected with one of the most bombastic climaxes of all of Star Wars media. Remember the Holdo Maneuver from The Last Jedi and how ridiculous it was, Studio Trigger has decided to try their take on it and not only is it good, it's outright amazing. Thankfully the over-the-top nature of the scene seems intentional this time.
The Village Bride
Studio: Kinema Citrus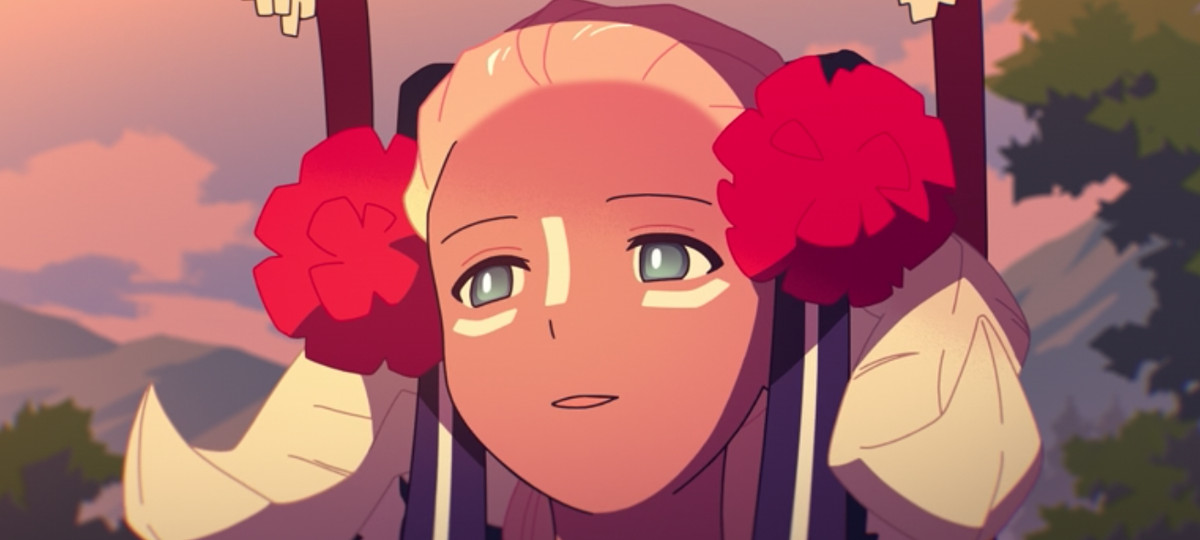 A young fallen Jedi is hiding on a planet where a young bride is being sacrificed to a group of brigands the night after her wedding. The village argues whether to let her go or fight however eventually she decides to go of her own free will to protect the village. The inspires the young Jedi to take a stand of her own.
The Village Bride is a slow burn that leads to a profound payoff. The highlight of the story is watching the village's community and culture. The short attempts to connect Star Wars to its roots in eastern religion/philosophy, in this case, the force and Taoism.
In line with the core beliefs of Taoism, the villagers emphasize living with nature and leading humble lives with minimal conflict, simply acting on what they believe is right without overthinking things. Watching the villagers come together, argue, and mourn shows a great sense of their community as even as some of them question these ideas, the bride ultimately upholds them. This leads to a very satisfying climax as the young Jedi reawakens to her belief in the ideology of the force from observing the villagers.
"you can't change the river's flow by casting a stone, but live in harmony with nature and you'll change together"
It's a touching climax that gives the viewer greater insight into what it means to follow the force and all along played to some very well-crafted choir music. Seriously, this has the best score in the Star Wars Visions anthology.
The Ninth Jedi
Studio: Production IG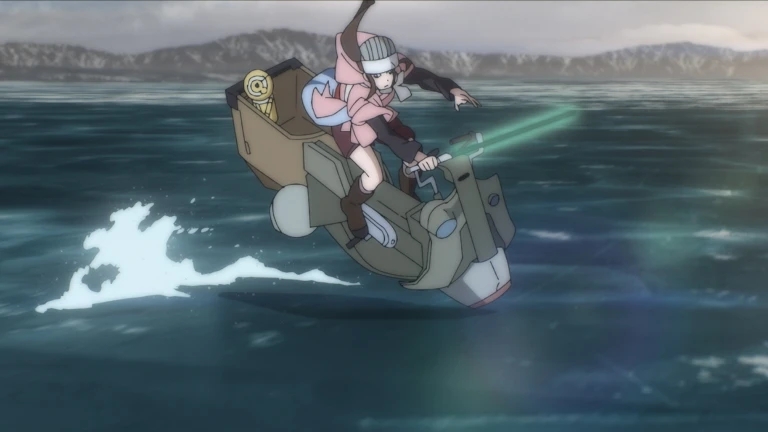 Eight Jedi are called to a secluded planet where they have been told they'd gain access to the ancient weapon of the Jedi, the lightsaber. The creator of these lightsabers is being hunted so his daughter must deliver them in his stead, becoming the ninth Jedi.
This is probably the most Star Warsy of the shorts, a fun adventure with peril, suspense, and triumph. Our main character Kara is a likable little scamp, much like Luke in the first movie. The setting is also interesting, this is a world where the Jedi order has been gone for millennia and the few remaining Jedi haven't even seen a lightsabre before. It's like they have to rediscover the entire Jedi order based on myth and legend. There are some more fun twists but we won't go into them for spoilers reasons.
I can see why so many people want this one to become a full series, it has a lot of potential.
T0-B1
Studio: Science Saru
We had a Kurosawa homage, so why not a direct homage to Astro Boy. T0-B1 is a droid who dreams of being a Jedi and wielding a lightsabre. His creator Professor Mitaka, however, wants to keep T0-B1 safe in his lab but one day it's revealed that Mitaka is a former Jedi and when a Sith appears to attack the lab T0-B1 will have to live up to his creators legacy and become a Jedi himself.
This is another cute one that doesn't take itself too seriously. Science Saru's semi rubber hose style of animation works perfectly with the Megaman-esque robots bumping around. And T0-B1 is just a likable kid. It's hard to watch such a wide-eyed innocent and not want to see him achieve his dream, even if it comes with dire consequences.
Again, this short presents an interesting idea, what if a droid could become a Jedi. The franchise has shown that droids are seemingly capable of having emotions, so who's to say one couldn't tap into the force. Outside of this, the short isn't super memorable but it's harmless and the Star Wars meets Pinocchio idea does have an enchanting feel to it.
The Elder
Studio: Trigger
Nothing like a good old Jedi vs Sith fight. A Jedi master and his padawan travel to the outer rim to track down who they believe to be an elder Jedi. Turns out he's not only a sith but a blood knight, continuously seeking greater opponents to duel to the death.
It's clear that a lot of these shorts use the Jedi as an allegory for samurai and The Elder is a good old-fashioned samurai duel. It presents an intense sword fight that is highly engaging to watch. The elder man is a fun antagonist, bloodthirsty but clearly wise and experienced, a great foil to the patient Jedi master.
Like The Village Bride, this one also brings in some Japanese culture and philosophy. This time, the influence of Buddhism in samurai duels. Particularly their beliefs about accepting death and the impermanence of life.
"no matter how powerful you become, know that it will not last forever"
The elder Sith becomes weaker and died, the master will also become weaker, the padawan will become stronger. Any duel could be your last so clinging to victory is meaningless, that is the way of the galaxy. Another interesting insight into Star Wars from a different perspective.
Lop and Ocho
Studio: Geno Studio
On a planet that has been occupied and industrialized by The Galatic Empire an alien slave girl, Lop, is adopted by a native clan head and becomes sisters with his daughter, Ocho. Years later Ocho wants to work with The Empire the further develop the planet while her father wants to drive them off. It is up to Lop to try and keep the peace as her family starts falling apart.
This short focuses a lot on the dynamic between the family. The bond between Lop, Ocho, and their father is very sweet and tragic as you see the rift between them build. And much like with the rest of the series, the lightsabre action is slick and fun.
This one also has some interesting moral dilemmas. Ocho brings up how working with the empire can lead to the planet gaining greater prosperity but her father feels it'll be at the expense of their culture and autonomy.
It is a pretty important question about colonialism and considering its creators, is likely intended to be a parallel for the American occupation of Japan after World War II. America's support in rebuilding Japan helped turn it into an economic powerhouse but many Japanese feared the rapid progress of technology and potential Westernization. This situation isn't quite as nuanced (the empire is blatantly evil) but it's an interesting idea of how planets lived under the empire and the effect the regime has on their citizens.
Akakiri
Studio: Science Saru
A Jedi escorts a young heiress to retake her household which has been taken over by a Sith relative.
Maybe it was because it's the last short but this was my least favorite. Science Saru's stylized art style can be fantastic when used for a more stylized show but it doesn't really fit in what is a mostly straightforward if somewhat dull fantasy story about essentially retaking a castle. The characters just look awkward and unappealing.
The main character is played by Henry Golding, unfortunately, he doesn't have much to work with as there's just not a lot to the short. It tries to say something at the end about why a Jedi might become a Sith but it's confusing and feels too disjointed to really get the point across. Like imagine Anakin's story in the prequels but condensed into 12 minutes.
Closing Thoughts
Overall I liked Star Wars Visions however you've probably noticed that I liked it primarily for the concepts it brings to the Star Wars Universe. It presents a lot of cool what-if scenarios with a lot of potentials to be played with. I love the use of Japanese culture and philosophy that has always been part of Star Wars being highlighted and the fight scenes in many of the episodes are awe-inspiring.
But this is also the biggest flaw with these shorts, that's all they are; cool concepts.
Because the episodes are so short, the actual plots and characters feel barebones and even a bit on the bland side. I think I'll remember the characters far more for what they are than who they are. Most of these would be fantastic if they had a full series. It just feels like they could have been way better with more time.
Star Wars Visions does ultimately succeed in being an experiment in what Japanese creators can do with Star Wars but as standalone stories, but they leave more to be desired.
If you are a fan of Star Wars, you may also be interested in The Knights of The Old Republic port to the Nintendo Switch, coming out in November.
The Review
Star Wars Visions
PROS
Expands The Star Wars universe will interesting new ideas
Animation is fantastic
Interesting to see Japanese perspectives on Star Wars
CONS
Most of the Plots and character felt barebones and would have benefited from a longer run time.