Mega Man X DiVE will be running a collaboration event with Street Fighter V: Champion Edition, featuring Ryu and Chun-li! The collaboration event itself will be starting from 29 September 2021 16:00 UTC +8 to 13 October 2021, 15:59 UTC +8.
Event missions have already begun to get you ready ahead of time, giving out Fight Coins and various Cards as completion rewards. Each week will feature a new set of missions, which you can find listed here, with different start and end times:
Week 1: 22 September 2021, 16:00 UTC +8 to 29 September 2021, 03:59 UTC +8
Week 2: 29 September 2021, 16:00 UTC +8 to 6 October 2021, 03:59 UTC +8
Week 3: 6 October 2021, 16:00 UTC +8 to 13 October 2021, 03:59 UTC +8
Over the weeks, you can also snag yourself weekly limited Champion Crates to obtain a random reward from a select pool, including currency and character cards of Honda, Juri, Rainbow Mika, Cammy, Zangief and M. Bison. The promotional trailer for the event will be coming soon, presumably also regarding how Ryu and Chun-li would be obtained. One really wonders what kind of weapon they would be able to equip…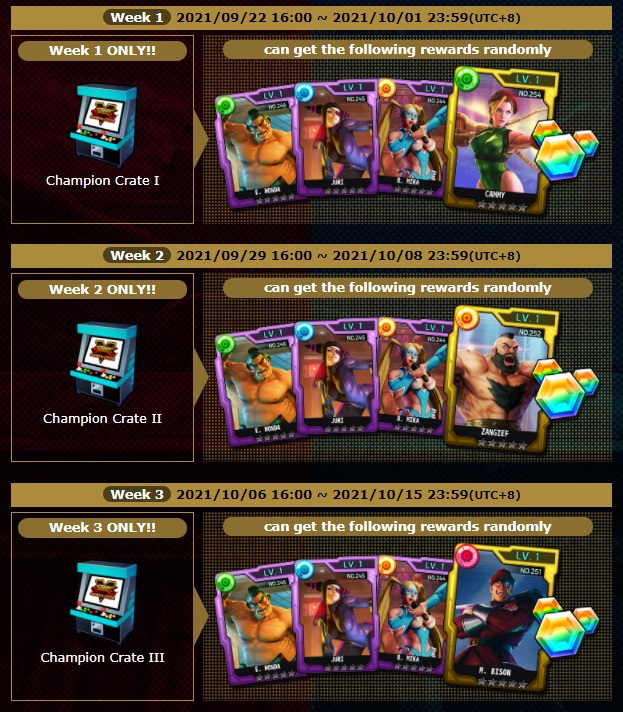 In any case, if you're in any way interested to obtain either of the Street Fighter representatives, or even just the character cards, be sure to jump in to Mega Man X DiVE and grab the rewards. For the Asian region, the game's also available on Steam if you haven't tried it yet.
Mega Man X DiVE
Android, iOS
An upcoming spin off for the Mega Man X franchise! Play as Mega Man X and his allies to find and delete the source causing all the errors!