Mass Effect is one of the most beloved RPG series of the 2000s. From its epic space opera setting, popularization of the 4-branched dialog option wheel and romanceable crewmates, it's hard to argue that the series wasn't a standard-setter for the modern western RPG.
With Mass Effect Legendary Edition, fans who'd only heard of the series but never got to try it now have the option to relive the entire epic trilogy in one go- collecting the main trilogy, you could now relive the adventures of Commander Shepard and their three flavors of attitude with a fresh new coat of paint, along with some minor fixes for the more dated titles.
Lookin Good, Shep.
So, obviously, the biggest change here is the updated graphics. It's important to note that by more popular nomenclature, Mass Effect Legendary Edition is more akin to a Remaster than any kind of remake. Textures look way better, and some work has been done on the environment, fixing things like lighting as well as adding things like environmental fog.
If anything else, I think this game's a good lesson in how having a high-poly model isn't the only thing you need to make games look good. I mean, they're obviously not using the exact same models, of course, they've definitely been cleaned up, but the environment effects really just make this look more like the game Bioware set out to make in the first place,
I especially appreciate the lighting improvements, where it looks like characters have much better specular mapping implemented on the whole model. Characters faces actually have much softer lighting effects, and don't just look like they're at the mercy of the engine's default lighting setup.
Blast From The Past Effect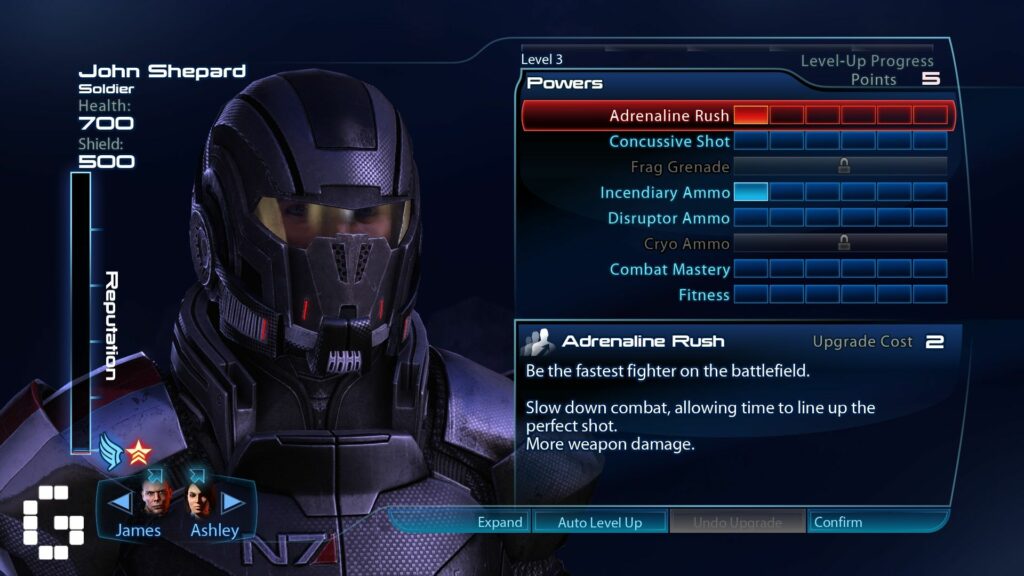 While Mass Effect 2 and 3 have aged about as well as they could, I think the biggest winner in the Mass Effect Legendary Edition is the original game. Mass Effect is one of those games like Assassin's Creed where the first game had great ideas executed, well, to be honest, not great. Thankfully Legendary Edition has no pretenses about maintaining that kind of integrity, and actually changes up some of the gripes with the game.
The biggest thing you'd notice is that gunplay actually feels less clunky in Legendary Edition, as Shepard feels way more responsive to move around. Even the Mako, the vehicle plagued by the curse of terrible controls, feels slightly better to handle in Legendary Edition. In a sense, I can kind of respect the fact Bioware went back to have this fixed, even though the original Mass Effect is so well-loved despite its flaws. It would have been easy to leave the poor controls in and espouse the virtues of keeping things how they left them, saying true fans would want it that way but if there's anything Demon's Souls taught us it's that great games held back by jank deserve a chance to shed that jank if they're going to be reintroduced to the public.
I mean, Shepard can sprint outside of battle now in Mass Effect, no longer having his ability to push himself constrained to a battle high. You're also free of what I like to call Persona 3 syndrome, where your characters would normally operate on their own and leave you at the mercy of game AI written during the Bush administration. Thankfully, Legendary Edition lets you get around this by letting you assume direct control of your party members, so you won't have to worry about the occasional rogue AI.
Things That Stay The Same
Of course, as great as it is when things change, it's also great when things stay the same. With Mass Effect Legendary Edition, the core gameplay is still the same. Explore alien worlds, romance your crewmates, choose colored dialogue options to see if you're mean Shepard or Good Shepard. Despite the controversial ending for Mass Effect 3, I think that's one instance where it's important that they kept it in- after all, fan reaction to it is part of that game's history now, you can't say you're celebrating the franchise and then leave out the event that really propelled Mass Effect into its status as an IP everyone's heard of at least a little.
The game also includes the excellent Citadel DLC, which is equally important for just how much it walked back a lot of the anger towards Mass Effect 3's ending, as well as giving you a lot of great character moments from the crew of the Normandy.
If you have any love for western RPGs, it's hard to not recommend Mass Effect Legendary Edition- aside from their importance in the RPG world, it's also three pretty good RPGs packaged into one with a pretty decent price tag, so you can definitely expect to pass a lot of lockdown hours while you figure out how to flip the Mako over.
---
Check This Out Next
---