I don't think you could track a more popular yet niche genre than the Souls-Like. These games are characterized by their learn-by-dying gameplay, with plenty of memes about how controller-smashingly difficult they are, and journalists' obsession with comparing anything remotely difficult to the genre and its most iconic entry, Dark Souls.
With Demon's Souls, remake specialists Bluepoint Games have taken it upon themselves to make a faithful ground-up recreation of the Souls game that started it all. Even with a graphical facelift, how does Demon's Souls hold up? Read on and find out.
---
As with all Souls-likes, the meat of Demon's Souls is in its gameplay. Bluepoint have made an almost 1:1 experience with the game, making sure it keeps its same slower, methodical pacing that games like Bloodborne moved away from.
That's not to say it's dated, however. The remake has added several quality of life features, such as omnidirectional rolling, similar to Dark Souls Remastered. You also have the ability to directly store your items if your inventory is full, meaning no more backtracking to the Nexus and ruining your good runs.
One gripe here is that Demon's Souls lacks Dark Souls' iconic Estus Flask. Rather than have an ever-refilling health item, your healing is in the form of consumable grass. This was one of my big gripes in Bloodborne, whereby you'd start getting yourself killed out of some weird paranoia about using up your precious consumables.
After all, god forbid you run out of healing items, and now you'll have to farm enemies and make your way to a merchant NPC to buy them without the safety of topping off your health when you take an unlucky hit.
The Nitty Gritty of Gameplay
A lot of people would say that the majority of Souls games play the same. There's health, there's stamina, and you have to spend one to keep the other from going down. But as the progenitor for the genre, Demon's Souls is a good glimpse into the earliest ideas.
As  I mentioned earlier, the game is much slower than anyone who's played the flashier entries like Dark Souls 3 or Bloodborne would expect. A defensive plan is necessary here, since many enemy moves are designed to either be countered or parried, and your stamina can take quite a while to come back if you decide to start on the offensive.

Aggressive Enemies
Some enemies are surprisingly nimble, such as the enemies in the starting area who are capable of doing the Bloodborne "keep-attacking-with-near-limitless-stamina" approach. The most dangerous thing you'll encounter however is groups of enemies. Just because one of them is in recovery already, doesn't mean the others won't take advantage of you being in hitstunned to get more shots in. Archers are especially bad for this, filling you with crossbow bolts and arrows faster than you can say "Anor Londo".
Of course, like the Souls games, there's a breadth of ways to play. Aside from melee, there's also the agile dex builds, which will require you to really master the enemy's attack patterns if you want to get devastating counterattacks and ripostes for big damage.
There's also the magic users, AKA this game's easy mode. Range is a huge asset in this game, moreso in Demon's Souls than any other Souls-Like because the enemies are that much slower, meaning they'll have to work harder to run to you. Many enemies are also poorly equipped to resist magic damage, especially those with big bulky armor.
The Worlds of Boletaria
The level design in Demon's Souls is some of the best I've seen in a Souls-Like. Rather than pretend to be a bigger open world like Dark Souls and Dark Souls 2, Demon's Souls full-on admits the game is designed like a Megaman game.
You have various Archstones, leading you to one of the game's five main areas. Each area then has three "acts", with a new checkpoint unlocking upon killing the boss of the preceding act.
I think my favorite thing about this is that you're very clearly not intended to go through each area all at once. Rather, the game clearly prefers you to take your time, clearing the first act of each area before going through the second acts, et cetera.
It's a very different feeling from Dark Souls, where it's designed for you to wander around Lordran and almost stumble into the next area. In a sense, Demon's Souls feels a lot more focused- even though the game wants you to be touring its many locales constantly.
Despite the overall areas being quite linear, there's still plenty to do. Since Demon's Souls is much stingier with its checkpoint placement than later Souls games, a lot of the time you'll need to go off the main path and start figuring out where the shortcuts are to lead you back to the Archstones.
On top of that, they've even managed to squeeze in some optional bosses, though they're moreso in the vein of just really tough enemies than full on boss fights like the ones in Bloodborne.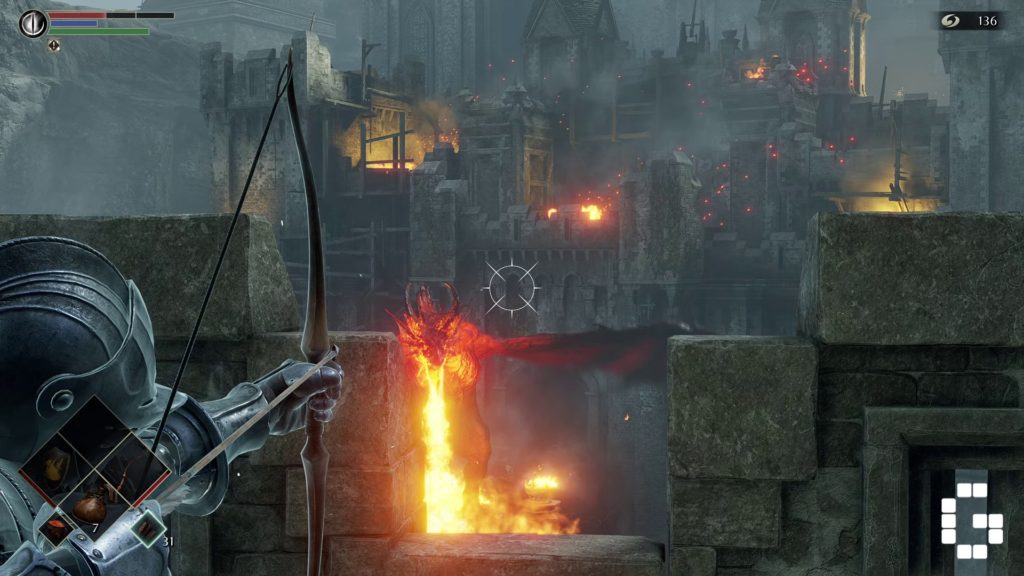 Still, these fights are great because they play into the Souls ethos of rewarding you. Demon's Souls has a bridge segment where you have to outrun a red dragon as it lights the entire bridge on fire. However, having enough arrows means you can pretty reliably whittle down the creature's health, putting it down for good as it doesn't respawn when you die and get sent back.
Stuff like this is great because there's very rarely ever such thing as wasted effort. Maybe the payoff won't be as great as you thought, but you'll never make things worse for you.
Bossfights
Demon's Souls has some of the most unique bossfights in Souls' history, but that's not always a good thing. The design philosophy seems very much built around the concept of puzzles- many bosses have a gaping exploit, and its up to you to figure it out.
While this is a great idea on paper (Shadow of the Colossus takes this to the extreme, after all), it suffers from some pretty obtuse feedback.
One of the best examples of this is an early boss, the Adjudicator. It's whole gimmick is that your weapon deflects off its body any time you try to use it, unless you attack its weak spot, a blade jutting out of its gut.
Your only feedback for doing this isn't that you start doing damage to the boss- instead, you get the blood effect, while the health bar remains stagnant.
It's not like later Souls games didn't adopt the weakspot-based boss. Dark Souls 3 has the Curse Rotted Greatwood, which is by and large the same mechanics, only with additional enemies running around. The problem is that if you're a panicked new player who'd just sprinted here from the first Archstone, it's quite a tall order to have players look for a visual effect when they're probably going to be staring down the health bar.
That Souls-Like Transparency
Of course, being a Souls game, Demon's Souls is as straightforward with you as a Used Car Salesman trying to get rid of a Beetle with 4 flats and a body in the trunk. The game has plenty of systems that it barely explains, even moreso than later Souls games.
One of these is your Soul Form, which would later go on to become hollowing in Dark Souls. As you are now, you have a body, yes? When you die, that body drops dead but you can go on as a spirit that respawns at the archstone. In Spirit Form, you lose half your health, and no longer have the ability to summon help from other players, or in turn be invaded by them.
It's not that hard to explain once you've played any other Souls game, but new players should take advantage of the 11 years since the release of the original Demon's Souls to consult a wiki whenever they can.
The game gets super obtuse with its most unique mechanic, Tendency. With World Tendency, dying to enemies and the like shifts your game towards either black or white tendency, with Black offering a harder challenge and more rewards, vs White giving an easier fight but reduced loot drops.
It's a great system, but once again- consult a wiki if you want to use this to your advantage. There's also Character Tendency, which applies to the game's multiplayer: Doing "evil" things like invading other players will move your tendency towards black, while helping others will move it towards white.

A Fresh Coat of Paint
Now, Demon's Souls is a launch title for the PS5, which continues to baffle me considering Souls games permanent residence in the niches of gaming. That being said, the launch-window status means it takes pride in showing off many of the features of the PS5, especially since it has no last-gen release.
The models all look amazing, with great environmental effects like rain giving the game a very atmospheric feel. It also loads near-instantly, allowing you to warp between all the game's areas without having time to make a cup of tea in between them. It's a great feature, thanks to the PS5's SSD. I legitimately hope minimized loading screens becomes a standard for future Souls-likes going forward, especially if they're planning on remastering any of the back catalogue. The grind becomes way less disheartening when you're not staring at your reflection from a black screen, reading about Alva the Wayfarer and his forbidden bootycall for the 50th time because you got mauled by a dog.
There's a lot of moments where you can tell Bluepoint Games was directed to flex as brazenly as possible, such as with the game's unique visceral attack animations. In previous souls games, many weapons would have similar animations for counterattacks or backstabs. Here, they're specific to each weapon class, with one-handed clubs having a particularly brutal finisher involving busting a dude's kneecaps then getting his head while he tries to get back up.
There's also the game's liberal use of particle effects, which look gorgeous but can often get tedious. I get that I'm on fire, but sometimes the particles are so dense that they actually end up blocking your field of vision.
All in all though, Demon's Souls has a lot of great ways to show off the PS5, and it does so without being a game with an abundance of cliffs to stand over and stare at.
Closing Thoughts
By virtue of being a near 1:1 remake of the most niche Souls games, there's a lot to love with Demon's Souls. It's an engaging RPG that looks amazing thanks to the facelift by Bluepoint Games, and is definitely a must pick for those of us who got into the Souls genre during the height of their popularity, rather than at the start.
While it could easily have been argued that Bluepoint should have changed the game where they could have, I personally think the 1:1 approach is better- those of us who couldn't get into a game because of its dated graphics have an unadulterated way to enjoy the game, at worst it just has a better polycount and loading times.
It's also a great addition to Bluepoint's scorecard, having already knocked it out of the park with their Shadow of the Colossus remake. Regardless, everyone wins with this remake: Newer fans get to see where it all started, and a console generation lacking in exclusives suddenly gets a niche pick, rapidly growing its install base.
| | |
| --- | --- |
| Pros | Cons |
| Engaging Level Design | Lots of obtuse systems |
| The game runs beautifully on PS5 | |
| No loading screens | |
Final Score:
9/10
---
Review copy provided by PlayStation. Game reviewed on PS5. 
Demon's Souls
PlayStation 5
From PlayStation Studios and Bluepoint Games comes a remake of the PlayStation classic, Demon's Souls. Entirely rebuilt from the ground up and masterfully enhanced, this remake introduces the horrors of a fog-laden, dark fantasy land to a whole new generation of gamers. Those who've faced its trials and tribulations before, can once again challenge the darkness in stunning visual quality and incredible performance.
In his quest for power, the 12th King of Boletaria, King Allant channelled the ancient Soul Arts, awakening a demon from the dawn of time itself, The Old One. With the summoning of The Old One, a colorless fog swept across the land, unleashing nightmarish creatures that hungered for human souls. Those whose souls were stripped from them, lost their minds – left only with the desire to attack the sane that remained. Now, Boletaria is cut off from the outside world, and the knights who dare penetrate the deep fog to free the land from its plight, are never seen again. As a lone warrior who has braved the baneful fog, you must face the hardest of challenges to earn the title "Slayer of Demons" and send The Old One back to its slumber.
---
Check This Out Next
---