Malaysian Indie dev Persona Theory Games has launched a free demo of their upcoming visual novel Kabaret on Steam. The game also recently appeared on the Xbox Indie Showcase.
It's always great to see local developers getting some time in the spotlight, and Kabaret is certainly intriguing. This macabre visual novel explores the various myths and legends of Malaysia and other Southeast Asian countries. It's a dark tale that deals with some bleak yet intriguing subject matter that will keep horror fans invested. Even if the pacing is a little slow at times.
The Story
The Kabaret Demo with the main character Jebat, waking up as a scaly dragon-like creature in a world called 'Alam'. He is taken by a being only known as 'The Caretaker' to The Kabaret, a place where monsters gather.
From here we are introduced to a number of creatures familiar to anyone in Malaysia who's ever heard an urban legend around their hometown.
How did Jebat turn from a human into a monster, how will he survive in this new world filled with the most bizarre of inhabitants? That's for you to find out.
Right at the start you're sat down and have tea with a Pontianak. Soon after you're introduced to a Jinn, Ekek, and even what seems to be the Ghost of a World War 2 Japanese Soldier appears in the background. As someone interested in mythology, it has really cool to see all these mythological figures come to life.
The game also creates a good sense of mystery around Kabaret. You're dropped into this building with a bunch of demonic entities and are told to just kinda mingle with them. We learn very little about
Living Among Monsters
But the game also doesn't hide from the darker aspects of these creatures. It is explicitly shown that they have no value for human life, they eat people, and they treat it with the same sense of normalcy that we'd eat a plate a Maggi Goreng.
And yet, they still remain likable.
"The truth is this, every monster you have ever met, was once a human being," says the game's Steam Page and it's right. These create still feel human but also distinctly not-human. They talk they may you'd talk to a friend over lunch even when discussing the bleakest of topics.
When having tea with the Pontianak, she seems cool-headed, even a little flirty, but does so while chatting about how she needs to eat babies to survive and enjoys doing so. As you hear her tell her story, you feel bad for her; a creature doomed to a cursed existence not knowing why she was fated to be like this. Then she asks you to find a baby for her to eat.
It's casually deranged conversation. One on hand you're alarmed by the subject matter but on the other, you find yourself strangely enjoying the fiend's company.
Making Choices
This reflects in the main character Jebat. He acts as the player's window into this world but at the same time, you can tell he's changing to fit his more monstrous form. The player has the option to choose certain dialogues for him and he can say and do some rather dark actions himself, like declaring that he hates humans and wouldn't care if they died.
We don't know if these choices will actually change the events of the game but I find them memorable nonetheless.
What I like about this though is that regardless of what option you pick, the game doesn't condemn you for it the way other games with choice systems tend to do. You can choose the most terrible of actions and it'll be treated as simply another choice with pros and cons. If anything though, this just makes the game more uncomfortable. Without a solid judgment, the game leaves you to question if what you did was the right call. What did you think about that, did you like it, did you not like it, and what does that say about you as a person.
It reminds me a lot of the choice systems in Shin Megami Tensei, and like with those games it can really leave you thinking about your choices well after you've finished the game.
Overall there's a good mixture of horror and mystery that keeps the reader on edge but also makes them want to learn more about this world.
Time For Tea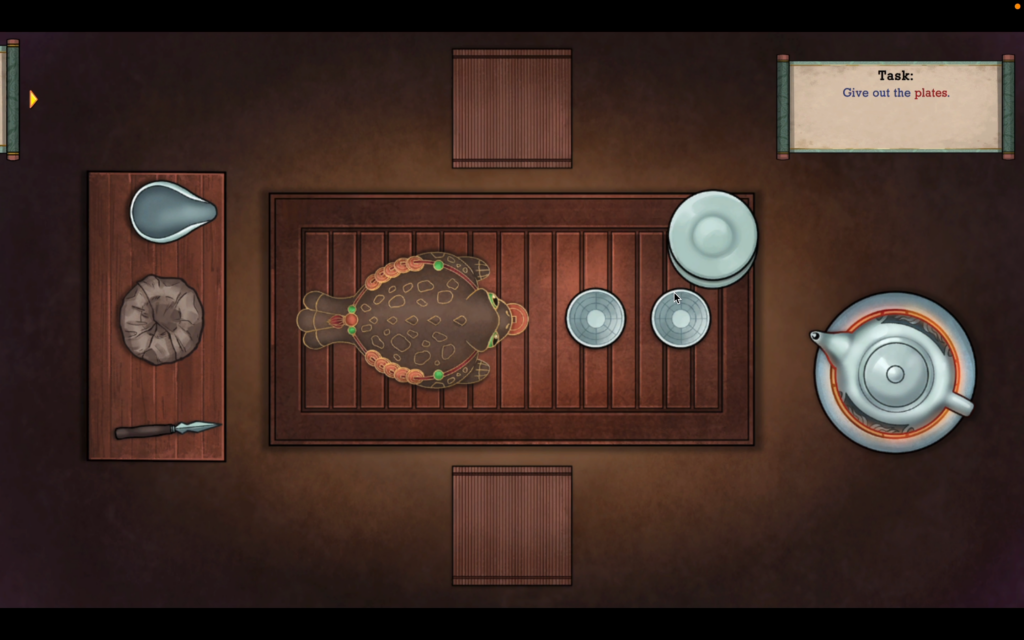 Being a visual novel there's not a lot of actual gameplay to speak off. Most of the time you'll just be pressing the space bar to move dialogue and using the mouse to click on different objects.
There are a few mini-games in the game though. In the Kabaret demo, you are able to perform tea ceremonies, as well as play 'congkak' (a traditional SEA board game) and guli (marbles). These are all very simple games that don't require much thought. There's pretty much no way you'd actually lose at them which makes them a little dull.
That being said, they fulfill their real task of allowing you to talk to the monsters more which is what's really important. Playing marbles becomes a lot more fun when you're competing against a trash-talking demon horseman.
One thing that was a bit annoying was that you're essentially forced to play the tea ceremony mini-game twice, and the second time you have a frog nagging you throughout the whole scenario. This was despite the fact that I still remembered how to serve the tea from the previous tutorial I'd finished just 20 minutes ago.
Blending Traditional Art
I also seriously need to commend the developers for the beautiful art style. It feels like a modern take on different kinds of traditional Southeast Asian art. The colors and character designs remind me of Batik while the game also makes the occasional use of Wayang Kulit. It's really vibrant and adds to the idea of folklore coming to life.
The music in the game likewise does a great job of setting the tone. It uses a lot of traditional instruments for a series of quiet haunting melodies that really create the feeling of spirits crawling up your back.
I do wish Jebat had more voice clips or at least didn't repeat the two that he had so much though.
Welcome to The Kabaret
Just playing the demo, Kabaret is an imaginative look into the fantastical yet macabre world of SouthEast Asian folklore that shows a lot of promise.
While it can be a little show at the beginning with the two tea ceremonies, I enjoyed its' haunting atmosphere. The various ghouls and ghosts you meet have a lot of personalities, making them likable but the game never lets you forget that they are monsters. They're cruel creatures with no love of humanity and the questions they pose and force you to answer can be equally unsettling.
The Kabaret demo will be available as part of Steam Next Fest until Tuesday the 21st of June at 01:00 AM. The demo is only around 90-120 minutes long. With that in mind, if you got some time to kill this weekend, I'd highly recommend checking it out. You can see firsthand what the twisted shadows of Persona Theory have unleashed.
---
Check This Out Next
---