As one of the media who got to try out the Guilty Gear Strive Open Beta early, we thought we'd expand more on our thoughts on the characters with this Guilty Gear Strive Tier List. If you want our thoughts on the beta overall, don't forget to check out our First Impressions here.
EDIT: Now that the full game is basically out, don't forget to check out our launch edition of this list!
Obviously, Guilty Gear has a great set of characters. You're rarely going to run into similar characters in a game, with many of them having toolsets worthy of their own fighting game.
Since most of the community hasn't even had a chance to get their hands on the game yet, this isn't really a tier list of the objectively best characters, but more our speculation on the matter, mixed in with how easy they'd be to recommend to someone picking up Strive for the first time. There's also some consideration taken for returning characters, comparing the ones who got hit especially hard by Strive's different directions.
S Tier
These are the characters that I feel are an absolute beast. If you were going into this game with no biases- these are the characters that I would probably pick if you asked me for a "best" character.
Ky Kiske
Ky has always been a good character. Unlike Sol who does lean more towards offense, Ky is a true all-rounder with great zoning tech and close range options too. In Strive his kit has only gotten better, since he's no longer reliant on his grinders to do good damage.
On top of that, he's also run off with Sol's Dragon Install, increasing his power even more. Sure, he loses Greed Sever, God's Gift to Overheads. but his relatively fast startup attacks, electrify gimmick and versatile supers make him a force to be reckoned with. On top of that he's also beginner-friendly, since learning when to poke and when to chuck fireballs is part of any healthy player's training regime. Seriously, if you don't know where to start with Guilty Gear, just pick Ky and you'll probably be in for a good time.

Leo Whitefang
Leo is another character that just got a vertical upgrade compared to his appearance in Xrd. The king of bunga is an offense powerhouse, combining great buttons with a powerful stance change that lets him make the opponent put down their fightstick and just check their phones or something.
On top of being a nightmare to face in close range, Leo's ranged options are great too, with multi-hit projectiles to prevent characters like Potemkin from abusing their armored moves to get in close. With Leo, offense *is* your defense, and even if you chose to let your opponent trigger your counter moves you're immediately rewarded with a free turn.
On top of all that? He has a command grab now, meaning you can add mindgames to the list of things you're dealing with when you go up against a Leo main. Hail to the King, baby.
A Tier
These are just generally good characters. Personally I think having a crowded S-Tier goes against the concept of an S tier, so know that many of these characters would have been on that list if they could have. These will probably be a lot of what you see competitive players pick, since many of them are just that good.

Millia Rage
Millia is another offensive powerhouse, being able to keep opponents on the back foot with her array of oppressive moves. Unlike Xrd's Valentines however, she backs this up with a great mobility kit, being able to fake players out by controlling when she lands via moves like Mirazh.
While it's sad that she lost her Stiletto from Xrd, she's easily one of the most mobile characters in the game and makes up for it by still being an oppressive force, even with a decreased emphasis on air combos. She's also got one of the best 2Ds in the game, with a long range good for tripping out opponents and following up with Tandem Top (Heavy Slash).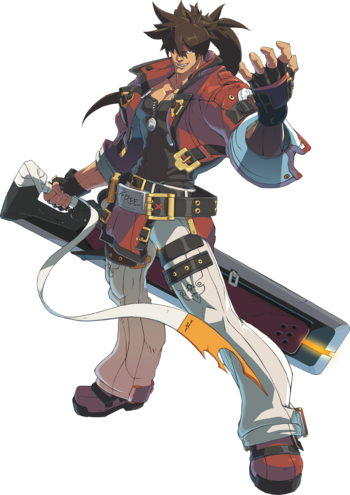 Sol Badguy
I don't think Daisuke Ishiwatari would have allowed Sol to be any lower than A tier on a Guilty Gear Strive tier list. The closest thing the series has to a Shoto, Sol has generally great buttons. He's got one of the best fireballs in Gunflame, weakened only by its slow travel time. He's also got his own command grab, but that's a little more reliant on you knowing how to follow it up for big damage. (EDIT: Had my head in Xrd, his command grab was changed in Strive to not require a follow up to do big damage. Thanks for pointing this out, Shahrul Iman on Facebook)
It's legitimately sad that he's lost Dragon Install, but ultimately he does really well without it since he hits like a truck regardless. Personally the only reason he's not S tier right now is that Leo does a lot of what he does but better, though there's a strong argument to be made to swap them around since Sol's mobility kit is generally more impressive.
Axl Low
As someone with a deeply-rooted dislike of Zoners, I'm really impressed with Axl's kit. The man has a mission, to keep away from you. His long-range attacks are really good, and his new timestop super is sure to inspire some great tech down the road.
If anything, his main flaw is that he's too specialized, and will be very reliant on things like roman cancels and Psycho Burst to keep him out of trouble. If he has his way though, it'll be very hard to defend yourself from a distance.
B Tier
These are the characters that are good, but often with some caveats to them, or have other characters that do similar things but better. It's not so much that they're worse, but you're definitely more reliant on being biased towards these guys if you wanted to pick them.
Zato=1
Zato is the puppet-style character for Guilty Gear, similar to the Clovers in Blazblue. He's easily one of the hardest characters to learn, needing you to think about controlling both Zato and Eddie to maximize your offensive power.
Honestly, kit-wise Zato is a great character. But learning him will be a time commitment, and a lot of players are sure to be frustrated that the guy voiced by Dio feels sluggish at first while you try to balance out controlling Zato and Eddie.
Potemkin
Grapplers are great for people who like the mindgames of a fighting game but don't necessarily want to learn pages of combos. Potemkin is one of the most iconic grapplers, and he really suits Strive's more grounded style. His command grabs have amazing damage, and his access to moves like Hammerfall allow him some mobility to make up for his lack of airdashes.
Still, there's caveats when you're a slow character in a game like Guilty Gear. Characters like Leo have no trouble breaking Potemkin's armor, making it very hard to get in. His inputs will also be difficult for newer players, such as his half-circle for the iconic Potemkin Buster or Hammerfall's charge motions. With Strive dropping the Blitz Shield, he does also lose out on some additional defensive options, which can be frustrating.
Nagoriyuki
Nagoriyuki is a character I totally expect to climb many Guilty Gear Strive tier lists on launch. He has the coveted ability of chaining his special attacks, similar to Hakumen from Blazblue. Unlike Hakumen though, he doesn't have to sacrifice meter for doing it, instead paying in his Blood Gauge resource. Spamming special moves will throw you into Blood Rage, where you lose your special moves and drain health, but gain increased damage and range, even on chip.
Like Zato, Nagoriyuki is going to be frustrating to a lot of newer players, and has a much higher skill floor. He's slow, and if you aren't using your moves properly you will be punished for it. Still, it's not like Blood Rage is a net loss, and I'm sure once people figure out plays that involve intentionally setting it off the character can move up.
Ramlethal Valentine
Ramlethal underwent a huge change from her playstyle in Xrd, going from a setup character to more of a ranged zoner. She can fire off her swords as projectiles, but similar to Nagoriyuki will suffer if you use these haphazardly.
Similar to Xrd though, she sports amazing corner carry, and keeping her swords on her enhances several of her attacks, including her rekka. You can also initiate her super to get her swords back, so as long as you've got meter you have very little to worry about and can launch a vicious offensive.
Chipp Zanuff
The archetypal glass cannon, Chipp is an absolute beast when he's on the offensive. The problem is he shares that title with Leo, Sol and Millia, all of whom can take more punishment than Chipp.
Still, he's got pretty good movement options, and a well-played Chipp is genuinely terrifying. Similar to many of the B-tiers though, expect some frustration as you get used to his more unique ruleset (don't get hit).
Faust
OK, I'mma be real with you. Faust is a delight and I'd rank him S tier if I could, but we all know that's a lie. Faust has a unique moveset, being able to fly around the stage, having a long range poke and even being able to tamper with your hurtbox via the afro.
The problem with Faust is that his main gimmick is random items, and there's no way to plan around these. For fun, he's an S-tier for sure, but if you wanted to get good he's B-tier unless you specialize in planning for the unplannable. Still, in the hands of a dedicated person not afraid of the occasional gamble, you're sure to get some fun matches with him.
C Tier
These are the characters that have been pretty disappointing, and really run into the problems of being outclassed at what they do by other characters. Again, no one's telling you not to play them, but if you were a new player not motivated by their cool designs, you'd probably be better off looking elsewhere.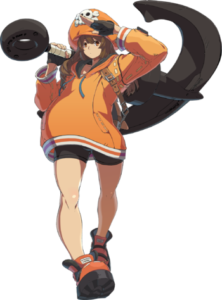 May
May lost a lot of her kit from Xrd, losing the ability to set up hoops for her marine friends. In Strive she's another rushdown character, though with grappler elements like charge attacks and a wicked command grab.
Her problem here is that she's a rough in between, not having the health pool of Potemkin that lets him survive bad attempts to read the opponent. On the offense side she's not nearly as mobile as Chipp or Millia, leaving her a hard character to recommend unless you REALLY like May's character. Still, she does good damage, and is spam-friendly if you can get the hang of her dolphins.
Giovanna
Another newcomer, Giovanna has possibly one of the most misleading character designs in the game. Despite having her cool ghost dog Stand, it doesn't actually do anything, and she's yet another close range character.
The biggest problem with Giovanna is that she lacks long range options, which wouldn't be a problem if every other Guilty Gear Strive character in this tier list didn't have them. You can't even call her the beginner-friendly character since Ky's more balanced moveset makes him a way better choice to someone who just wants to learn the game.
On the plus side, she has a lot of interesting tech, being able to make use of Dash Cancels and Jump Cancels to do flashy combos. She's also got a damage boost at full meter, but I'd consider that a disappointing gimmick since not using your meter is a steep price to pay. She's not bad, just a harder pick to recommend, especially in a more beginner-centric tier list for Guilty Gear Strive.
---
So there you have it, our Guilty Gear Strive tier list, based on the Open Beta. There's a lot that's subject to change- for one, we don't even have the full roster with Anji Mito and one yet-announced character still coming soon. Also, with infinitely better players starting to get their hands on the Beta, there's always room for someone to discover I was completely wrong.
One thing to note is that despite the rankings, I don't think any of the characters are bad. Guilty Gear has a great roster of characters, and any of them could be top tier in other fighting games. It's just that when propped against each other, there are some that clearly have a lot more polish than others, and if you were a player just going in with no biases you'd realize that some of these are easier to recommend than others.