Presenting, the Guilty Gear Strive character ranking, Rather than rank them in terms of competitive viability like a tier list, this list should answer the age old question of "I'm a new Guilty Gear player, who should I play?"
It should be noted how we're defining beginner friendliness for the sake of this Guilty Gear character ranking here. As someone who's been trying to get people to try fighting games for a while, I'm defining beginner friendliness as "how satisfying is it to hit buttons with this character?"
For example while Garuda Storm feels satisfying to hit, its stubby range and difficulty to work into a combo makes it less viable, by this metric. Meanwhile almost all of Sol's moves combo into each other, so even if you know nothing about the game you'll feel competent playing him.
A Tier – The Most Beginner Friendly You're Gonna Get
This is where the characters with really good buttons go. It doesn't matter how "optimal" they are, the idea is that you can know very little about the character and still feel like you've made headway into Strive by picking any of these.
This is the tier for characters who are totally beginner friendly. You hit buttons, you're usually going to be left with an interesting result.
Sol Badguy
Look, it's an unspoken rule that if you're going into a fighting game blind, your best bet is to go with the poster boy. Sol Badguy is an offensive beast with a variety of tools to get in such as the amazingly named Night Raid Vortex and Bandit Bringer, along with his zoning and pressure tools like the fireball Gunflame.
You'll basically learn all of the Guilty Gear basics with Sol, considering how much of his kit has its own unique situations to shine, and the outright fun of catching people off-guard with Wild Throw.
Ky Kiske
Similar to Sol, Ky sports a way more balanced moveset, focusing more on being an all-rounder compared to Sol's rushdown antics. His fireballs are also way more straightforward than they were in Xrd, no longer using the Grinder to get the big ones out.
Ky also has Sol's old super, Dragon Install, which triggers when he's in low health to give him a big performance boost, so you'll even have a comeback mechanic, although it's probably best to not become overly reliant on it since the pre-requisite is being in low health.
Giovanna
Much faster than Sol, Giovanna's whole gimmick is having many great individual moves that chain into each other. While she's not too insane by Guilty Gear standards, Giovanna is a good character for newer players thanks to her responsive buttons and relatively safe playstyle.
That being said she lacks ranged options, and you will have to learn what each of her specials does to get the most mileage out of her. In the grand scheme of things it's not like she has any practical downsides, but she certainly lacks the style and flair a lot of the other characters have, despite having a cool ghost dog.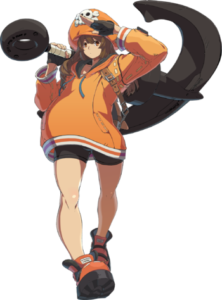 May
May has been the terror of the open betas, being an offensive powerhouse with fairly low execution requirements. Even now, during Gulty Gear livestreams chat is constantly memeing her Totsugeki, the attack in which she charges forward with her dolphin that conveniently can be chained into yet another Totsugeki. What does the second Totsugeki chain into, you ask? Why, it's a third Totsugeki.
Admittedly, May Fans from Xrd would probably be upset at how they toned down her kit with less setups, and beginners might have some difficulty learning her charge inputs, but it's definitely worth it.
Anji Mito
Anji is another offense character, with some really unique tools that allow him to keep you on the back foot. He has multiple attacks to let him get in without a hitch, while his butterfly setup lets him maintain pressure even after a knockdowns.
Unlike many of the offense based characters he's actually a really good pick because many of his tools have little to no downside to them. Your main barrier to Anji will be having the discipline to not mash, because so many of his buttons are really good but even better with disciplined execution.

Faust
I mean, at first I was gonna throw Faust way lower on this list. Thanks to his random item gimmick, new players might be incredibly frustrated that they have just as good a chance of buffing their enemies as they do hurting them.
But in a sense, there's no preparing for that. Faust is playing Smash with items on. He's a character you can just pick to have fun. His non-randomized tools are pretty great too, and the satisfaction of landing his wheelchair super is going to be a huge reason to keep new players hooked on it.
B-Tier – Fun But With Caveats
These characters have unique mechanics that are really fun, but usually come with one extra learning requirement. They're not too detrimental, really, but be prepared for the occasional "what do you mean Potemkin can't airdash??"
Ramlethal Valentine
Anyone who's played the previous betas knows Ram is a beast in the right hands. Her pressure is impeccable, and her exploding swords in the corner are a trap for anyone too eager to get their turn back. She's also got one of the best reversal supers in the game, with a fast startup and invulnerability.
The only downside with Ram is that you have to manage her swords properly. They're not meant to be projectiles you throw out casually, and their absence affects many of her moves, including her aforementioned super.
UPDATE: Having trouble with Ram? check out our beginner's guide.

Potemkin
Look, Potemkin is fun. Potemkin Buster and its super variant, Heavenly Potemkin Buster are some of the most powerful single moves in the game, biting off entire chunks of your health. Better yet, the game fully endorses the use of a technical term called the Kara Cancel, which will let you get off a Potemkin Buster at round start by abusing the momentum of his forwards kick.
The main downside is like many grapplers, Potemkin has no mobility. Hammerfall is his main tool to get around, but with the move minus on block a beginner needs to learn to cancel out of it before they get punished. Still, he's got boatloads of health and his armored moves are great for getting in- it's just that be prepared for those who start with Potemkin to have trouble playing other characters, since you'll have to learn so many Potemkin-exclusive ways to work around his weaknesses.

Leo Whitefang

Honestly Leo would be in A-rank for all the same reasons Sol is, thanks to his hyper aggressive playstyle and really good normals. The main reason he's in the B-rank is also his most fun feature, his Brynhildr Stance. Here, he turns his back to the opponent, sacrificing his ability to block but forcing the opponent to guess what he's going to do next be it any of his great attacks, his new command grab or a wicked counter.
On top of that he has one of the best fireballs in the game, although similar to May players will need to get the hang of charge inputs to effectively use them. Similarly his Brynhildr Stance takes work to properly learn to use, since its main strength is letting you move through characters to force them to guess a blocking direction.
I-No
Another mix-up character, I-No constantly keeps you on your toes on whether to block high or block low. On top of that she can control how long it takes for her to hit the ground, making her especially frustrating to deal with when she's on offense.
The trade off for this is her lack of a dash, though she makes up for it with actual flight. Still, if you're not keeping your opponent guessing, you're not playing I-No right, definitely putting her on the slightly trickier end of the Guilty Gear Strive character roster.

Axl Low
Part zoner, part grappler, Axl is an interesting character with plenty of tools to deal with at long range. He's got the game's only long range command grab and a variety of good pokes, letting you keep your opponent at a distance and then punish them for not trying to get in with said command grab.
His only downside for new players is the problem most zoners have in any fighting game, which is player compliance. The temptation to want to get in is strong, so players will need to learn that you're not gonna be able to take Night Raid Vortex on head-on.
C-Tier- You Already Know This Is Gonna Eat Your Time
These are the characters that you're gonna commit to learning, or have a very bad time otherwise. Remember, they're not bad characters, they're just incredibly difficult for a first timer to pick up.

Millia Rage
Admittedly, it's painful to put Millia here in the character chart, considering she's one of the best looking characters in Guilty Gear Strive. But the truth is Millia is incredibly execution heavy, and improper knowledge of how all her tools works means you're going to be wondering why an offense character has such low damage.
Being good at Millia feels great- but that means always ending your combos in a knockdown, always getting in your setups, et cetera. But for a first timer you're just going to feel the burn of not doing as much damage as your friends, and feeling like you're never getting in.

Zato-1
To the new player, Zato-1 can seem incredibly confusing. Laying the blueprint for Blazblue's Clovers, Zato and his alter ego Eddie are two separate beings, and playing Zato really means learning when to summon Eddie to assist to keep the pressure on your opponent.
Without knowing this, Zato feels like an incredibly awkward character to use. His moves all have big openings in them, meant to be covered by an assist from Eddie. Similarly just spamming Eddie is no good either, since draining his bar leaves you wide open for hits.
Suffice to say, learning Zato is gonna be a steep learning curve, so unless you're a really big fan of Dio's voice actors or the character already, maybe skip this one over.

Chipp Zanuff
Chipp is a terrifying character, capable of high burst damage if he can get a hit in. If you've seen a competent Chipp Player, there's a good chance you would have seen lots of corner-to-corner combos, making you think he was one of the most powerful characters in the game.
While that's definitely true, he does suffer from a laughably low health pool. Like Millia but worse, new players should expect a lot of difficulty with Chipp, because it's going to feel like some characters just delete your health bar.

Nagoriyuki
Look, history has not been kind to Nagoriyuki. Despite having a really cool mechanic built around chaining special moves together, his Blood Rage gets in the way, leading players to lose 60% of their life bar without even getting hit.
Nagoriyuki is especially bad for this since it's easy to be suckered into thinking Blood Rage's buffs will help you, but the truth is anyone who knows the Nago match-up will have their eyes peeled for the Blood Rage, ready to punish it and steal the round.
While he's incredibly fun to play, the fact of the matter is that Nagoriyuki probably isn't the best beginner character in Guilty Gear Strive. There's just too much "um but get ready for…" thrown in to his kit, which is a shame because he's visually one of the coolest characters in the game, and his focus on a much slower, focused combat is an interesting change of pace.
---
That's about it from us for the Guilty Gear Strive Character Ranking chart, at least until the game gets DLC down the line. Strive's characters are all pretty good for new players in general thanks to the game's much more streamlined approach, but expect some frustrations as the game's unique mechanics can affect some characters more than others.
Naturally, this entire list means nothing if a Guilty Gear Strive character has already caught your eye. After all, if you wanna play Nago, you're willing to put up with all manner of bad match ups and getting grabbed out of your Blood Rage to win. This list was purely targeted at people completely new, wanting to know a good character to start with.
---
Check This Out Next
---