I don't think you could find a bigger Guilty Gear mark on the Gamerbraves writing team than me, with the Guilty Gear Strive Impressions being one of my dream projects. While I'm not necessarily good at it, the game's over-the-top designs, rock and roll influences and amazing soundtrack have captured my heart like a Heavenly Potemkin Buster.
As such, you can guess that I've been nothing but excited for the upcoming Guilty Gear Strive, due out later in April. As a numbered entry in the game, it's got some big changes, many of them on display in the demo. How does it fare? Read on and find out.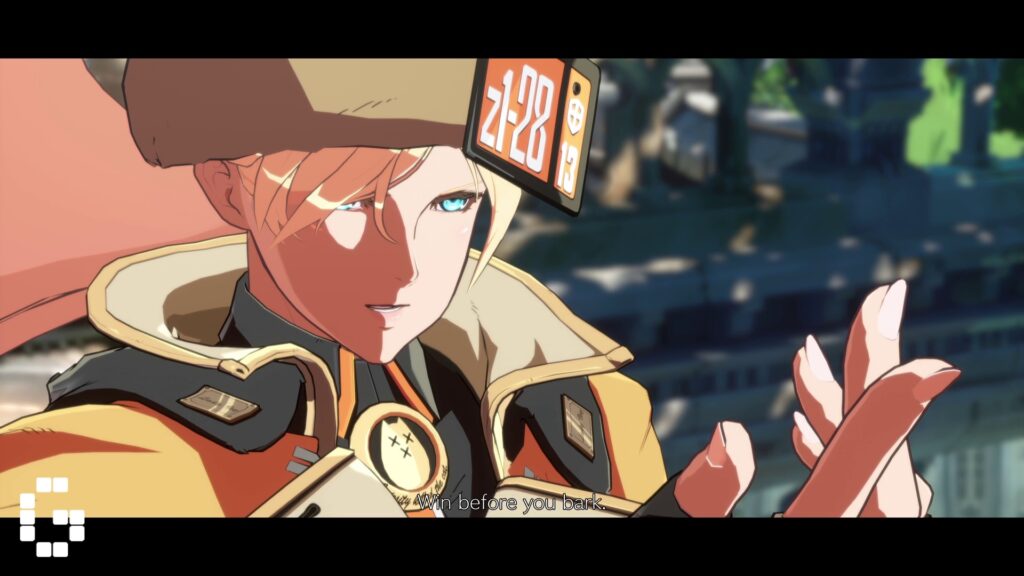 Break A Spell 
At first glance, Guilty Gear Strive is a gorgeous fighting game. Ever since Xrd Guilty Gear has adopted this 2D style of sprites, but using 3D models. The style was so popular that Arc System Works used it in their licensed titles, such as Granblue Fantasy Versus. That's very much the case in Strive, which has even more impressive models than its predecessor.
It's made even better with the cinematic new supers, often including a lot of facial close ups of the game's characters. Usually flashy supers tend to be more to a characters' body, so it's really interesting that you can see characters like Ramlethal and Ky emote as they do their big supers.
However, what it exceeds in its character models it kind of falls short on in UI. It's a common complaint in the Guilty Gear community that a game whose identity is so steeped in rock music looks so… banal. Excess is a key element of Guilty Gear's design ethos, and and the new UI just doesn't have that. Everything's kind of minimalist (the black splashes were only added after fan feedback), it just doesn't feel like a Rock n Roll fighter.
the weird peach-ish health bars are also a UX problem, since some of the stages do blend in with it a little, making it harder to track. These are all minor gripes, but I do wish at least one of these would be addressed before launch.
Compatibility Issues 
This one's purely for those of you who already have a foot in the fighting game scene, so you can skip this if you're new. But it should be noted that the game has some serious compatibility issues, especially if you're using a fightstick.
Basically, if you're using an older fightstick, it technically counts as a PS3 controller, also referred to as a PS4 Legacy. Older fighting games such as Blazblue Chronophantasma will still recognize your stick even on the PS4, since those started out as PS3 games.
However, as a PS4 game proper, your stick will not carry over since you'll need a PS4 proper, not legacy controller for it to work. This is made even doubly worse on the PS5 version of the demo, which will only allow you to use a Dualsense controller since it's a PS5 game. (The PS5 supports the latest Dualshock for backwards compatibility. but not if you're playing a PS5 title).
Considering plugging in my Dualshock got me the same alert on the PS5, I highly recommend playing the PS4 version of the beta until Arc System Works mentions a fix to get older fightsticks supported again.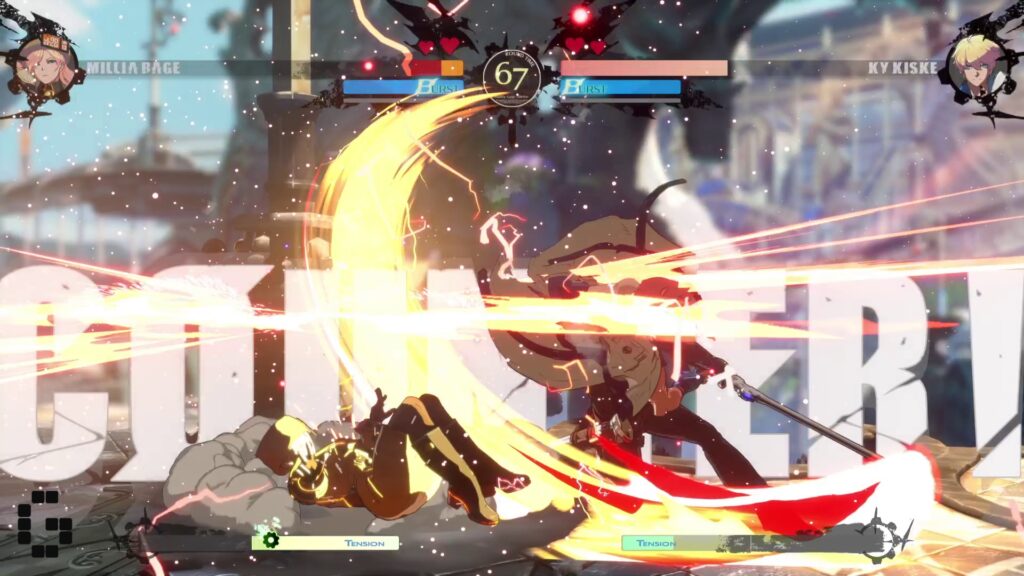 Heaven Or Hell, Let's Rock
One thing Guilty Gear fans should be aware of going into this game is that it's not going to be Xrd Revelator 3. It's very much a different game mechanically from Xrd, trading a lot of its faster action for a more grounded approach. Guilty Gear Strive certainly leaves impressions that it's aiming for as much.
That's not to say the game has gone full Street Fighter- fan pushback managed to bring back a lot of the staples of Anime Fighters such as airdashing. But you will realize that it's a gear down below Xrd, and much slower than Accent Core Plus R. It feels a lot more fundamentals based, meaning it's a lot about reacting to your opponent's big moves and punishing them where appropriate.
The game even emphasizes this with giant text blocks that say COUNTER every time you land a counter hit, really adding to the spectacle. It's really hard to explain to someone who's not already into Guilty Gear, but I'll try-
A lot of the appeal in Guilty Gear is that the fights are often, well, dirty. Ordinarily, on a hard knockdown the game is reset, letting players struggle to get their turn back to attack. In Guilty Gear, characters have all manner of means to make sure that's not the case, meaning if you were on defense before the knockdown you're probably going to still be on defense when you get back up.
Strive doesn't do away with this entirely- oppression is the key feature of characters like Millia Rage, after all. But you can feel that players are given more of a fighting chance. Which is great to rope in new players! But as a Guilty Gear fan you might not be as ecstatic since it feels like the skill ceiling is being lowered.
That being said, it's not like every change was made to cater to being easier for new players. While many fighting games have some sort of autocombo to make mashing effective, Guilty Gear had the ever-sickly-named Gatling system. In Xrd, any of the game's 5 attack buttons could be chained into each other, assuming you were moving in one direction on the hierarchy (So don't expect a Heavy Slash to chain into a jab). Strive has done away with that system, and I'm not entirely sure why.
The result is that Strive feels a lot more homework-based, as you'll absolutely need to spend some time in the training room to figure out your best combos instead of being able to wing it for the most part a la Xrd. Characters are also doing way more damage per hit compared to previous entries, so there's not as much room to style on your opponent before the round ends.
Divide My Heart
Again, technically this is a good thing for the game, since it's more "fair". But if you were watching Nitro Soccer, a game where say every player was genetically enhanced to have 6 legs, a jetpack and suplexes were legal, you could surely understand fan disappointment if, for the 2021 Nitro Soccer World Cup, they issued a ban saying athletes could only have *4* legs, a jetpack and suplexes would be replaced by a lariat.
You'll probably notice things being different as a result of the new rules, and you may miss the sight of a 6 legged Ronaldinho suplexing Messi into the ground before scoring a goal. But it's still way more hype than whatever's on ESPN right now, and there's merit to that.
Just because it's a little different though, doesn't mean it's not still Guilty Gear. The game is built around having a good offense, with unique features designed to keep you aggressive. It should be pointed out it doesn't make being aggressive easier, but rather rewards aggressive play. For example, you build Tension (which you'll need for super moves and other features) by dashing towards your opponent.
On top of that, you also have the returning RISC meter, which builds if you're blocking too much. The idea is that every time you block a hit, you build RISC, and when you *do* get hit, your opponent will cash out your RISC for even more damage, leading to some big plays. This means eventually you'll have to learn to counterattack, because blocking is a guessing game and there's only so many times you can guess right.
There's also the new Wall Break feature, which is in my opinion one of the best new features in Strive. It acts as a double-edged sword- if you're currently being pounded in the corner, the Wall Break triggers a stage change, and you'll be set back in the middle of the screen.
However, the one cornering you also gets rewarded with a drastically increased meter gain, meaning you now have to deal with an opponent who has meter for big supers or the series iconic Roman Cancels, which lets them extend their combos even further.
Of course, that doesn't mean there's no defensive options either. Meter can also be spent on Faultless Defense, which lets you block attacks without taking residual Chip damage. On top of all that your Tension meter won't carry into the next round, so you have incentive to spend it before the round ends if you don't want to live with "I should have done this". The Roman Cancel shows up here too with a new feature, letting you use the Roman Cancel to slow down your opponent if used in tandem with a block.
Suffice to say, while Guilty Gear Strive can give player impressions that it's going more simple, it couldn't be further from the truth. Simplified, maybe. But we're far from Guilty Gear being a one-button game.
Here Comes A New Daredevil (AKA Guilty Gear Strive Impressions- The Characters)
Like other Guilty Gears before it, Strive has a pretty interesting roster of characters. The beta includes all the announced characters except for Anji Mito, who was only announced last month, and one more yet-announced character.
The characters are pretty well balanced in the sense that there's a character for every playstyle, each with their own tricks. Most of them play largely the same compared to their predecessors, with Potemkin still being the gold standard of Grapplers and Ky Kiske still being an amazing all-rounder. Even series poster boy Sol Badguy plays pretty similarly to his Xrd counterpart, though with a much higher damage output due to the loss of his signature Dragon Install.
Some characters definitely feel better designed than others, though. May loses a lot of her tricks from Xrd, which will be a big blow to fans of the character. Meanwhile other characters like Ramlethal got a total rework, that's generally great even if she's not using bold setups anymore. Some of the big winners of the redesigns are Leo Whitefang, who lost virtually nothing and gained an incredibly offensive moveset built around rushing down your opponent and countering them if they dared to hit buttons when it's Leo's turn.
There's also two new faces in the Strive roster, Nagoriyuki and Giovanna. They're a great example of the highs and lows of this game, and I'll explain why:
Nagoriyuki is an amazing character design, wherein he's one of the slowest characters in the game, lacking a proper dash. In exchange, he has wide range and powerful damage. He can also cancel his Special moves into each other, similar to Hakumen from Blazblue. However unlike Hakumen who has to pay for this feature with his meter, Nagoriyuki is instead punished for using it too much via his Blood Rage gimmick. In Blood Rage he deals even more damage even on chip, but drains his own health until you either get him out of Blood Rage with a super or die. It's a great example of risk and reward, as it requires discipline to use and will absolutely take pro hands to figure out an effective means of balancing out his Blood Rage properly.
On the other hand, Giovanna's just, well, there. She's got a cool ghost dog that does nothing, and her playstyle is a close range rushdown. The problem is she shares that class with characters like Chipp, Millia and Sol, all of which have way better toolsets. She supposedly gains damage if she's at full Tension, but thats a steep price for something both Sol and Millia do for free by stopping you from playing with more oppressive combos. Even if you said that Giovanna's individual hits did more damage, characters like Potemkin and Nagoriyuki just outclass her.
She's straightforward, but almost too much so. I wouldn't even really recommend her to a beginner since characters like Ky and Sol have much more rounded movesets and are just as beginner friendly.
All in all though, Strive's roster is looking incredibly solid. Nagoriyuki's complex gimmick isn't unique- characters like ZATO=1 have a whole second playable character attached to him, and Ramlethal risks losing her projectiles if she uses them haphazardly. It's very hard to be envious of other characters' kits since each character feels so unique, and players are sure to find a main even if their gun-bride main from Xrd didn't make it over.
Training Mode: 
In a previous video, Arc System Works explained that the game would have a robust training mode, even promising to teach players matchups to use against specific enemies. Sadly most of that stuff hasn't been implemented yet, and the only training options you have are a Free Training similar to other fighting games, and a basic tutorial narrated by Sol and Ky.
The basic tutorial is a nice idea, as it essentially plays out as a conversation between Sol and Ky. the two characters will talk back and forth as Ky gives you instructions on what to do, and will even react to you doing things on your own. It's a nice gimmick, but I honestly found it distracting from the actual tutorial, since a lot of it is sandwiched between character dialogue such as Sol objecting and wanting to go home.
It also doesn't cover a lot of Guilty Gear's more advanced mechanics, such as the Roman Cancel. Considering previous games covered it in their tutorial, it's a bit of a bummer that they didn't touch on the basics.
They also gave a tutorial for the game's bizarre online lobby, which is still pretty obtuse. Unlike the arcade machines in many Arc System Works games, Strive uses this weird overworld where you have to walk up to someone and ready your weapon to start a fight. The media demo we got didn't have anyone playing online, so we can't say if it was as buggy as the last time.
Wrapping Up The Guilty Gear Strive Impressions (Be Just Or Be Dead)
All in all, it looks like Strive is shaping up to be a great game. Sure, it has some flaws if you compare it too much to Accent Core or Xrd, but it's not changed so much that it's not Guilty Gear anymore. It might be a gear shift down, but that's not to say it's not still a zany, aggressive anime fighter that looks like it's on crack compared to other more grounded fighters.
I certainly had a lot of fun, and the game's diverse roster should make for some fun tech discoveries when even more people get their hands on the beta. Our thanks to Bandai Namco Entertainment, the game's publisher in the SEA region, for the early access to write this Guilty Gear Strive Impressions.
You can try out the Guilty Gear Strive beta for yourself on February 19th, or wait for the game's full roster when it releases April 9th.
---
Demo reviewed on PS5. Demo access provided by Bandai Namco Entertainment, for the purposes of writing this Guilty Gear Strive Impressions