Stuck in one of the story missions? Our beginner guide to Tensura: King of Monsters will put you in the right track to become the strongest slime!
At first glance, Tensura: King of monsters may seem like just another mindless RPG gacha game with an auto-battle system. Players spend energy to go on missions, defeat enemies, and get stronger.
However, a few chapters into the story and you might realise that your party is actually getting wiped. Unlike most gacha games, "the wall" happens incredibly early, and if you didn't bother strengthening your units, you will definitely suffer defeat, even within the first hour of gameplay.
How exactly do you become the titular King of Monsters? Let's dive down into our Tensura: King of Monsters beginner guide!
---

Gacha—to reroll, or not to reroll?
Some gacha games, like SINoALICE, possess a system that allows new players to reroll for their starting units (or weapons, in SINoALICE's case). King of Monsters, however, does not possess such a feature.
With that said, the only methods to reroll, other than outright uninstalling and installing the game, involves deleting game files or binding multiple emails. However, I highly advise not to reroll as the rarity of units do not directly equate to stronger units. Not only is the current summoning pool rather small, but the only SS-ranked character (0.25% chance to pull him) is actually weaker than an A-ranked character who performs a similar role. You can read our character guide for a more detailed explanation.
If you do decide to reroll, here are the characters whom you should look out for:
Gabiru: Strongest character in the game. The strongest consistent auto attacker, easy to build.
Hakuro [Kijin]: Another powerful auto attacker. Extremely powerful passive abilities.
Souei [Kijin]: Excellent tank with respectable damage output.
Shion [Kijin]: Multipurpose unit, capable of stunning, aoe damage and countering. Great synergy unit.
Gobta: The king of synergy attacks, capable of comboing with teammates like crazy.
Ranga: A tank capable of resurrecting. Also comes with a guaranteed party-wide disable.
Eren: The most effective crowd control character—will freeze enemies for days.
Try to aim for at least two of them if you plan to reroll. Note that all of them are S-ranked characters (1.8% chance), with the exception of Eren, who is A-Ranked (18% chance).
Understanding your character
Tensura: King of Monsters does not do the best job of explaining its terminology—that is where this beginner guide comes in. Characters come in different ranks, ranging from B to SS (or SP, once event characters reach the game).
The game also classifies characters into specific types. They are:
Explode: Characters who have especially devastating Ultimate Skills that dish out tremendous damage.
Control: Characters who come with some form of crowd control (Exception being Hakuro [Kijin]).
Shield: Characters capable of creating shields which act as temporary additional HP.
Heal: Characters capable of healing.
Clone: Characters whose main niche is cloning themselves, adding more units to the field.
Buff: Characters who can strengthen units. So far, only Gelmud is of this type.
Debuff: Characters who can weaken enemies. So far, only Saika is of this type.
DMG Increase: Basically the same as Buff. So far, only Shuna [Ogre] is of this type.
Mana Regen: Characters capable of increasing the amount of mana gained. So far, only Souka is of this type.
Resistance: Characters who can reduce the DMG they take from enemies.
DPS: Characters whose strength is in dealing damage. Has the following subcategories:
DPS
Sustained DPS
Extra DPS
There is almost no difference between the three types of DPS. The types are also not evenly balanced, with some types like Explode having many different characters, but some like Debuff only having one. DMG Increase and Buff are also quite redundant. In essence, take these classifications with a grain of salt.
Besides the character types, each character (with the exception of Rimuru and B-ranked characters) comes with 4 different skills, gaining an extra Aptitude on their first breakthrough for the total of 5. Souka, Touka and Saika are three characters who gain an extra Synergy instead of Aptitude.
These skills are:
Ultimate Skill: A powerful manually activated ability (Auto-battle will automatically trigger this).
Auto Attack: The character's standard action(s). The game's AI will automatically determine the targets.
Aptitude: The character's passive ability.
Synergy: A follow up ability that automatically triggers when an enemy enters a certain state, which are:
Suspended
Knocked back
Down on the ground
These skills make or break your character. Pay attention to your character's skill set and try to plan your party around characters whose skills best complement each other.

Getting stronger
After a successful fight, characters in your party (regardless of whether they live or die) earn EXP. The only exception is in fights which do not cost any Magicules, the game's energy resource. While it is possible to grind your characters to max level, it becomes more and more impractical as you progress. Even late game Story missions provide the same EXP as the starting missions. As such, you will need to Strengthen your characters.
Strengthening characters require players to spend EXP Magic Bottles to level up their characters. Not only is this important in making your characters stronger, it is also the quickest way to get your characters to their maximum level. Characters need to be at max level in order to Breakthrough.
Breakthroughs enable players to increase the existing level cap of their characters and unlock or upgrade their skills. Players need to spend Souls and Marks in order to Breakthrough. While Souls are easily farmable through General Story missions, Marks are quite limited, mainly obtainable through Elite Story missions which are by the number of Elite Tickets in the player's possession. Players can also buy Marks in the Market.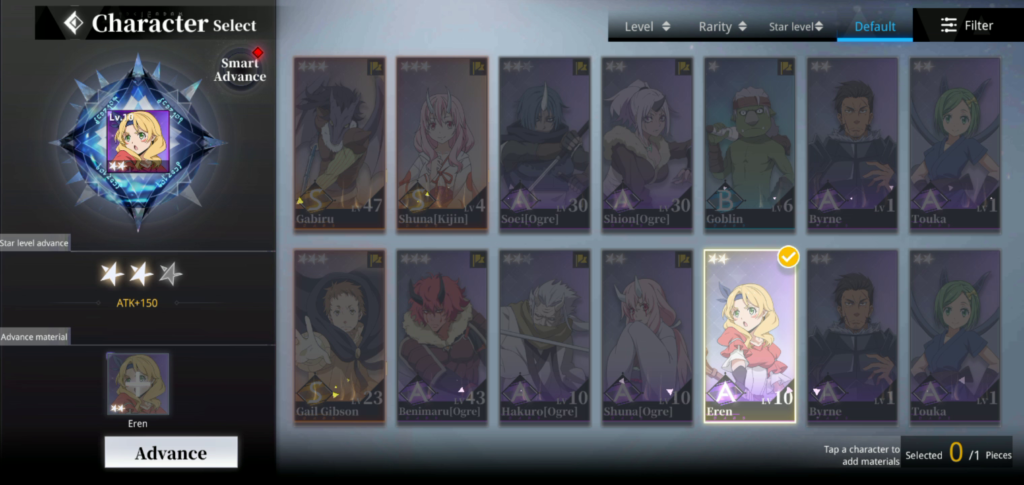 Another method of improving a character is through advancing them. Advancement requires players to permanently sacrifice their other characters as Advance materials, granting the strengthened character a massive boost in stats as well as improving other abilities.
Be careful in Advancing your character! Sometimes, characters can Advance with any character as their Advance material, but the same character might require only duplicates as Advance materials later on. Save the duplicates of your favourite or best characters and don't spend them as Advance materials if they can Advance with random units!
The final method in improving your character is through equipping Gear. There are 6 Gear slots for each character, divided into Weapon, Top, Bottom, Pendant, Ring and Earring. Not only should you enhance your Gear to make them stronger, you should also equip Gears of the same set to obtain a set effect bonus, which can give great stat bonuses and even special effects.
Put things into Rimuru's tummy!
Love him or hate him, you can never get rid of Rimuru, the main character. He is always in your party and is always present in every single fight. Unlike other characters, he follows an entirely different progression system. Players also cannot Strengthen, Breakthrough or Advance Rimuru. He also cannot equip any Gear.
This is where the Devour system comes in. The Devour system sets Tensura: King of Monsters apart from every other gacha game available in the market. By feeding Memory Shards to Rimuru, his stats increase.
Rimuru also can devour Cores which players get from progressing through the Story. When Rimuru devours Cores, he unlocks new skills. Rimuru can have a maximum of 15 skills, but can only equip 5 of them for each fight. He can fulfill basically any role, from dealing damage or healing his allies.
The feeding animation of Slime Rimuru is also quite adorable and interactive. Players guide the Memory Shards or Cores to the beginner monster's mouth, which is probably the cutest experience in Tensura: King of Monsters.
Additional tips
The first few missions in the story gives players all the Ogre units. Even though they are all A-Ranked, don't look down on them. Benimaru [Ogre], Souei [Ogre] and Shion [Ogre] are really powerful. In particular, Benimaru [Ogre] is a top tier character, so be sure to upgrade him!
Magicules, the energy resource, recharges every 6 minutes.
The game doesn't tell you this, but you can actually move the camera around during fights by moving your finger across the screen.
Redeem the free Daily, Weekly and Monthly gift packs from the Market!
The Elite category in the market (also known as Federation Coin Shop) sometimes contain units. Be sure to check it regularly, as it tends to contain a select pool of units which refreshes every few days. It is therefore possible to directly purchase the unit you are looking for with Federation Coins.
At 12:00 pm and 6:00 pm UTC+8, Lunch and Dinner at the Tempest Canteen refreshes. You can redeem up to 100 free Magicules every day by dining at the Tempest Canteen.
Earn free rewards by using redemption codes. You can refer to our list here.
---
That is all for our Tensura: King of Monsters beginner guide. We wish players all the best in progressing through the game. Be sure to check out the game's Facebook page to stay updated.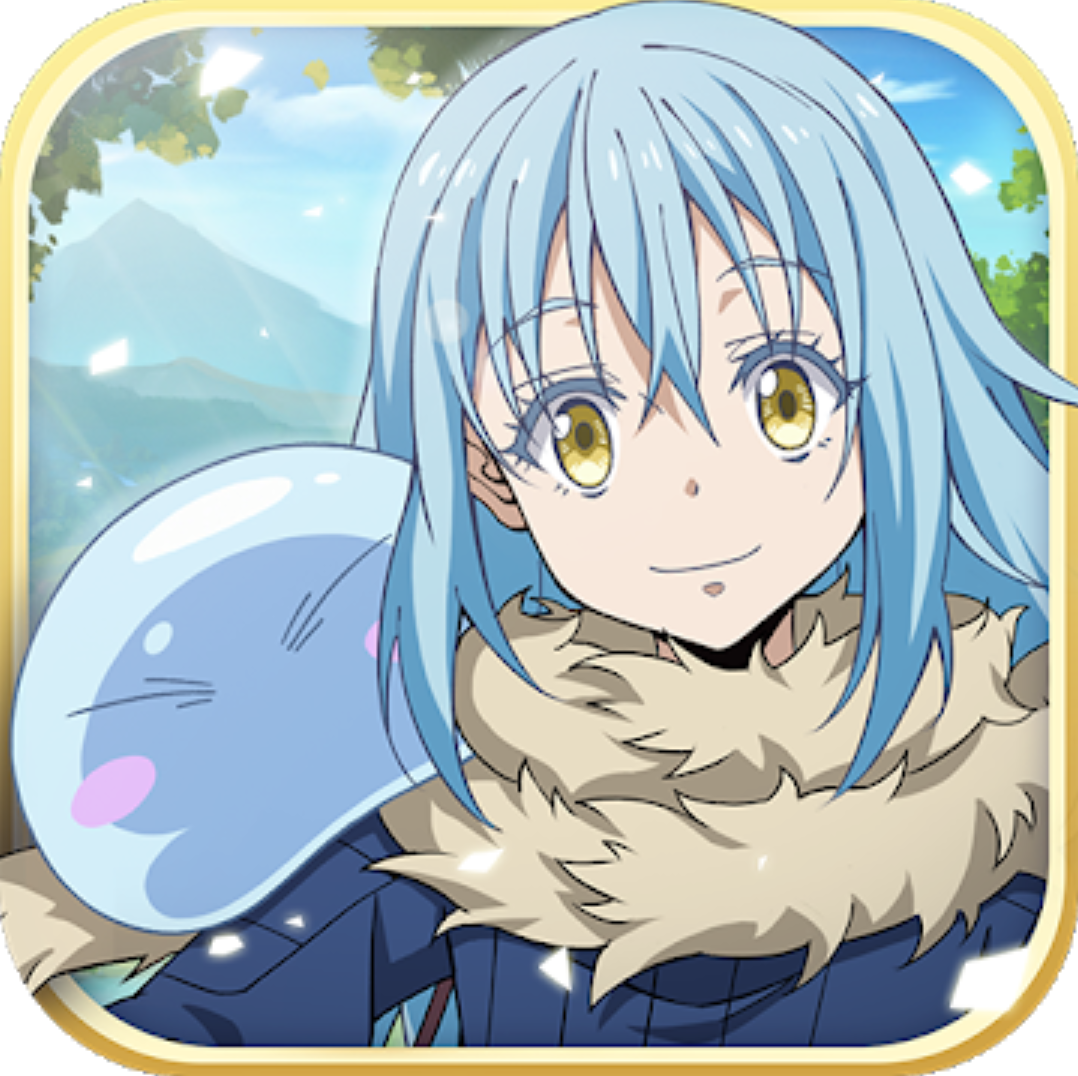 Tensura: King of Monsters
Android, iOS
I'm not an evil Slime! Would you like to hide in my stomach?
That Time I Got Reincarnated as a Slime: King of Monsters is a mobile strategy multiplayer online RPG game, an official game adaptation of the anime under the original writer Fuse's supervision! The game employs the state-of-the art 3D cel-shading technology to present to gamers the Jura Tempest Federation from the anime. In the game, players may summon monsters, collect characters from the original anime and build up powerful monster combat lineup. The game features a unique Devour system that allows players to develop their own Rimuru!