The violence loving maniac is here and Jackal will very much wreck havoc in Nikke: Goddess of Victory.
Jackal is an SSR Burst Type 1 Iron Defender Nikke who uses a Rocket Launcher and for those that main Laplace, she will definitely be your best friend.
Jackal Kit
Her first skill, Happy Jackal, activates after she has been attacked a total of 10 times. It will affect one enemy present on the screen with the highest HP and increases its damage taken while debuffing its Attack stat.
Her second skill, Jumpin' Jackal Flash, immediately activates at the start of the battle and it will share all the damage receives between her and two other NIKKE in the team. This also increases her and the affected NIKKEs' Defense and both effects lasts for a total of 2 minutes.
Her Burst Skill, Crazy Jackal, increases the Burst Skill Damage for all allies and also buffing up their Defense. However, the damage buff will only affect one enemy. Example, in a swarm of 5 enemies, the Burst Damage Buff will only increase the damage to only 1 out of 5 enemies.
Strength
Jackal shines in Boss stages. If you managed to time both the activation of her Burst Skill and her first skill, you will be melting the boss within seconds. Of course, even without timing it your team will be dishing out ludicrous amount of damage nevertheless.
Weakness
Her main weakness comes from her second skill. Sharing damage actually does more harm than anything and since its affecting two of your NIKKEs, your team might just wiped themselves out before you realize it.
As she shines in Boss stages, she unfortunately does not offer much when it comes normal stages since her kit focuses on a single target.
Should You Pull
Jackal will eventually be added into the permanent pool so there's really no rush in pulling for her. However, if you are interested in pulling for her, she would prove to be a nice addition if you're going for a more aggressive playstyle especially in boss stages.
Pair her up with Laplace and you'll be drilling holes into any bosses in a blink of an eye. She unfortunately does not team up well with Scarlet and Harran if you're going for a Burst gameplay since both of the latter are AoE.
Nevertheless, Jackal is a good Nikke if you want to pull but if you are not in a hurry, it's best to save your resources for upcoming limited banners.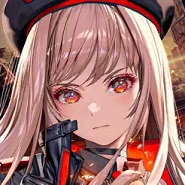 GODDESS OF VICTORY: NIKKE
Android, iOS
GODDESS OF VICTORY: NIKKE is an immersive sci-fi RPG shooter game, where you recruit and command various maidens to form a beautiful anime girl squad that specializes in wielding guns and other unique sci-fi weapons. Command and collect girls that have unique combat specialties to create your ultimate team! Experience next-level shooting action with simple yet intuitive controls while enjoying dynamic battle effects.
---
Check This Out Next
---