Interlocking Competition is a new game mode to Arknights, its first iteration arriving with the Hymnoi Wisdom event, so here's a guide to break it down. The first run is a mostly straightforward affair, with future runs maybe yet to come.
WHAT IS INTERLOCKING COMPETITION?
Interlocking Competition could be considered an off-shoot of the ever present Contingency Contract. The concept is simple:
Defeat enemies within a map.
You can choose to "Garrison" the successful squad in that map.

This unlocks new enemies in the final map.
Operators in a Garrison squad cannot be selected for future maps, unless you remove them from the Garrison.
Removing Operators from a Garrison squad will also remove the new enemies from the final map.
Hymnoi Wisdom allows you to Garrison 

four

squads, to unlock four new enemy spawns in the final map.

Additional enemies do not deduct HP.

The Sanity cost to play the final map goes up accordingly with rewards depending on how many new enemy spawns you have.
Hymnoi Wisdom also allows you to utilize 6-star Guard Pallas, fixed at Elite 2 Level 30, Skill Level 7, as a Support Operator. You can still Auto-Deploy if you use this guest Pallas.
After that, it's pretty much just beat up whatever that comes your way.
HOW TO PLAY
Besides the whole Garrison mechanic to increase the final map difficulty and removing use of your chosen Operators, the basic gameplay is the same. Defeat the enemies and claim your rewards!
Training Maps cost 10 Sanity per run for 2 event currency. The Final Map can go up to 35 Sanity per run max, for 3 – 7 event currency. The Garrison maps do not cost Sanity, nor do they give event currency.
For new players, you can opt to just grind out the Training Maps for event currency, or complete the Final Map without any modifiers.
For veterans, nothing except your squad line-up, stats and strategy should stop you from having four Garrison squads to claim maximum rewards. If you've raised any Summoner Operators, they can prove very useful as one-man squads to give you more room for the Final Map. Auto-Deploys for the Final Map will be removed if you add / remove Garrisons.
There are no materials to farm in this event. Once you're done, you're done.
HYMNOI WISDOM MAPS
TRAINING MAPS
TB-DB-1: DAYBREAK POINT – AWARENESS
If you're low level, your points of concern might be the Junkmen and Shielded Soldiers. Don't let the slugs slip through either!
TB-DB-2: DAYBREAK POINT – IDEAL
Make sure you have Operators to shoot down the drones, and watch out for the Loggers.
TB-DB-3: DAYBREAK POINT – SENSE
There'll be Wraiths from the middle and bottom right. Bring some Slows if you need them.
TB-DB-4: DAYBREAK POINT – ATTRIBUTE
The map starts off with the frosty slugs. Either pick them off or have Status Resist (via Whisperain, for example). There'll be the Yeti Casters who can freeze Operators too, and the Yeti Soldiers / Snipers who can pick them off.
GARRISON MAPS
Remember: Garrisoning Operators here will lock them out from your other teams.
LK-DP-A: DAYTIME GROUND – CONDUCT
The map is relatively straightforward without particularly dangerous enemies, unless you let slip the dogs or slugs. Both regular and Veteran Junkmen will be here.
LK-DP-B: DAYTIME GROUND – ILLUSION
The heavily armoured enemies can be a concern, and the drones that spawn will further buff their physical defense. Having enough Arts will be handy, though be prepared for the Shielded Senior Caster spawning from the bottom.
LK-DP-C: DAYTIME GROUND – MEDITATION
One Bully will spawn from the top, and Fanatics from bottom left and top right. Mixed in are Agents (who reduce your block), and the Marksmen who will destroy the Command Terminals. If a Command Terminal goes down, you fail the map. Slows / ranged units will be handy, besides 3-block Operators to stall out the Bully which will circle the center.
LK-DP-D: DAYTIME GROUND – PERSERVERANCE
There are no ice bombers, but there IS Frostnova. She will break the blockades, has two lives, and will summon those ice shrines. There's an abundance of ranged tiles, so prepare accordingly with Snipers / Supporters / Casters, whichever you prefer.
FINAL MAP
FIN-TS: TWILIGHT FRONTIER
No Garrison
The map will start with these Sarkaz Centurions who can heal up when they attack your Operators. One will spawn from the left, and two from the top. There's also two Bulldozers from the left. Don't forget about the drones that also spawn from the top.
Four Garrison
A Hymnoi Warrior will be at the start. Its aura will damage all your Operators, which fades away over time. The next Hymnoi Warrior will appear from the right.
Both Hymnoi Heroes will appear from the left. They will drop healing areas that may prove detrimental if you don't have enough damage.
Besides these additions, the map is functionally the same.
---
With that, the Hymnoi Wisdom version guide of Interlocking Competition is done. We'll see if future iterations make any changes.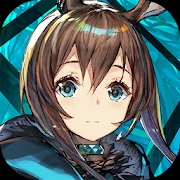 Arknights Global
Android, iOS
Take on the role of a key member of Rhodes Island, a pharmaceutical company that fights both a deadly infection and the unrest it leaves in its wake. Together with your leader Amiya, you'll recruit Operators, train them, then assign them to various operations to protect the innocent and resist those who would thrust the world into turmoil. Your tactics will determine the future of Rhodes Island. Fight for the Dawn!
---
Check This Out Next
---