Integrated Strategies is the permanent roguelite mode to Arknights, after debuting during The Great Chief Gavial Returns in Ceobe's Fungimist. The game mode has seasonal updates, expanding the rewards tier and adding more missions. While a 1-to-1 guide is certainly not possible due to the random nature of the mode, you can at least be a little more prepared as you start exploring.
---
UPGRADES
With the "Preparations Behind the Scenes", these are permanent passive upgrades to your runs moving forward by spending "Caliginous Insights". The currency is only obtainable when there are now pages added to the "Castle Notes", which is essentially the reward track. Once you hit the current season's max level, you will not gain any more.
"Candles" adds to the reward track levels, with more available through the Monthly Contracts. These are not the same for every player and can be refreshed with the top right button.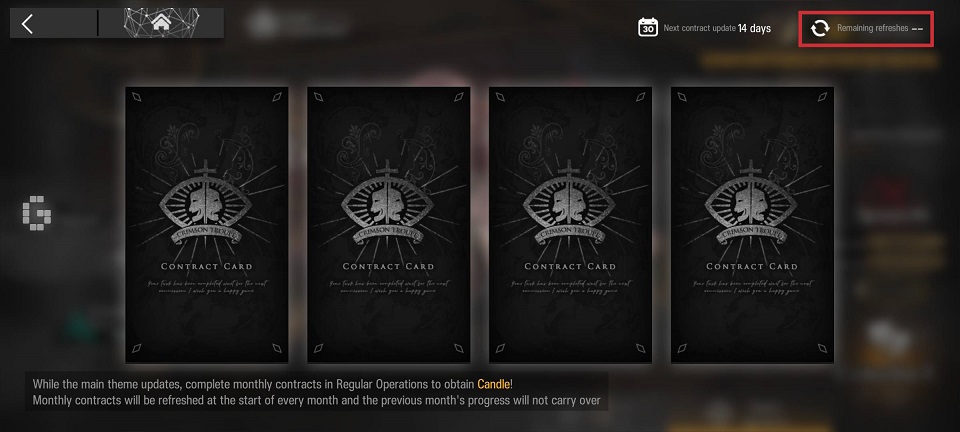 I would personally recommend prioritizing Preference Node D (Initial Originium Ingot) so that you have a higher chance of buying more things from the guaranteed trader in the first zone.
Additionally, there will be the Prospective Investment System that allows you to "invest" your Ingots to unlock additional items in Cannot's shop as well as new Collectibles. It maxes out at 500 at time of writing. Any updates to the unlock status will only be reflected once you finish the current expedition. How much you may put in is up to you and also random, as the "investment system" can "break down" at any point.
The "Balance Withdrawal" will allow you to withdraw 1 Ingot at a time, at greatly increasing costs. It is not recommended in most cases.
DIFFICULTY MODES
You have three difficulty modes: the Casual, Regular and Hard mode difficulties (Castle Sightseeing, Formal Investigation, Calamity Faceoff).
For example, Castle Sightseeing starts you off with the "Silent Squad" relic that provides buffs to your Operators. In this difficulty, you will be unable to unlock most of the relevant content.
EXPLORATION
After selecting your difficulty level, you will then need to select a Squad. A Squad can have a variety of effects to modify your start. Some of them will have conditions to unlock them for your next run. Completing any ending with a squad will mark that squad accordingly with a small logo on the top left. Failing a run after 2 stages grants you a choice of bonuses for the next run.
Your Recruitment Set will offer a selection of Operator classes. "As Your Heart Desires" will be entirely random. Recruiting Operators require a resource called "Hope", with the rarities costing as follows:
| RARITY | RECRUITMENT | PROMOTION |
| --- | --- | --- |
| 6☆ | 6 | 3 |
| 5☆ | 3 | 2 |
| 4☆ | 2 | 1 |
| 3☆ and below | 0 | N/A |
Operators – excluding Temporary Operators – follow your personal account's upgrade levels and Masteries where relevant. Temporary Operators will always cost 0 Hope to recruit and comes with max Potentials, Levels and Masteries.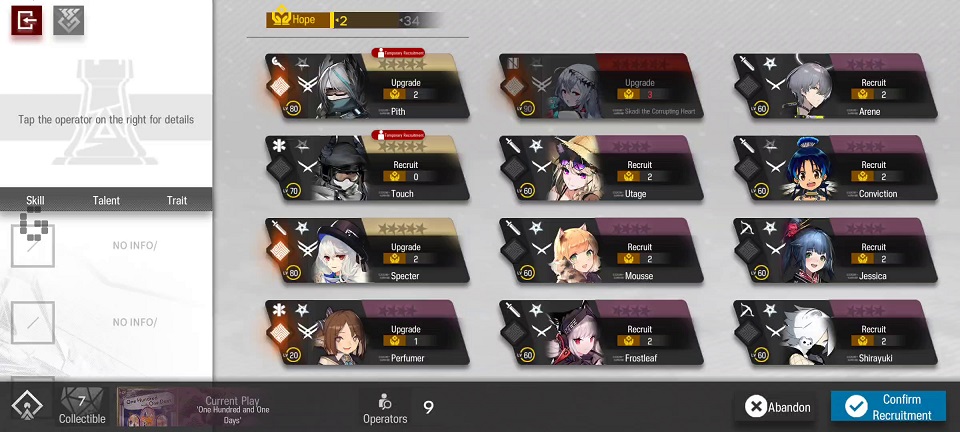 Once you begin your exploration, you will follow the pathlines from node to node. Whatever it is, you will be making choices across all of them. You may also encounter stage effects. You will be able to see the effects at the top of your screen. Other modifiers include "Plays" with their own effects. You can only have one at a time.
In general, you would like to maintain an equal distribution of Squad Size Limit and Deployment Slots so that you can place your Operators, all the while having a flexible composition. By the end, you would preferably have enough Collectibles that buff your Operators to succeed in combat.
Monthly Squads will have a select starting squad. Completing exploration with this monthly rotating squad grants rewards as well as lore.
"Unowned Treasures" are random chests that can spawn in maps for extra Ingots. They're normally not that high value to be worth protecting to start. All enemies – except the Duck Lord, Gopnik and flying units – will destroy the chest as they walk over it.
Tactical Props are consumable items. You can only have one type at any given time.
OPERATOR RECOMMENDATIONS
New to Integrated Strategies is being able to pick one Support Operator from your friends list which will match their stats. You will NOT be able to pick any other Support Operator afterwards.
CASTERS
| NAME | RARITY | PRIORITY | COMMENT |
| --- | --- | --- | --- |
| Ceobe | 6☆ | Mid | For the "Puppet" ending, she should be quite useful to burst, then deal with flying enemies. |
| Eyjafjalla | 6☆ | Mid to High | As with Ceobe's Fungimist, her AOE capabilities with single-target cost is valuable flexibility. |
| Passenger | 6☆ | Very High (with Hand of Diffusion). Otherwise, Mid to High | Should you be able to get the Hand of Diffusion Collectible, that will completely negate his high skill cost. Otherwise, put him into consideration as he still does offer soft crowd control with large range/burst damage. |
| Goldenglow | 6☆ | Mid to High. Very High with ASPD collectibles | Global range on E2 is incredibly enticing. Could be put on lower priority if you can't promote her or don't have as many synergistic collectibles. |
| Click | 4☆ | Mid | If you're planning on a Caster team, might as well grab her, more so with ASPD buffs. |
| Pudding | 4☆ | Mid to High | Higher priority if you have her module, since her damage will no longer be reduced between jumps as well as providing soft crowd control. |
| Steward | 3☆ | Mid | The old reliable cheap early game Caster. |
GUARDS
| NAME | RARITY | PRIORITY | COMMENT |
| --- | --- | --- | --- |
| Thorns | 6☆ | Very High / Must Pick | The king of versatility. His primary weakness is you being unlucky to not be able to promote him to E2 early enough. |
| Surtr | 6☆ | Mid to High. Very High with Tactical Assault Operative Squad | While she's queen of burst damage, she can lean to luxury due to high recruitment cost. |
| SilverAsh | 6☆ | Mid to High | Even if you don't get to promote him, he can still offer utility in reducing redeployment time and being an off-tank. |
| Mountain | 6☆ | Mid to High | The more offensively focused lane-holder compared to SilverAsh. He would prefer promotion for stats (and Masteries where relevant), of course. |
| Nearl the Radiant Knight | 6☆ | Mid to High | Bringing the hurt is always nice. Her skill activation isn't as fast as Surtr's but can play around deployment slots. |
| Lappland | 5☆ | Low to Mid | Being able to hit air is never a bad thing. Silence utility is almost negligible except for certain fringe cases. Notable in that the silence does work on the balloons. For anti-air in specific, you can get cheaper units hence the lower priority. |
| Specter | 5☆ | Mid | Self-sustain, AOE damage and brief immortality is nice. |
| Arene | 4☆ | Mid | If you're lacking in Snipers, his air-targetting priority could be a godsend. |
| Midnight | 3☆ | Mid | Once again, the ability to attack air can be highly valuable, available for cheap. |
MEDICS
Recommended at least 2 by mid-game to counter stage mechanics.
| NAME | RARITY | PRIORITY | COMMENT |
| --- | --- | --- | --- |
| Kal'tsit | 6☆ | Mid to High | Mont3r takes a deployment slot, so if you're really lacking on those, you might find it hard to slot her in properly. |
| Honeyberry | 5☆ | Early game: Mid. Later game: Very High / Must Pick. | Due to the prevalence of Elemental Damage in later stages, she basically becomes a Must Pick. |
| Mulberry | 5☆ | Early game: Mid. Later game: Very High / Must Pick. | As with Honeyberry, being able to heal off Elemental Damage becomes extremely crucial to prevent both the damage and stuns. |
| Whisperain | 5☆ | Low to Mid | Regular status effects still also exist, so if you have currency to spare, you might consider picking her up. |
| Ansel | 3☆ | Mid | The early game Medic. Preferable to Hibiscus due to his increased range and chance to heal 2 targets. |
SNIPERS
| NAME | RARITY | PRIORITY | COMMENT |
| --- | --- | --- | --- |
| Ch'en the Holungday | 6☆ | High | Her DPS ability can't be understated. Held back by her deployment cost. |
| May | 4☆ | Mid to High | Being able to slow is always handy. |
| Kroos | 3☆ | Mid | The old reliable early game Sniper. |
| Anti-Air Snipers in general | Various | Mid | There are definitely stages where they shine, but there's still a tendency for high Phys. DEF enemies which can make them lackluster if you don't have buffs. They're also understandably, by default, much squishier than their ground unit counterparts. |
SPECIALISTS
| NAME | RARITY | PRIORITY | COMMENT |
| --- | --- | --- | --- |
| Phantom | 6☆ | Mid | Needing multiple deployment slots work against his favour. Priority arguably jumps to Very High for Secret Ending seekers. |
| Bena | 5☆ | Mid to High | A 2-in-1 could be incredibly high value, if you've raised her. |
| Jaye | 4☆ | High | Cost-eating aside, his ability to self-sustain and lower base redeployment time is very useful. If you can get Specialist buffs, he becomes a filleting machine. |
| Shift Specialists in general | Various | Low to Mid | There are maps with holes to shove enemies into. However, if you weren't already using them regularly, you're less likely to be experimenting with them in such random conditions. |
SUPPORTERS
| NAME | RARITY | PRIORITY | COMMENT |
| --- | --- | --- | --- |
| Gnosis | 6☆ | Mid to High | Even without promotion, if he has ASPD or SP recharge buffs, his S1 allows him to freeze most enemies. For fringe cases, his Cold Resistance talent could even come in handy if you happen to have Karlan Trade Co members. |
| Podenco | 4☆ | Mid to High | Slow, Arts Damage and Silence with flexibility to heal instead should prove very useful. |
| Orchid | 3☆ | Mid | Stalwart early game Supporter for slows. |
| Summoners | Various | Mid to High | If you weren't already using them, you're likely to be hard-pressed to have deployment slots for their summons. Having extra blocks on hand if most of your party is down could be nice though. |
DEFENDERS
| NAME | RARITY | PRIORITY | COMMENT |
| --- | --- | --- | --- |
| Blemishine | 6☆ | Mid to High | Having sustain and able to ramp up her skill on her own is certainly useful. |
| Mudrock | 6☆ | Mid to High | Put her down and let her spin. Not being able to be healed does make her extra susceptible to Elemental Damage though. |
| Saria | 6☆ | Mid to High | Without SP boosts, her healing won't be enough when there is constant damage. By no means a bad choice though. |
| Shalem | 5☆ | Low to Mid | For taking advantage of his extra stats in this mode and for the medal. Definitely more luxury pick. |
| Cardigan | 3☆ | Mid | The self sustaining wall. |
VANGUARDS
| NAME | RARITY | PRIORITY | COMMENT |
| --- | --- | --- | --- |
| Bagpipe | 6☆ | Mid to High | Either quick nukes or more sustained damage. |
| Elysium | 5☆ | Low to Mid. High for Secret Ending | As the Secret Boss stage has decreased DP regeneration, this is where he can shine. |
| Beanstalk | 4☆ | Mid to High | Personal favourite for being able to target air and also one additional body (or multiple) for distractions. |
| Myrtle | 4☆ | Low to Mid. High for Secret Ending | Similar to Elysium, except if you can promote her, she should be able to live longer on her own. |
| Fang | 3☆ | Mid | For the extra body. |
ENDINGS
The Crimson Solitaire Integrated Strategies season currently has 3 possible endings: the regular ending, the so-called "Puppet" ending, and the "Secret" ending. You must complete the endings in sequence in order to unlock the events for the following endings, i.e. complete Normal end to "Puppet". Clear "Puppet" for "Secret".
NORMAL END
Successfully clear the stage "The Point of No Return". Lucian will deduct 30 HP, which in most cases will kill you.
"PUPPET" END
After clearing "The Point of No Return", you must pay 1 Hope in the Reprieve Encounter. You will obtain the Worn-Out Puppet. Doing so will give you a splash screen confirming the route change.
You can then encounter Crazy Puppets. You must pay 3 Life to obtain the Useless Scissors.
Only with the Useless Scissors will you be able to encounter the Reprieve event in which you obtain the Blank Suicide Note. It prevents the boss' HP regeneration mechanic.
Clear the "All I Ask of You" stage for the ending.
"SECRET" END
You must have cleared "All I Ask of You" stage. Next, obtain the Mantle of the Wrongly Condemned from the Attending a Banquet encounter.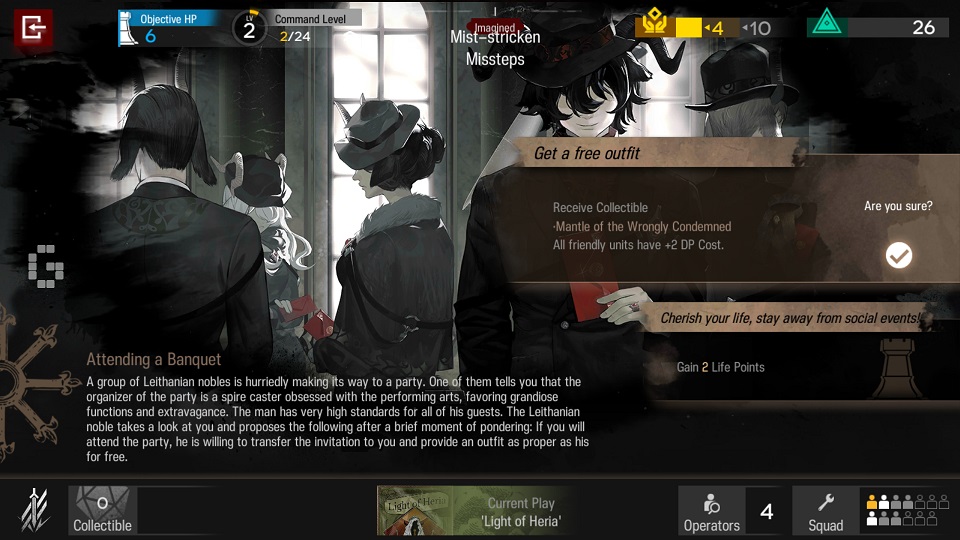 Successfully defeat the Dreadful Foe in Homeland Remnants and obtain the Stand-In Actor.
You must then find the A Gathering of Followers Encounter, take the Abrupt Realization Collectible, before you are finally locked in for the Secret Ending. You will also get an acknowledgement splash screen once this happens.
Succeed at "The Point of No Return" before you arrive at a sixth stage (Hall of Desires) with a shop, safe house, combat stage before the final fight at "Twisted Every Way".
MAPS
Here's an idea of the maps you may encounter throughout your exploration in Integrated Strategies. Some are variations of other maps, while others yet are specific to certain encounters.
REGULAR
BOB'S BEERS
Brawlers and drones with explosive packages.
UNENDING
The Fast Bois Sarkaz.
ABSURD TRICKERIES
More Fast Bois and weeping men who make you go insane.
SURPRISE FACTORY
Snipers, balloons, and crying men.
BEAST TAMING / PATROL SQUAD
A similar distribution of larger enemies and a swarm of smaller ones. Altar's position is random.
ACCIDENT / UNEQUAL SPLIT
Accident is a bit more swarmy, while Unequal Split has Crownslayer.
VINTAGE TRANSPORT
The conga line of explosive slugs return, and of course, Bob.
DESTITUTE KNIGHTS / GUN SALUTE
Either one empowered knight or mortar boys.
REFORM
Balloons and prisoners.
PREMIERE / A DANCE TOGETHER
Premiere has more of a swarm, while Dance Together has lots of balloons.
THE BITING COLD
Stay frosty.
A DATE WITH SLUGS / THE GRAND FINALE
Either slugs that reduce defense, or wraiths.
TRAVELER FROM AFAR
Jetpacks, fire boys, wolves and larger defenders.
SHROUDED IN CLOUD / THE RED MIST
The poison map.
THE NIGHT OF RITUAL / FIREWORKS SHOW
Either Sarkaz to bother or getting exploded.
A FAMILIAR FACE
Featuring W.
BEAST FIGHTING
Deducts your HP on deployment.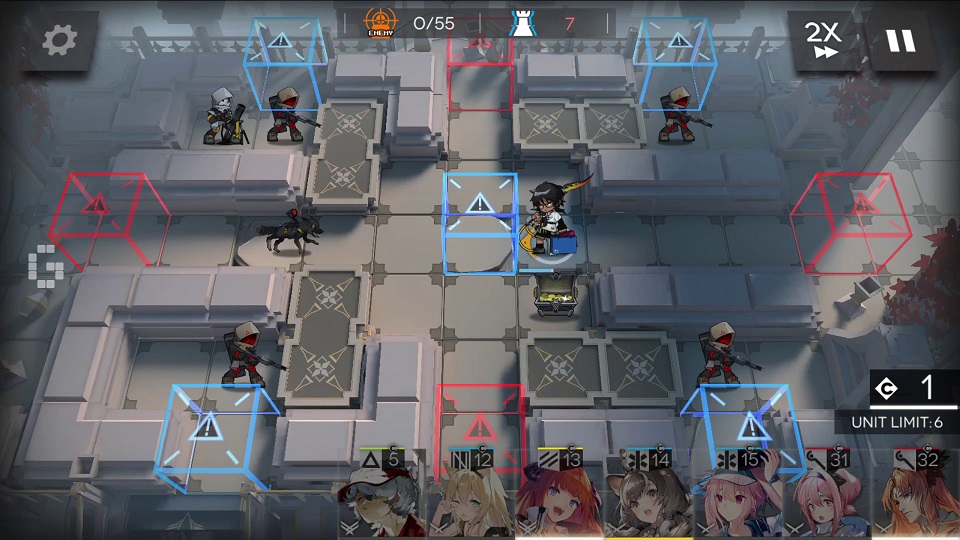 DANGERS ABOUND
Featuring turrets, bullies and wraiths.
WITH THE CROWD
The Tetris march.
PRESSING AHEAD / JUSTICE
The low DP map. Justice has civilians that can get killed, deducting your HP.
SPECIAL
DEMONIC CAGE
From choosing to help in the Shackled Bloodline encounter.
THIS URSUS MAN / GOPNIK'S FIST / DUCK LORD'S PLAY / DUCK LORD'S PARTY
Disturb the Ursus man in About That Ursus Man encounter. The Duck Lord and Gopnik could also individually do battle in separate events. They're similar in that they often start swarming you. The Ursus Man in particular has the infected animals from Originium Dust that break apart (silence works). The 7 enemy version has stun snipers and defense drones.
URSUS DESIRE
As part of the "Secret" ending. Artillery drones and a mess.
SARKAZ DESIRE
As part of the "Secret" ending. Flagbearers will walk over the Active Originium Tiles and trigger themselves.
DISORDERLY BANQUET
Take a look in the Arts and Madness encounter.
'KNIGHTS' DUEL'
Accept the invitation in the Phantom Ramblings encounter.
BOSS
TERRIFYING LEGENDS
Don't block the boss until you have your medics ready.
THEFT FROM ABOVE
A partially flying boss, Arts drones, and other stealthed enemies.
A COLD SEPARATION
Would preferably kill both bosses at the same time before they permanently freeze Operators and be easy pickings to cleavers. Boss starting positions can be random.
MIND THE DOORS
The stun golem returns. Starting spawn is random.
FATAL MELODY
It's a "poison mist" of continuous Arts damage if the boss is not blocked. Having Surtr, or any ground unit with a healer backup will save you some grief. Arts guards and mages will also stream in. Boss starting spawn is random.
THE POINT OF NO RETURN
Lucian will break the roadblocks as he walks around, all the while as you fend off the bouts of insanity.
ALL I ASK OF YOU
Damage will rain from the sky. Every so often will also explode. Enemies include a variety of knights and gargoyles, with the boss able to speed them up and slow you down.
TWISTED EVERY WAY
The bears on the pillars deal continuous True Damage. The boss himself cannot be directly damaged, so you must destroy the bears which will spawn in 2 rounds, effectively giving him 2 lives. His pathing goes to the left objective. Map also features low DP gain.
---
That's the gist of Integrated Strategies! There's no way to do a complete guide due to the randomness, but at least you could be better prepared.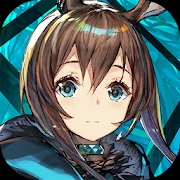 Arknights Global
Android, iOS
Take on the role of a key member of Rhodes Island, a pharmaceutical company that fights both a deadly infection and the unrest it leaves in its wake. Together with your leader Amiya, you'll recruit Operators, train them, then assign them to various operations to protect the innocent and resist those who would thrust the world into turmoil. Your tactics will determine the future of Rhodes Island. Fight for the Dawn!
---
Check This Out Next
---