World of Dragon Nest concluded its Closed Beta Test (CBT) after about a week of players trying out the features currently available. It gives a good idea on what to expect for full release, so let's jump right in.
There were plenty of features to try out in the CBT. The menus start out locked to you, so you won't get overwhelmed by everything. Progress through the story to see what the game has to offer!
The English localisation has room for improvement for full release. Grammatical errors and awkward sentences are quite rampant. Translation, then localisation is pretty hard, so you can forgive the game for that. With time, the team should be able to polish it! There's flavour text around for things like interactable items, and even changed dialogue for when you repeat a quest a number of times! There are definitely hidden gems to be discovered in the text.
Skill effects aren't so heavy as to obscure the screen or make the game lag, even when chaining many skills at once. Characters don't appear to emote in cutscenes, nor does there seem to be different expressions for sprites. It would be nice, but does not detract from the actual game.
If you happen to not know where the next quest is, you can simply tap on it and you can choose to automatically travel to the vicinity. Auto-travel/auto-battle are in, so even if you are busy, you can still grind out some quests. Quests are separated into categories: Story, Area and Daily. Story progresses the main plot, Area quests are those you find around the map, and Daily quests are repeatable quests. Dailies have tiers, like "hunt X monster Y times", which seems to stop at the sixth tier.
CP is your main baseline of progression. You can improve it in a variety of ways; equipping new gear, upgrading equipment, levelling up mounts, slotting in jewels, and more. It's basically your indicator of strength, and certain content will have a recommended level of CP.
Lower level dungeons are fine to clear without needing strict party compositions, but I would expect this to change in the future when more challenging content is released. If you're worried about not being able to clear a run, you can simply work on raising your CP. As mentioned, there is content that have a base CP requirement, and you won't be able to enter the "Nest" without the minimum. The dungeon boss raids, or "Nests", are separate instances you enter with three others. You use an entry ticket and queue to get matched with other players for a raid. Nests will be your source of equipment and equipment upgrades.
The Player versus Player Colosseum area was a little unstable for the CBT, having noticeable lag spikes. The Colosseum fight is a one-on-one, and you must use your skills effectively for victory! I didn't try PVP much thanks to the lag issues, and it was a CBT, so matchmaking may work differently at launch. I was matched with a player at the same level, using a different class, who may have been stronger.
Diamonds can be used to purchase various consumables or to roll for various mounts. Mounts not only help you travel the map faster, they can also provide some stat boosts as their level increases. Completing missions and milestones can also earn you diamonds among other rewards.
Other activities you can do are gardening, fishing, mining and such for materials. There's a crafting system in World of Dragon Nest, which takes time. Growing things in farm plots also requires real time, which you can speed up with purchased fertilisers. Farm land plots are expandable with diamonds. You'll need seeds to plant, of course. Fishing uses bait and hooks as well. Auto-fishing is possible, but you can get better fish if you tap it in the correct area.
You'd never run short of things to do, so look forward to the full release!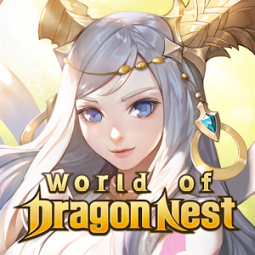 World of Dragon Nest
Android, iOS
An open world mobile MMORPG. Welcome back to the World of Dragon Nest!
---
Check This Out Next
---