Thanks to Boltrend Games, us English-speaking players will be able to play Disgaea RPG! The game is currently in its closed beta phase for select regions, so we're off to give it a shot to see what it's like.
GACHA
First and foremost, yes, this is a free to play gacha game. It takes 1500 Nether Quartz to do a 10 pull, which apparently does not guarantee a 3-star character or higher on the limited banner. Rates are at:
4-star: 3%, 1% for the rate up character, 0.16% for non-rate up

Regular premium banner rate has 0.25% across the board

3-star: 17%
2-star: 80%
It's on the lower end of the gacha spectrum, unfortunately. While the in-app purchases are disabled in the closed beta, the current prices will assume at least USD$30 for every 10 pull.
PRESENTATION
You get the artstyle you know and love across the Disgaea games, with the appearances of characters from the series and the ever present Prinnies. The menus and text are mostly legible, but the icons in your inventory screen can be hard to read in their attempts to keep the UI compact. At least you can get the deluge of information once you tap on your unit, which is mostly self-explanatory. There's the handy question mark you can find in the corner to get a quick introduction to certain features, if you need further explanation.
The main story isn't fully voiced, which may be disappointing. It defaults to the Japanese dub.
GAMEPLAY
It's a turn-based RPG, and you can see whose turn is next towards the bottom of the screen. As usual, a quest has 3 missions you can clear for additional rewards. You can bring five members into a quest, with one support unit who will come in if a unit on the frontline is defeated. All of your party members will get EXP when the quest is complete, but they'll get bonus EXP if they land the finishing blow. Skills require SP, which recharges at 10 per turn. Alternatively, your characters can also trigger Team Attacks which sees multiple members lay into the enemy together. All members in a Team Attack, if dealing the finishing blow, will get the bonus EXP.
You can auto mode quests, with up to 4x speed and appropriately comically sped up voices. There are three difficulties to the main story quest, so get on that grind for shiny quartz. You can't expect a friend's overly powerful unit to carry you though: they'll have "Strength Limit" marked on them. Though even if you fail a quest, you can head over to the Nether Hospital to get bonuses from those failures, or get something extra from the Doping Roulette.
There are the usual material quests, though only having one key to start for multiple quests seem rather counterintuitive. It didn't use up my one key when I ran a quest, so I'm not exactly sure how it works for now.
Dupes can be used to improve your unit up to a maximum of 10 times, with "Evility" bonuses and stats available. You do have items that can be used in place of dupes, so it's a bit less worrying. At certain levels, characters can learn new skills, some of which require them to be equipped with the associated weapon to use. There's just a lot you can play around with, really, and in turn, is going to be a long, long grind. I'm sure you Disgaea players are familiar with the obscenely huge numbers you can rack up…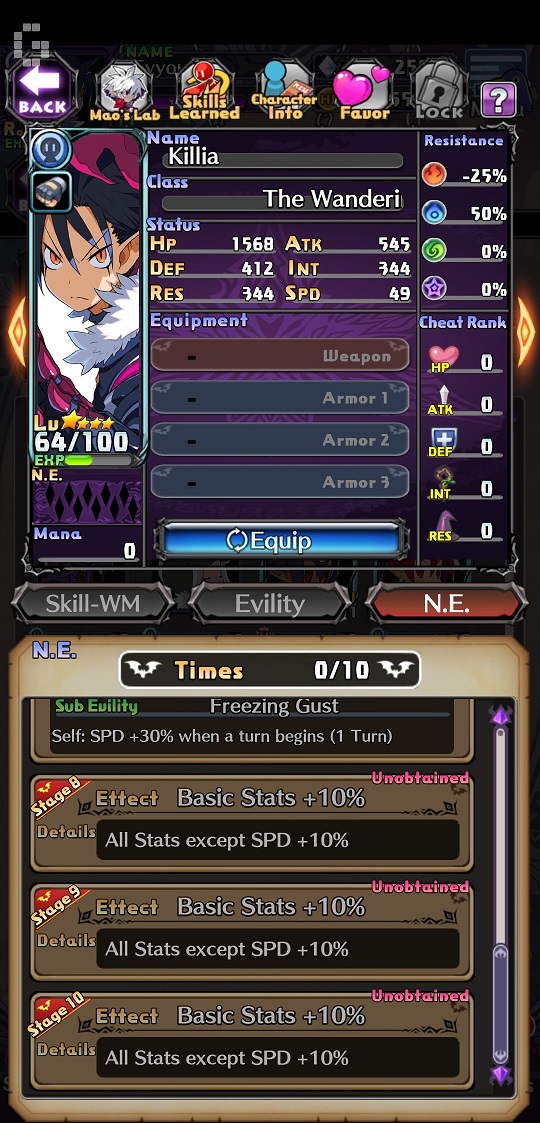 VERDICT?
There are some convenience stuff – 4x auto speed!!! – that can make this a nice side game to leave on to grind. I'm not especially invested in the series, so I can't speak for the fans, but the auto setups seem fine enough if you rather not think. The gacha is a mite painful though, with me pulling on the limited banner that doesn't guarantee a 3-star unit. There's a free premium daily pull which might mitigate things some, but without an apparent set pity in this beta, proceed with caution.
In any case, stay tuned for news about the official release. I'm sure many of you have been waiting for it.
DISGAEA RPG
Android, iOS
The most evil RPG is available on mobile devices!