Capcom has been going strong with the reveal of Street Fighter 6 coming out next year but seeing Street Fighter taking its next big leap does remind me of Capcom's other fighting franchise. One that hasn't gotten a new game in years, is their original monster mash: Darkstalkers.
With five Darkstalkers games coming to the recently released Capcom Fighting Collection, now seems like a good time to discuss what made Darkstalkers such an interesting series and why it was so important to fighting games as a whole.
What is Darkstalkers
If you're not familiar with Darkstalkers, you probably at least recognize Morrigan. You know, the succubus lady from Marvel Vs Capcom. She was originally from Darkstalkers, as were Felicia, Hsien-Ko, and Jedah.
Darkstalkers: The Night Warriors was first released in 1994. What made the game unique was unlike its contemporaries which were (loosely) inspired by martial arts, the new game was filled with monsters. A roster of ten monsters based on classic horror icons like Dracula, Frankenstein, and The Creature From The Black Lagoon.
Plot-wise there's not a lot to Darkstalkers. In the first two games, an alien named Pyron wants to take over the world and the monsters have to stop him. In the third game, a demon lord named Jedah wants to create a universe and the monsters have the stop him.
It was very much an excuse plot but what really made the series so interesting was its roster of characters. In a time when fighting games characters were mostly variations on 'karate guy' or 'kung fu lady', these monsters left an impact.
From Monsters to Anime Fighters
Probably the most notable aspect that Darkstalkers inspired with its character design. As previously mentioned many fighting games, while having fireballs tended to still be pretty grounded in real-world martial arts with maybe the exception of 'The Blanka'. That one really weird character spice up the roster. In Darkstalkers though, everyone is 'The Blanka'.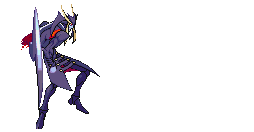 This is a game where a werewolf does kung fu with nunchucks, a zombie rockstar turns you into a basketball, a jiangshi drops weights out of her sleeves and an Egyptian mummy pharaoh does this: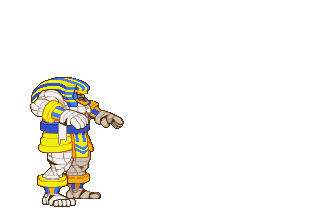 This was combined with vibrant anime-inspired sprites that still hold up today and faster animation that made the character truly pop off the screen. It was one of the first fighting games where you could really get a grasp on what each character's personality was just by how they were animated.
In just one round of playing as them and you can see Felicia's cheerful idealism, Bishamon's savagery, Lilith's playfulness, and how much a two-faced psychopath B.B Hood is.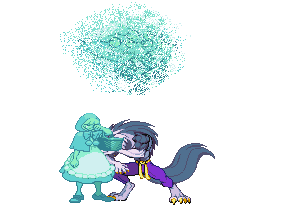 The character could range from badass to wacky, to gruesome, and often all at the same time. For example, Demitri is a vampire and sucks blood, but he doesn't just suck blood. His 'Midnight Bliss' turns opponents (regardless of gender) into a hot lady, who he then proceeds to squeeze the blood out of. He even starts with a bow and ends with a kiss, as a true gentleman would.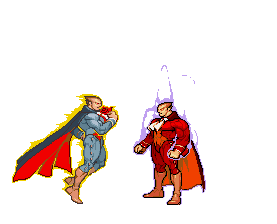 The Grandfather of The Bombastic Anime Fighters
Darkstalkers was a forerunner for games like Guilty Gear, Skillgirls, and Melty Blood. Anime-inspired character design with more unorthodox character design, over-the-top attacks, and fluid 2D animation. Even Capcom would employ this animation style for Street Fighter Alpha and their Marvel fighting games.
The series showed that fighting games could be more than martial arts and dragon uppercuts. They could bring in fighters from all shapes and nothing was too weird or audacious.
It wasn't just the art either. Another important part of Darkstalkers was its speed and fluidity. It helped popularize several mechanics like Super Moves, Air blocking, and expanding basic combos so players could string them together for longer attack turns. These are ideas that would evolve into the Roman Cancels and Air Dashing that we see in Arc System Works fighters today.
I'd go as far as to say that Darkstalkers just brought more flair and personality to fighting games in general.
Darkstalkers Nowadays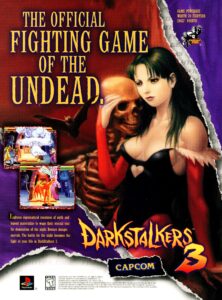 The first game would later be followed by two sequels: Nightwarriors: Darkstalkers Revenge and Darkstalkers 3, known as Vampire Hunter and Vampire Savior in Japan. Both sequels would later get updated releases confusingly titled Vampire Hunter 2 and Vampire Saviour 2, but neither would leave Japan.
Aside from a few ports here and there, that would be it for Darkstalkers. The three games would be ported into new collections on different consoles but we never got another Darkstalkers game.
And unfortunately, that doesn't seem like it'll change anytime soon. Even with the appearance of Darkstalkers in The Capcom Fighting Collection, Street Fighter 5 producer Shuhei Matsumoto said he does not think Darkstalkers will be getting a revival.
Darkstalkers Legacy
Darkstalkers may be gone, but it certainly isn't forgotten. There's a reason why Morrigan is pretty much Capcom's Captain Falcon, appearing everywhere except in her original games. She's popular, one of Capcom's most recognizable characters (and it's easy to understand why).
The Darkstalkers cast makes constant cameos in Marvel Vs Capcom, Street Fighter, Monster Hunter, and many of their other games. Even without new titles, fans and developers clearly like seeing these classic monsters around.
While these costumes and guest appearances don't make up for a new game, I do think it shows just how popular these characters are among Capcom's fans and the FGC in general. Whenever there's a new Marvel vs Capcom, Darkstalkers characters always seem to be at the top of fans' most-wanted lists.
Fighting games owe a lot to the strange monster mash of Darkstalkers. The series showed how different, innovative, and downright weird a fighting game character could be, that you could show so much of their personality in just how they threw a punch or fired an ice beam. To this day, I still think the 18 roster cast of Darkstalkers is one the best cast of fighters the genre has ever seen.
While Darkstalkers 4 may still be a legend, I'm glad that games like Capcom Fighting Collection continue to resurrect the series every now and again. The Darkstalkers may continue to haunt the night as they did so long ago in the arcades.
Capcom Fighting Collection featuring five of the Darkstalkers titles is available for Nintendo Switch, PS4, Xbox One, and PC via Steam. Check out our review of the collection for more information.
---
Check This Out Next
---