Street Fighter 6 is aiming to be the series at its most approachable- with many creators getting to try it at Summer Game Fest and Capcom also sending out developer gameplay for the game, we've gotten a pretty good look at the design philosophy behind Street Fighter 6.
Many fighting games over the years have tried their own attempts at bringing more people into the fighting game genre- be it by having baked in simpler controls with no motion inputs, tweaking the UI to be more readable to casual audiences or even having long, flashy animations that look good in a YouTube video.
However while a lot of those might pull people in, they're not necessarily going to keep them hooked- which seems to be the angle Street Fighter 6 is going for with its suite of features.
Modern Controls Are Good, Actually
I'm not going to sit here and pretend Street Fighter 6 was the first game to offer an alternative simple control scheme for their games- one of my first games was Blazblue CPX using the game's auto mode to make me feel like I had the braincells to use Noel Vermillion's Chain Revolver stance properly. Despite not being the first to do it, though, Street Fighter 6's "Modern Controls" are still really good for getting newbies on board.
After all, no one looks at a new genre and says "you know what? I'm going to spend hours being bad at something for fun". The learning curve is more often than not a bitter pill players will simply need to swallow to get to the fun part- doing cool combos.
Worse still, anyone playing a fighting game will tell you it doesn't matter if you can do a T.O.D if you don't know when to use it- fighting games are equal parts strategy and execution, and by removing the execution barrier with Modern Controls, new players can instead focus on their fundamentals- things like spacing and clean neutral.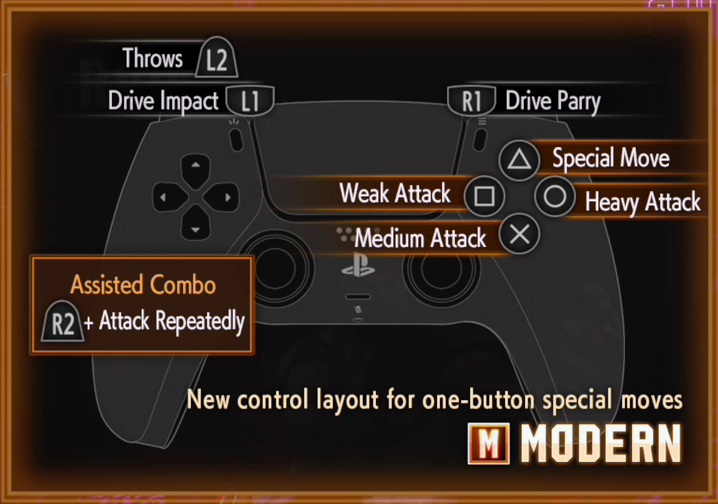 Considering the execution complexity of Street Fighter, Modern Controls have a big effect on this- instead of differentiating between three different punches and kicks, the buttons simply focus on the strength of each button alongside one Special Button, which uses tilt controls to execute different special moves.
It also has one more benefit: with the 4-button layout of Modern, Street Fighter's controls now work way better on a controller. I've always found this a problem with any 6-button fighter- no matter how hard you try to rationalize it, having half you buttons on the face buttons and the other half on the shoulders just feels weird. Modern fitting on regular controllers is genuinely a good thing for players since they can play it like they might play any other genre.
This naturally comes with downsides- special moves are locked to one strength, meaning you're going to be stuck only doing heavy fireballs or uppercuts rather than having the flexibility of switching it up.
If you're the type of person to need more flexibility, there's a solution to that- simply switch to Classic Controls. It's a great learning curve since once you learn to feel what's missing from Modern, you can lose the training wheels and play like the other players. You're not meant to stick to Modern forever- but even if you do, there's no harm in that.
Learning With Live Commentary
Another thing people may not realize is the value of commentary in learning a game. Having the dulcet tones of a human being explaining the play-by-play is a valuable way to passively learn- whether you're watching on the sidelines or currently eating a full combo.
To that end, Street Fighter 6 has an interesting new toy- the Live Commentary feature lets the game use pre-recorded lines to commentate your match. While this has been a feature in Sports games for years now, it's a lot more valuable when it actually provides useful information- as FGC commentary is want to do, the commentary track will explain things like the importance of zoning or even when a move did big damage because it was on counter-hit rather than a normal hit.
Heck, it even calls you out for doing a raw super, making jokes about things being "like Third Strike". It really does help things feel more organic- instead of merely being a vehicle for canned hype, having someone like Vicious explaining the match to you helps the learning process along, partially because that's always been the role of commentary in a fighting game to begin with.
If you're not into it, it's not like its mandatory, either. The feature can totally be turned off, but the point still stands that it's another tool you can use to go from button masher to a more involved player.
Actual Street Fighting
While the last two were more like tools to get you to play the game at higher levels, there's still the matter of Street Fighter 6's actual gameplay, which reframes how you should think about a fighting game.
One of the biggest problems with any fighting game is the resource management. Sure, you've got a super bar, but in the case of games like Guilty Gear or Blazblue you'll often find yourself using the bar for so much more .
Street Fighter splits this up with the game's Drive System- super bars are for the game's Super Arts, sure, and every other feature is relegated to the green Drive system, conveniently located under the game's health bars.
I really like how Capcom handles the Drive System in Street Fighter 6- the game's various maneuvers will consume Drive, and you start the round with a full bar. It's a good sign that Capcom wants you to be spending this resource whenever you can, since there's nothing really stopping you from doing a Drive Impact at round start to set yourself on the offensive.
While universal mechanics have always been a part of fighting games, the difference is in how Street Fighter 6 plans to handle it. I'm especially a big fan of the return of Parries- a mechanic closely associated with Third Strike and the infamous Evo Moment 37.
Parries are typically a high skill maneuver- you need to nail the timing just right to be rewarded with hype and a big W, if you're lucky. While that's not bad in itself it's not great for new players: You're not going to want to do a frame perfect action if you're just starting out.
Instead, Capcom's changed how the parry works- the frame perfect parry is still really good, but for the cost of some extra Drive you can also hold it out, lengthening the timing window like the shield in Melty Blood: Type Lumina.
The result is that you'll want to do the parry since the timing is way more forgiving. It doesn't matter that a perfect parry is more optimal- just starting out with a held parry is good enough to teach you the golden rule: that even god is parryable if you try hard enough.
Parries aside, there's a Drive skill for every situation- Drive Impacts are just Focus Attacks from IV that help you mount your offensive by absorbing one hit and even being unblockable in the corner. Drive Reversals are like Alpha Counters, aka a "get off me button" for when you managed to block your opponent's mix but the combo isn't ending.
On the higher skill end is the Drive Rush- a metered dash cancel, letting you rush forwards to close in on your opponent, or cancel out of some moves to better mount that offensive. It's an interesting enough system where I'm sure that the top players will be including this costly move (cancelling out of a normal move costs 3 bars) in all their optimal combos- and learning to do so will be a big motivator for many players as a result.
Closing Thoughts
Honestly, I'm probably more excited for Street Fighter 6 than I've been for anything Street Fighter in a while. As someone trapped in the eternal loop of being too good to play with the button mashy crowd but far too dismal to play competitively, I love looking at games to see how they work to get players over the learning curve considering that it's those kind of decisions that got me off of Auto Mode and into buying a fight stick to save my poor thumbs.
It really feels like Capcom's thinking out of the box here- Live Commentary, if used by the right people, is absolutely going to be a way to clue people into the so-called Fighting Game mindset. Simplifying things by having them all consume a single Drive Bar is also going to be big- you'll realize that you want to economize your strategy around how many Drive Bars you have and how quickly you'll regain them.
I hope these tools and features don't go to waste either- the fighting game scene can always use more blood, and getting over the wall of incomprehensible jargon is the fastest way to do that.
---
Check This Out Next
---