It's been 9 long years since Diablo III: Reaper of Souls came out back in 2014; and with Diablo IV fast approaching, we tread back to the harsh and unforgiving mortal realm – Sanctuary.
With such a long gap between mainline titles, it won't be surprising to see Diablo IV being the entry point for new players into this venerable franchise; at the same time, the title will still need to meet the expectations of long-time fans. Suffice to say, Diablo IV manages to deliver a bloody fun experience.
Welcome (Back) to Sanctuary
Without spoiling the story past the Prologue and Act I of Diablo IV, I personally felt that the story, while was a nice tribute to the lore of Diablo by bringing prominent characters from the franchise to the spotlight, such as Inarius and Lilith, felt kind of lacklustre overall.
Throughout the course of the story presented to us in Diablo IV, there were many instances where to me felt that some of the major scenes felt relatively forced, especially during the later parts in the story. While the side characters were fine on their own, they didn't quite have that staying power of some of the well-loved characters from past entries, like Deckard Cain.
To me, while the story pacing was fine with the first three Acts of Diablo IV, it ultimately felt really rushed post Act III, which resulted in me breezing through the story even without me realising I had completed a few Acts in between.
Beautiful in Sin 
In terms of presentation, Diablo IV went back to its roots by sticking with the "Return to Darkness" design concept, showing the world of Sanctuary in a gothic medieval setting. I really love that aspect of the Diablo franchise as I'm generally a fan of darker aesthetics, and Diablo IV manages to capture that to a tee. There's a lot of instances of locations in the game where you're able to see some of the pretty grotesque imagery such as human intestines, severed bodies, blood-filled rivers, you get the idea.
It's not to say that every nook and cranny in Diablo IV is dark and depressing, there's also some gorgeous looking scenery scattered across the extremely vast map of Diablo IV, such as bone-dry deserts and snowy plains. There's always that sense of adventure that you just might find something interesting when you're exploring the lands of Sanctuary, and there's really no shortage of things to do when playing the game: Dungeons to clear, world events to participate in, side quests to complete, just to name a few.
Another aspect that I really appreciated with Diablo IV was the in-game engine cutscenes, which is a first in the franchise. There are certain story beats within the game where it transitions from gameplay to cutscene seamlessly, showing off some of the more impactful scenes in an immersive fashion.
Taking that one cutscene you get from Act I where you meet Inarius for the first time, the cinematography from the moment your player character enters the chamber, to the slow pan of the camera showing off Inarius just made the overall scene ten times more dramatic and atmospheric.
One other thing I like to bring up is the charatcer customisation in the game. It's definitely not as customisable as other games like Code Vein or Street Fighter 6, but it still does the job pretty well. There's the more common options like hairstyles or skin tones, to the more specific ones like character tattoos.
Although, one minor gripe that I have with the customisation is that each of the classes already have a pre-built body type to them, which make sense since it follows a more "standardised" conception of the fantasy class archetype. But as a RPG title, I still want that Role-Playing aspect that lets me make my character however I want.
Between the High Heavens and Burning Hells
To those unfamiliar, the main premise with combat in Diablo IV can be broken down into keeping track of your two main resources, Health and Spell Casting resource. Health is pretty self explanatory, make sure it doesn't fall to zero or you die. You start off with a handful of potions where you can keep yourself healthy by drinking them and sometimes the enemies drop it too, so it's generally a good idea to play more aggressively when you're facing off against hordes of enemies.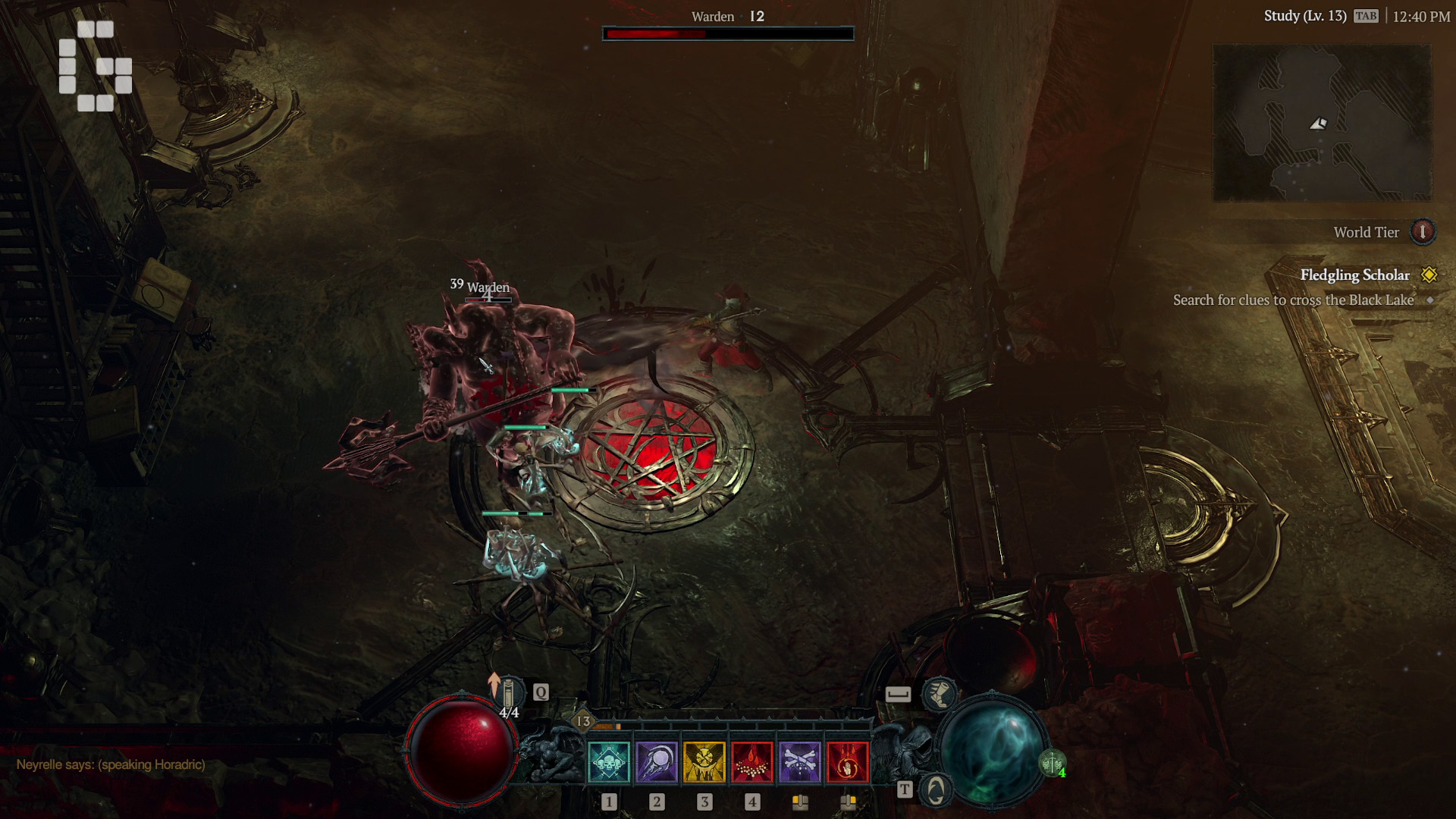 The other thing you need to keep track of is your Spell Casting resource, which is unique to all of the classes. Skills in Diablo IV require spending the specific resources to cast powerful spells, and depending on the class you play, managing resources can vary quite a lot. With Druids and Necromancers, their basic attacks often have secondary effects that let them gain back resources, so most of the time you'll juggle between casting spells then swapping back to your basic attacks to gain resources back.
On the other hand, you have classes like the Sorcerer whose basic attacks don't let them gain resources back, but instead have an innate ability to replenish resources over time. Or the Barbarian where you start off with an empty resource bar where you eventually fill up by attacking.
One new combat mechanic which was added into Diablo IV is the Evade mechanic, which makes the combat flow a lot better. It sounds very simple on paper, you press a button and your character will dash towards to the direction your character is facing. But this simple mechanic manages to add in a lot of depth to the combat loop.
As someone who plays Final Fantasy XIV Online, the Evade mechanic in Diablo IV makes it feel very reminiscent to the times where I would go into raids and there's certain boss mechanics you'd need to weave your way around to clear through the fight.
Similarly, most bosses in Diablo IV will have certain instances during the fight where they'll telegraph visual indicators where the player will have to move out of the way, and the Evade mechanic gives fights a certain flow and intensity which makes combat feel very satisfying.
There are certain instances where some of the classes' skills play off the environment too. An example being with the Barbarian, who has certain skills like charge where they can push the enemies forward, and if they hit a wall, they'll be stunned. This in turn makes the game feel more three dimensional and interactive, keeping you on your toes.
With boss fights, each of the bosses have this health bar indicator which is split between a few segments. Once you clear through a portion of their health, not only will they drop a few Health Potions, they will start switching up their attack patterns, where sometimes they would perform certain attacks more frequently. This means that the longer you would draw out the fight, it progressively becomes harder, adding a sense of intensity and making the fights feel more dynamic.
The classes in Diablo IV offers a total five classes that you can play in Diablo IV: Necromancer, Druid, Rogue, Barbarian, and Sorcerer, which feel very distinctly different from another in terms of both visuals and playstyle. Aside from the resource management that I previously brought up, each class has their own style of playing which can cater to all sorts of players.
You got the nimble and agile Rogue that can weave in and out battle where you can set traps and imbue attacks with different elements. You want to play as a shapeshifter? Look no further than the Druid, who can turn into a Werewolf or Werebear that also has access to nature abilities and summoning companions in a fight.
Do you like summoning units to do your work for you, but don't quite enjoy the playstyle of a Druid? No problem, you can play as a Necromancer who has the ability to summon minions like skeletons or golems from corpses on the battlefield.
On top of that, all of the classes also open up to varying playstyles even on their own, like with the Sorcerer where if you're going for a Lightning build, you're mainly fishing for Critical Hits since that'll be your bread and butter as you gain all sorts of additional effects every time you land a Crit, and that's just one of the many elements that the Sorcerer has.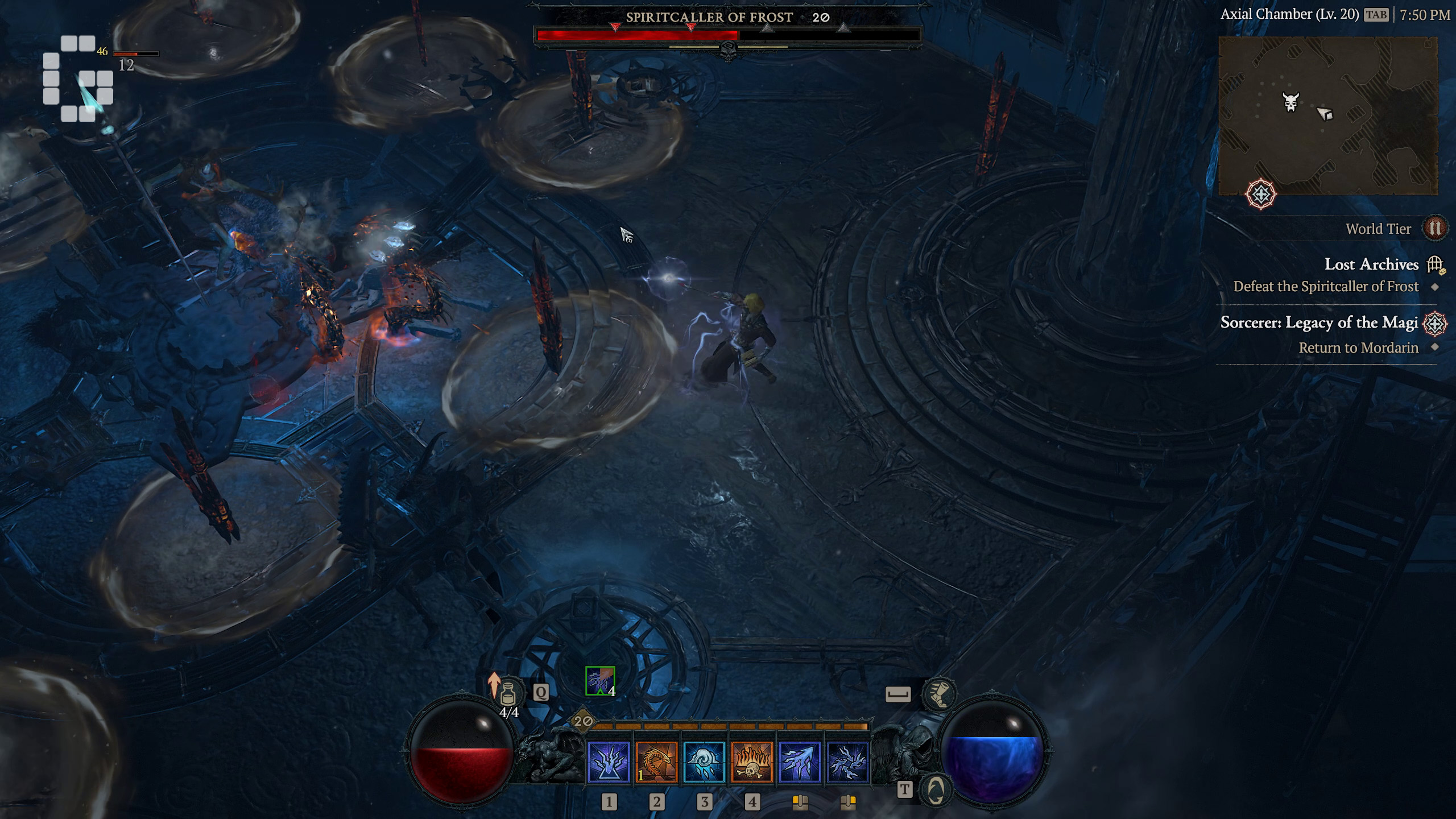 The skill tree in Diablo IV is just so expansive, and there's a lot of possibilities for you to tinker around, in terms of mixing skills together and the satisfaction you can get when you manage to find that one skill build that just works. You can really feel overpowered the moment you get that perfect build that has skills synergise with one another.
If Diablo IV might be your first Diablo game, you consider the skill tree to be daunting from all the choices you could potentially have. I personally think that Diablo IV does a pretty good job at guiding new players into the power scaling that the game can offer. From level one to level eight, you can indefinitely refund your skills, where it would usually cost gold, and try around the different spells your character has, without worrying too much about accidentally investing in the wrong skills.
From there, you're able to slowly get your bearings and you'll most likely find a particular skill build that tickles your fancy. The game also manages to make you feel the sense of progression, as you slowly get stronger and stronger in the game. That aspect is also further emphasised when you reach level 50 and unlock the Paragon Board, which you'll be given access to another plethora of customisation options.
On the topic of customisation, Diablo IV offers players a ton of it both from a visual and gameplay perspective. What makes a Diablo game well, a Diablo game, is undoubtedly its loot system. Not only do these loot make your character look cool, it often correlates with your skill build. Once you unlock the Occultist, more customisation is opened to you, where you"ll now have the ability to extract effects from other Legendary effects and put it onto different items.
You're able to put that effect on practically any item, which opens up to endless customisation possibilities and some of these effects are stronger than others. For instance, one of the effects allows you to have a 70% chance to inflict Vulnerability (Which is arguably the strongest effect in the game) when you freeze an enemy.
In terms of visual customisation for your gear, there's the Transmogrification feature which lets you alter the physical look for your gear with the appearance of another gear, which can be done through the process of Salvaging an item from the Blacksmith. You're able to alter the looks and colours of the items from the Wardrobe, which is a very simple process and I'm eternally grateful for.
Loot drops are also considerably a lot more generous. The Legendary tiered items drop a lot more frequently the higher your World Tier is, especially from World 3 onwards. That in turn means there's more effects you can extract from Legendary items, and more chances to make a synergised build to be an unstoppable force on the battlefield.
Most of your time in Diablo IV will be spent in a dungeon, whether it'll be story-related, overworld dungeons, or just cellars. There's over 110 dungeons throughout the entire map of Diablo IV, and much like its past titles, are randomised in a sense where the objective and monsters inside of the dungeon are varied, aside from the story-related ones.
The overworld dungeons have different objectives from one another where sometimes you need to defeat all of the monsters in the dungeon, or at times  you'll need to rescue the prisoners, all of which ultimately leads to you needing to defeat the boss of said dungeons. The varying objectives from dungeons to dungeons helps a lot with the replayability factor, and like I said you'll be spending a lot of your time in a dungeon.
I previously brought up cellars, and what they are essentially are "bite sized" dungeons where it only has one main room, and you'll have to clear through a horde of monsters and a few Elites, completing them will drop a chest. I think the addition of these cellars are definitely a welcomed one since it's super helpful where you can quickly get in and out if you just need that little extra boost of experience points to level up.
Verdict
If you're a player who is looking for a Looter game with extensive customisation and a sense of progression, Diablo IV is the best AAA title out there. The extent of freedom that the game gives you when it comes to creating a character to fit whatever playstyle that you want with the game's expansive skill tree and paragon board.
Diablo IV really makes you feel that sense of character progression where you're able to feel your character get stronger and stronger as you progress through the game. Pair that up with the countless hours of content plus future updates, you'll definitely get that bang for your buck.
Diablo IV doesn't comprise its core DNA for mass appeal either. There are various MMO elements in the game in the form of World Bosses and the likes, but it still retains that Diablo charm of the Solo Experience of clearing dungeons by yourself, without relying on other players.
From my time of playing, there are times where a legendary loot drops and it just so happens to compliment my skill build which can be fun, but there's also instances where the opposite happens and you're left with this feeling of frustration where it doesn't correlates to your build at all.
On one hand, it might be disheartening at first, but on the other hand, the system is fast enough for you to just move on to the next dungeon and try your luck there, so I really do appreciate the sense of fluidity to it.
Diablo IV was reviewed on PC, review code provided by the publishers.
Diablo IV is scheduled to release on 6th June  for PlayStation 5, Xbox Series X | S, PlayStation 4, Xbox One, and PC.
Diablo IV
Microsoft Windows, PlayStation 4, PlayStation 5, Xbox One, Xbox Series X|S
Diablo IV is an upcoming action role-playing game developed and published by Blizzard Entertainment, and is the fourth main installment in the Diablo series.
---
Check This Out Next
---
The Review
PROS
Extensive customisability
Gorgeous in-game engine cutscenes
Endless amount of content
Each of the classes are very unique from each other
CONS
Story pacing, especially in the later Acts feel very rushed