With Diablo IV releasing soon, we had the opportunity to speak with Associate Game Director Joe Piepiora as well as Game Producer Ash Sweetring in an interview.
Joe Piepiora started his career in the game's industry in WB Studios Boston as a Quality Assurance Tester. He would eventually join Blizzard Entertainment as a Lead Systems Designer for Heroes of the Storm before working his way up to Associate Game Director for Diablo IV.
Whereas with Ash Sweetring, she started her career in Electronic Arts (EA) as a Quality Analyst. She then joined Joe Piepiora in Blizzard Entertainment as a Game Producer for Diablo IV.
Designing Diablo IV
Diablo IV is often considered to be a callback to Diablo II with its tone and references. We asked Ash about the thought process with Diablo IV going back to the well without fear of retreading.
"When creating Diablo IV, we wanted to stick with the return to darkness and remain with our grunge tones we were holding throughout Diablo II and forward. It was really important for us to create experiences for players to be immersed in whatever feelings in the storytelling that we were really telling as we're progressing throughout Diablo IV".
"They're going to be times that we're provoking you to feel sadness or happiness all throughout the storyline, and those reasons are intentional and there's a reason that we want you to be feeling that".
"Throughout playing Diablo IV, we think the overall tone of immersion that you get from Diablo III with it being dark and compelling are definitely conveyed inside Diablo IV".
As a follow up, we then asked Joe about what made the push for a darker and more realistic visuals, as compared to the franchise's previous mainline title Diablo III.
Joe brought up John Mueller, the art director for Diablo IV, had thought about the style of the game and set some early pillars around it. He mentioned that one of the things John wanted to approach this from the direction was the idea of what the team called "The Old Masters", where they wanted to evoke the imagery of gothic medieval paintings in renaissance portraits.
"Rather than thinking deeply about the way a certain character looked in previous versions of the game, or the way that Diablo I looked when the player arrived. We start from the position that we know have this history in the series, but we have a new vision for this dark, hauntingly beautiful world of Sanctuary that we came to create together, and this is the framework that we're trying to build it around".
"That was some of the driving ideas for the visuals. For the storytelling, the focus was really on trying to make sure we were telling a story that was emotionally resonant with players today. We wanted to tell a dark grounded story, and part of that is embracing what Sanctuary is. Sanctuary is the world where Diablo IV takes place, and Sanctuary is this place caught literally between the High Heavens that the Angels delve there, and the Burning Hells and the Demons that writhe within". Joe mentioned.
He continues by mentioning that it allowed the team to tell this story between Inarius and Lilith, the literally Father and Mother of Sanctuary to both introduce these characters for new players and filling in the 50 year gap between the events of Diablo III: Repaer of Souls and the beginning of Diablo IV.
There has been a lot of talk about Diablo IV returning to the roots of the franchise. We asked Ash how did that impacted the development of Diablo IV as a whole.
"One of the things that we really wanted to consider in creating a lot of the dungeons, and the environment scenes in Diablo IV is what we've historically seen success and really good highs with throughout the Diablo series, and what we wanted to see continuing over into Diablo IV".
"Quality of Life improvements have been a large part of what we're trying to remember makes the game fun and enjoyable to a wide range of people. We keep mentioning how we want to elaborate onto player choice, and we want people to be able to play the game as they will and how they would like".
"We're trying to take those different types of perspectives in with that kind of returning to our roots, understanding that we are players first, before we are game developers. So we're really taking that perspective and approach which has guided us through dungeon making, and the environments in general".
At launch, players have the option to pick between five uniquely distinct classes being: Necromancer, Barbarian, Rogue, Druid and Sorcerer. We asked Joe which class that the team found the toughest and easiest class to design during the game's design process.
"I think every class has had things about them that were really particular, that require a little bit of work. With Barbarian for example, the way that the Arsenal system worked, with that system players were allowed to assign certain weapons to certain skills".
"You could look at your Hammer of the Ancients attack, and obviously that's going to use a blunt weapon, but you could choose to use your one hand maces or you could use your big two handed mace, and it's up to the player to choose which they want to use, the game will default to one selection or the other".
Joe mentions that the team the lack of symmetry between the classes and how each of them should feel overpowered in their own ways. He says that trying to make sure all these differently powerful mechanics work together was one of the most challenging parts when designing the classes.
Individually, Joe mentions that the toughest class to design was making sure that the Druid Shapeshifting and spellcast mechanics felt unified in terms of the fantasy and theme. While on the flipside, he said that the easiest class to design was the Sorcerer, as the team figured it out right away since it's a callback to the Spellcaster class back in Diablo II.
Progression in Diablo IV
One of the general consensus about scaling in Diablo III was that it virtually had limitless progression upward, which resulted in some players finding the game to be frustrating or boring. We asked the devs if that feedback led to Diablo IV to have a more defined ending.
To which Joe replied with "Different games have different answers. Diablo IV, we did want to focus on having capped progression, so there's no sense of infinite power for the player to obtain through prolonged play. That's because you want all the decisions the players make while they're levelling their character up to have a lot of weight, such as the build you have, crafted by yourself so that when you reach level 100 is one that you really have optimised every item that you get, you're looking for the right affixes on the item. You're really looking to be the sum of the choices that you make versus saying that you've invested 300 more hours in your character and did more work on the paragon board, you're much more powerful because of that".
Joe mentions that the highest pinnacle challenges in Diablo IV doesn't only require the players to be level 100, but also have an extremely good build, great items with great rolls, while also having an in depth understanding of both your character and the encounters.
On the topic of Diablo III, one thing the previous entry showed us was how hard it was to balance loot drops. We asked Joe how did the team find balance between making sure that a player's main character gers enough gear and encouraging players to make alt characters in Diablo IV.
"When we're thinking about balancing loot drops for players between playing single characters and playing alts, this is where Seasons really help us quite a bit. We know with every new quarterly season in Diablo IV, players are asked to start fresh. Players will still have characters that they played before that will be on the Eternal Realm, and they can play them for as long as they like. But we do want to make sure that as we're progressing through the experience of Diablo IV, we're balancing the gameplay and loot hunt gameplay around the idea that players are playing during a seasonal period, which is a three month period".
Joe mentions that the team wanted to make sure that was a fun experience for players during that seasonal period, where there's thousands of hours of gameplay loot hunt for players to engage with in DIablo IV. And as a player progressing through any given season, it'll also provide players wtih some unlocks that benefit their alt chaarcters such as skill point from completed zone renowns.
"We don't mind the idea of you playing alts, and we want you to benefit that way. But there is a primary focus on ensuring that one character that you play each season, at least one character you play each season feels like a very strong experience on its own to loot chase". Joe continued.
Gameplay Aspects
There are certain MMORPG elements in Diablo IV, with gameplay aspects such as the World Events and fighting World Bosses, which are a first in a mainline Diablo game. We asked Joe what was the decision to implement those elements in Diablo IV.
Joe talks about how the team thought about Diablo IV in the early stages of development where they wanted to make an online roleplaying game, but not as a massively multiplayer online roleplaying game, which he mentions there's a very subtle distinction between those two categorisations of game.
"MMORPGs typically place the player's position where they are in support of a larger set of goals working alongside other players, where your performance and your belonging really ties to the presence of other people. You are playing a character that is more powerful when you're paired with other characters because they have something they do specifically, such as the holy trinity, the DPS class, the Tank class, and the Healer class".
Whereas with Diablo IV, every class is a DPS class and that the team didn't like to categorise them based on what they do for other characters. Joe also mentions while there are some interactions where skills from certain classes that can be used to benefit nearby allies, but that's not how the team define the characters, as the fantasies come first.
"We like the online roleplaying aspects of the experience in Diablo IV, in that we like the idea that you're wandering through the world, you come across the occasional other player, you might see other players in the major cities. But generally speaking, with Diablo I, we have this touchstone of this sense of dread and atmosphere, the sense of isolation when you're beneath the Church and you're kind of walking through the catacombs".
"We thought we wanted to maintain that as much as possible, so players are encouraged to come together for contents like World Events like with the fight with Ashava during the Server Slam for example. We like the idea of a whole bunch of players arriving to do a thing together, like alongside other players, but they're not really working together in a coordinated fashion. And at the end of that kind of splitting off in their own directions and pursue their own goals and aims".
The Diablo IV skill tree is a lot more expansive than previous Diablo games, we asked Joe how does the team find balance between catering to new players who have Diablo IV as their first, and also veteran fans of the franchise.
Joe mentions that as a game designer, one of the things that they look at is what they can do to reduce the complexity, so that players have an easier time playing, but a Diablo game is all about the depth and complexity of the experience.
"What we did is we took a look at the skill tree, and we have it where it starts as a very simple experience initially. When players start playing the game at level one, they'll only have one attack that they're allowed to have. When they reach level two, they get to make 1 choice where for example, if you're playing a sorcerer, you'll need to decide if you're planning on specc-ing into either fire, ice, or lightning".
"For the rest of their levelling up experience from one to 50, is about trying to slowly unveil that depth of choice as they're progressing through the skill tree. The skill tree itself is relatively straightforward in many ways, many of the choices we provide to players are kind of themed after certain options, they have a lot of context baked into them".
Joe says that when player get to the end, they'll have a good understanding of the mechanics of their class and how to make a build. The team tries to keep things straight forward to make players understand and engage with those features.
One of the new gameplay features we get to see in Diablo IV was the introduction of the evade mechanic. We asked Joe if that was to help ease players coming from different genres or players who might not be accustomed to more old-schooled ARPG titles.
Joe said that the reason the team added the evade mechanic in Diablo IV was to put emphasis on action combat, and that they wanted to make sure players had some baseline tools to help them dodge out of the way of enemy attacks, and move into and out of conflict as needed.
"The addition of the dodge mechanic also allowed us on the design side of what we like to call The Design Space, and this is just more things that players can do, that designers could interact with. For example, in Diablo IV we have our simple evade mechanic, so every player if they're playing on mouse and keyboard for example, press spacebar and kind of dodge in that direction, and they could do that every few seconds".
Moving away from the general gameplay mechanics, we ask both Joe and Ash about some of the more nitty gritty details in Diablo IV. One of them being what was the maximum level that an item can be in Diablo IV.
"Monsters that are level 90 and above cannot drop any higher gear for you. So basically, the highest level item you can get is basically a level 90 item in Diablo IV. Everything you fight after that doesn't account for in terms of power scaling. And again, those are Ancestral Items, you could get that power level 90 item effectively, as soon as you hit level 70". Said Joe.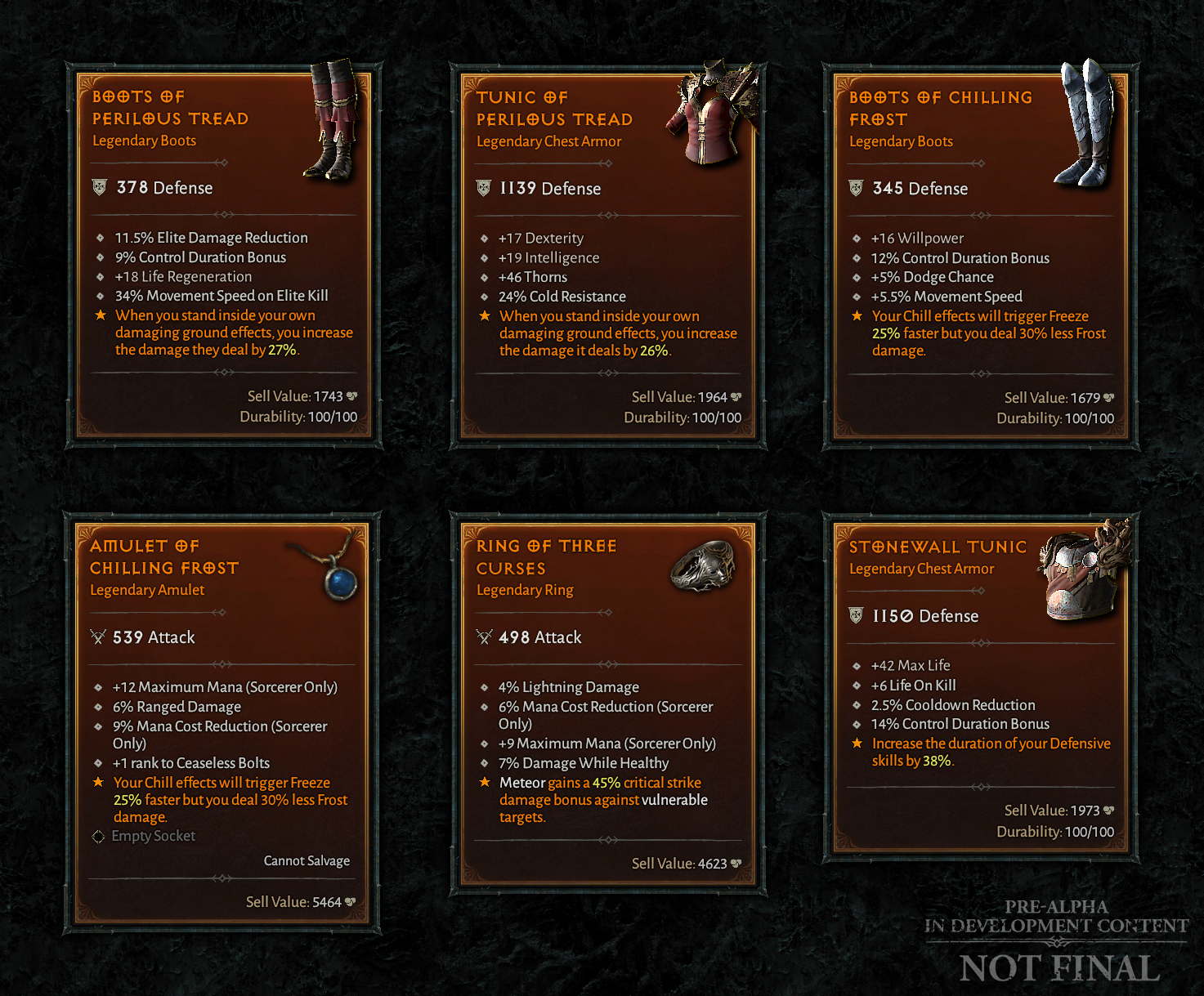 Another question we brought up when we tried Diablo IV, we realised that Damage Over Time (DoT) skills can't be Critical Hits, and was there a reason behind that decision.
To which Joe said that in the team felt that there were a number of effects that fire off Critical Strikes would cause problems in terms of the overall gameplay, and that the team didn't want players to be constantly fish for Crits on DoT as part of their loop.
Diablo IV has a bountiful amount of dungeons with all sorts of different types of bosses. We asked the team how they decide which Codex of Power and what kind of bosses will be in which kind of dungeon.
Ash mentions that there are a lot of different things that go into the decision of that, where the team are evaluating both long term goals from the player.
"We're trying to consider what's going to provide a particular experience that we're aiming for the player to be having during that time".
"We're also trying to make it more rewarding when you have the opportunity to go back and do Nightmare Dungeons and stuff. We really want your first experience inside a dungeon to feel rewarding, and your very last experience inside of the dungeon. Those are the few aspects from the dungeon side". She continued.
Meanwhile, Joe said from a system standpoint, the team looked at the entirety of the game and wanted to make sure that every class and every build has some Codex entries found through the Codex of Power System. However, he states that not all Legendary powers in the game are accounted from the Codex of Power System, and that there are deterministic ways for players to acquire some of the baseline power which might be needed for their build to become available to them.
"We went and picked a variety of these and have them show up in various regions of the game so while the players finish the campaign for the first time and they're levelling up their characters, they kind of have touch points that they can see in every zone, there's certain powers they might be going to try and find to get a particular power for their build, and even if they get that, they'll need to collect a lot more other powers to really unlock the fullness of their build". Said Joe.
The Live-service Model

With Diablo IV being a live-service title, we asked how is the team balancing the player's journey in the endgame while also involving a commitment to rolling new characters for Seasonal content as well as future expansion content.
Joe mentions that the team had to find balance on the progression of the character over the course of a three month period versus expecting to play a character forever, as they have different considerations to take into account when a player gets a Legendary drop, or whenever a player gets other progression systems.
"Diablo IV allows us to really focus on making sure that the ARPG portions of it really sing at all times when you're playing as opposed to having things feel watered down over a prolonged period. That's kind of our expectation on how the endgame should feel, there are hundreds of hours of gameplay available for players to engage with, as part of their character building. But we do want to with every season provide new mechanics and features, new story content, new seasonal quest lines about the season mechanics and themes for players to dive into, explore and have fun levelling up a new character". Joe continues.
Is Diablo a Good Entry Point?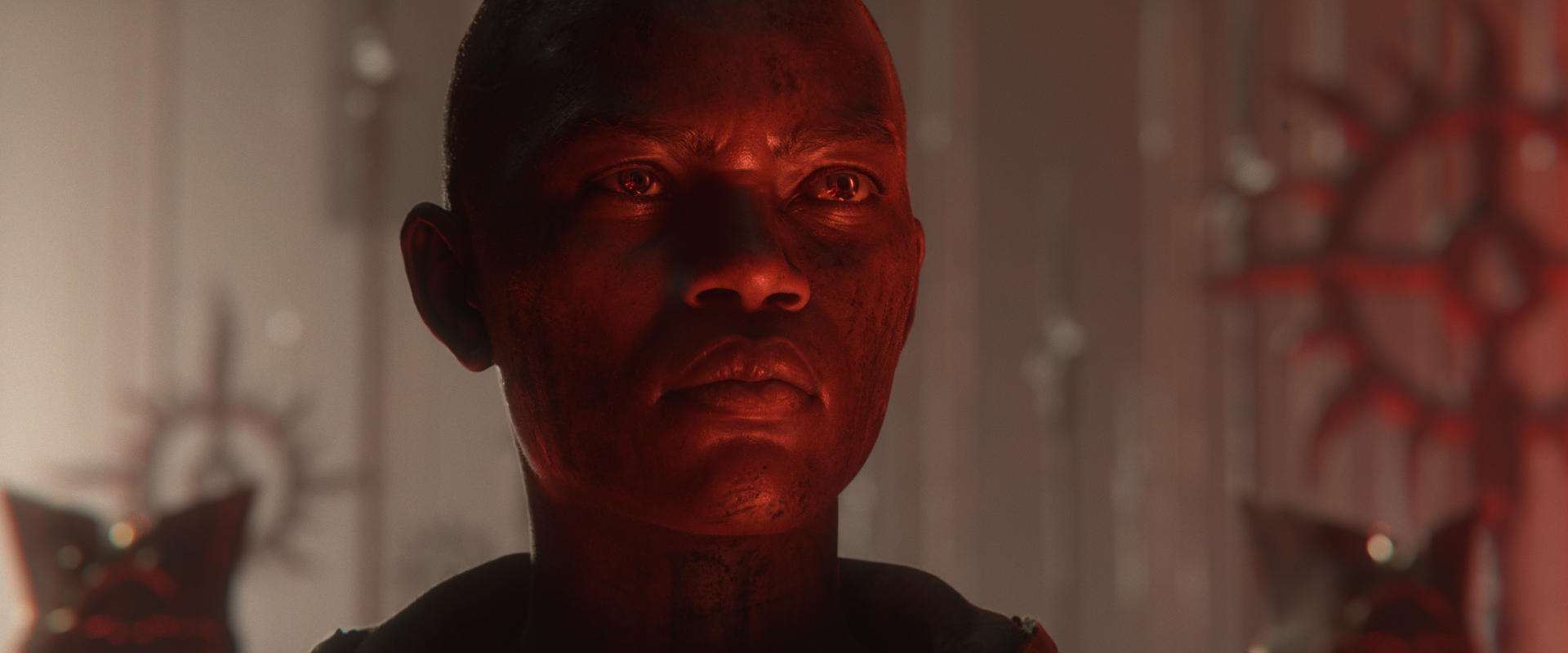 It's been 11 years since the release of Diablo III, so it might not be a surprise that Diablo IV might be someone's introduction to the Diablo franchise. We asked Ash if Diablo IV would be a good entry point for players with zero exposure to the franchise, both from a story and gameplay perspective.
"Yes, absolutely. That's something that we took as a major pillar in crafting Diablo IV. Just using myself as an example, I'm entry to the Diablo series with Diablo III, and they wanted to take my personal experience along with everybody else's, some of whom have been playing since the first Diablo game".
"We really wanted to ensure that the game was overall pleasurable, and you're finding enjoyment at any stage of your progress in the Diablo series. There's going to be a little piece of something that if you love lore heavy stuff, you'll be able to enjoy our campaign and story as we go along. If you're someone like me, who enjoys exploring, and really understand your mechanics before you go fight those nasty monsters, you'll have the opportunity to do that as well".
We would like to thank both Joe Piepiora and Ash Sweetring for taking the time to answer our burning questions.
Diablo IV
Microsoft Windows, PlayStation 4, PlayStation 5, Xbox One, Xbox Series X|S
Diablo IV is an upcoming action role-playing game developed and published by Blizzard Entertainment, and is the fourth main installment in the Diablo series.
---
Check This Out Next
---