Bandori JP will be getting a Zombieland Saga Revenge collaboration starting 20 June 2021! The Pastel Palettes girls will be the chosen Bandori zombies for the Zombieland Saga Revenge collab, in an event that will last until 30 June 2021 for JP. The special collaboration website can be found here to get your first look at the members involved.
Aya Maruyama, Chisato Shirasagi and Hina Hikawa are available through the gacha, with Aya and Chisato being the 4-star members and Hina being the 3-star. Maya Yamato and Eve Wakamiya are the event 3-star members.
Adabana Necromancy will be covered by Pastel Palettes, while Poppin' Party takes Taiga yo Tomo ni Naitekure. As is common with these collaborations, players will be getting presents, including 2,500 Stars, 50 Tone Crystals and five collaboration stickers featuring the Pastel Palettes members. Previews of the members can be seen below. Global Bandori players should be able to expect the collaboration in the coming months as with the previous anime ones.
Malaysians can watch Zombieland Saga Revenge through Muse Malaysia. The anime is the sequel to Zombieland Saga, so you might want to try watching that first. Simply put, idols are brought back to life as zombie idols – somehow – to revitalize Saga's tourism sector.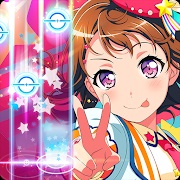 BanG Dream! Girls Band Party!
Android, iOS
Popular rhythm game in Japan! Tap to the rhythm of over 140 songs to choose from. Play both original and cover songs from popular J-Pop artists and anime songs! Play your favorite songs on a level of difficulty that suits you!
---
Check This Out Next
---