Before we get into the article, I admit that I never played the original Atelier Marie: The Alchemist of Salburg when it first launched in 1997. So when I was given the opportunity to play a preview version of the remake, it felt like a good idea. After all, I would be approaching the game with fresh new eyes and while I would not be able to truly appreciate the changes (if any) when compared to the original, I would at least base the remake solely on its own as a standalone game.
I genuinely enjoyed my time with the game despite only getting to see a fraction of the overall content with the preview. So, with that being said, how did Atelier Marie Remake: The Alchemist of Salburg manage to brew my interest and concoct a potion of delight and wonder? Read on to find out more.
Graduating With Honors In Alchemy
It is important to take note that the Preview is limited to only the 1st year, which means that some features in the game were not available to be explored when I was playing it. However during my time with Atelier Marie Remake: The Alchemist of Salburg, I think most of the mechanics and overall feel of the game could be ascertained quite well, based on my overall experience.
The story starts off with Marlone (nicknamed Marie) who unfortunately is failing her studies in Alchemy at the Royal Academy of Magic. Seeing the young enthusiastic Marie struggling, her Professor decides to give her an Atelier (a lab of sorts) as part of a special graduation exam. This requires her to complete an item which would impress the Professor that will allow her to graduate.
From there, Marie's road to graduation begins as she scours the world for knowledge on how to improve her alchemy skills, earn money to buy recipes and utensils while also battling monsters. All so that she could qualify to graduate within the five year period given to her by the Professor.
The story was relatively easy to get into, and very much relatable. A lot of my game time was padded out by quests and material hunting, similar to that of Monster Hunter World and while I did not get to see the story through to its conclusion due to the limitations of the preview itself, Marie's graduation story does seem interesting enough to keep me invested.
Time Is Relative
One unique mechanic that stood out for me during my time with the preview build of Atelier Marie Remake: The Alchemist of Salburg, was the passage of time itself. I found myself consistently planning my journey ahead as any action you incur will take up days to complete. Travelling to different locations will take different amount of days to reach depending on the distance, which has you encountering enemies and mini-games during your travels as well.
Basic functions such as collecting materials and recovering health and mana also take up days as well with longer rests taking up more. Personally I quite enjoyed it as it did made me play more strategically and gave a bit more urgency to the game with actual stakes in play. Quests and assignments also have deadlines to them and crossing the due date meant lesser rewards overall.
While I did enjoy the way the days system worked, the game also has an unlimited mode which is a more traditional way of story progression with the game only progressing when you want it to by completing main quests.
Salburg Explored
The city of Salburg serves as the hub area for Marie which contains various shops and outlets that allows Marie to do different activities:
Weapon House – Equipment seller

Atelier – Crafting area while also allowing you to confirm your homework

Castle – I couldn't get in due to a character blocking my path

Sky Tavern – The area where you can get information and receive quests

Academy –  Books or props can be purchased here

World Map – Exploration and material collecting
While it did seem overbearing at first, I was genuinely grateful for the tutorials set in place during the opening moments which gave me a step by step guide on how the different elements in the game works such as exploration, alchemy, combat and so forth.
Explorer Marie
The game's combat system is a turn-based one which has you battling a random number of enemies per encounter, with a victory granting you experience and materials, while a loss has you sent back home with the materials you collected dropping and a few days spent as recovery time. To prevent wasting her precious days away in a hospital bed, Marie can recruit adventurers to help her out during those tough combat moments.
The price for protection is not free however as different adventurers do have different skills and levels, which has them charging you higher fees the higher their level. Choosing the right people for the right task is also something I enjoyed while playing the preview, I have always enjoyed building team compositions instead of just defaulting to "the best characters" in the turn-based games I play like Divinity Original Sin 2 or more recently Honkai Star Rail.
Of course none of these adventurers are permanent members and you are free to let them go from your party if you wish to bring a different set of people along with you. However, every character can level up and the only way they can do that is by going out on adventures with you. I find it best to consistently rotate the characters out due to the fact that special events do pop out if your relationship with the other characters are good, similar to that in games like Divinity Original Sin 2.
Material collection-wise it felt pretty straight forward with the game holding your hand through the process with clear icons labelling where the materials are located on the map and quest materials having a dedicated mark for them. However, there is a limit to the amount of materials that Marie could carry in her backpack and since each collection does cost a full day, I only prioritize collecting what I want rather than simply picking everything up.
There's also a feature that lets you automatically explore the game, the system will collect materials for you as well as deal with any combat situation that it encounters. However, if you are pressed for time and would like to be more efficient with how your days are spent, manual exploration will always be the best method to go.
Materials Management
From the preview of Atelier Marie Remake, I could definitely tell that the materials would be the center focus of the game, there are a lot of them to be collected and some even have special conditions to actually get them such as the Special Golden Carp or Ripe Apples which could be obtained through a mini game. Most of these materials are not quest specific so I had to definitely brush up on my resource management skills more and craft only the essentials.
Final Thoughts
Judging from the preview alone, I am genuinely excited for the full version of Atelier Marie Remake: The Alchemist of Salburg. The game's time constrained campaign was definitely a feature I wish more games implemented as it definitely helps make the overall experience feel more real and immersive with its sense of urgency.
I also enjoyed playing through the many crafting elements in the game and its overall resource management mechanic with the days system. Planning out build paths and faming materials efficiently is definitely something I enjoy doing in my games and Atelier Marie Remake: The Alchemist of Salburg definitely captures that feeling well.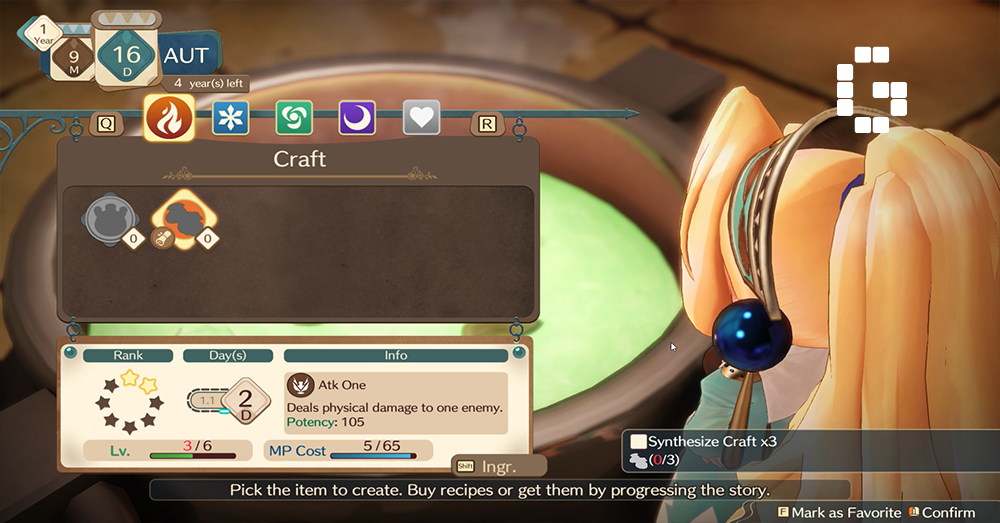 Of course, a lot can happen in five years and with the preview of Atelier Marie Remake being only limited to the first year of the game, I am genuinely excited to see what could possibly be crafted that could help poor Marie graduate.
---
Atelier Marie Remake: The Alchemist of Salburg is scheduled to release on the 13th of July 2023 and will be available for PlayStation 5, PlayStation 4, Nintendo Switch and Microsoft Windows PC.
You may find more find more information in regards to Atelier Marie Remake: The Alchemist of Salburg at their official website.
---
Check This Out Next
---