A Blue Moon has appeared in the sky. For the first time in two decades, Witch on The Holy Night, a visual novel by Type Moon, the makers of Fate and Tsukihime, has been officially localized. As of today, the HD remaster of the 2012 title is now available for purchase in English on both the Nintendo Switch and PS4.
As a long-time fan of the Nasuverse, I was never sure this day would come but I'm certainly glad it has. I figured now would be an apt time to give a brief introduction to Witch on The Holy Night, what makes it interesting, and how it fits in with Type Moon's other works. Keep in mind, I haven't fully played through the game (it just came out today) but I can talk about why I'm so excited to give it a shot
What is Witch on The Holy Night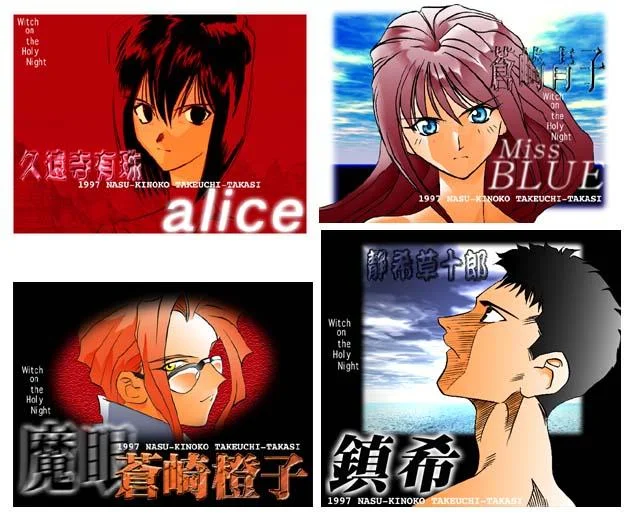 Witch on The Holy or Mahoutsukai No Yoru is a 2012 visual novel written by Kinoko Nasu and illustrated by Takeuchi Takashi. It would be the last pure visual novels the two would release for almost ten years until the launch of Tsukihime – A Piece of Blue Glass Moon in Japan last year.
The story initially began as a light novel Nasu wrote in high school in 1996 but wasn't able to get published. It set up the central ideas of the Type Moon universe like the magic system and the general role of magus society in the series. After their work on Fate, it was suggested that Nasu return to the piece and they turned it into another visual novel. Like the rest of his work though, it wouldn't leave its native country. At least until now.
A Witch in Training
The plot of the VN revolves around Aoko Aozaki, a minor yet important character that first appeared in Tsukihime. Aoko is a mage and has been chosen to be the successor to the Aozaki family of mages despite her inexperience in the field. As such, she moves in with the powerful witch Alice Kunoji to better learn the craft. Soon after, the two's occultic activities are discovered by a third party, a clueless young man from the countryside named Soujuurou Shizuki who they pretty much force to live with them until they can figure out how to wipe his memories.
For a lot of the visual novel, that's more or less it. It's a more lighthearted story about Aoko learning to become a mage, living with her two weird housemates, and balancing these with her school life. Unlike Tsukihime or Fate/ Stay Night, Witch doesn't have multiple routes but it's still been plenty compelling as a story. It captures Type-Moon's themes of mixing mundane, everyday life with the dense world of magic and how the two begin to bleed into each other.
Our three main leads (from what I've played) have great chemistry. Alice is a traditional mage, reclusive and cold to the non-magical world, meanwhile, Aoko is a more modern mage, looking to further her family role while somewhat enjoying her school life. Soujuurou is pretty clueless about magic as a whole but he's still happy to be there. Each has great interactions with the other two and you can see how they impact and build off each other. There's a lot of friction between the three at first but you buy them getting closer which will likely make things all the more desperate when the darker elements of the story rear their ugly heads.
Connections to Type Moon's Other Series
Tsukihime
As previously mentioned, Witch on The Holy Night was an early work in the Nasuverse and connects to a lot of plotlines that appear in other titles. The most notable of these is that it's somewhat of a prequel to Tsukihime.
Witch can be seen as the story of how the young, impulsive teenage Aoko becomes the more mature and understanding mentor of Shiki Tohno in Tsukihime. A teacher figure who informs his worldview, much like how Kiritsugu did for Shiro in Fate. It's also been confirmed that the events of Witch are canon to both the original and Remake timelines of Tsukihime, adding more worldbuilding to both VNs.
Aoko would also be a regular playable character for the Tsukihime fighting game spin-off Melty Blood. This includes the latest game in the series Type Lumina where she is hired by Mario Gallo Bestino to kill the vampire, Roa. In her ending, she's thanked for completing this task by receiving her own private beach in Hawaii.
Fate/Series
Then of course is Witch on The Holy Night's connections to the Fate/Series. In terms of explicit connections, Aoko (or at least an alternate-universe version of her) has previously appeared as a minor character in the RPG Fate/Extra. Here she can help upgrade your servant's (Nero, Tamamo, or Emiya) stats for use in battle.
It's also revealed that Soujuurou Shizuki while a seemingly weird but average guy at first, actually comes from the same assassin organization as Souichirou Kuzuki-Sensei from Fate/Stay Night. There are many parallels between the two, including their stunted emotional growth. Soujuurou can be seen as a younger, morally sounder version of Kuzuki, one who was able to get help before he became a cold robotic killer (although both got better with the help of a witch).
Finally, Witch on The Holy Night deals with one of the central conflicts of Fate and the Nesuverse as a whole: finding true magic. It's been long established that 'magic' is unachievable for modern mages in the Nasuverse who instead use a supplemental concept called "magecraft" (I know, it's confusing). The supposed goal of all mages is the find "The Root/The Source". This is the origin of magic that will, in theory, allow them to use it once again. It was for this very reason that the Holy Grail War in Fate was initially developed. Without spoiling anything, Witch on The Holy Night further builds on the idea and how it drives various factions and characters throughout the franchise.
The game has further connections to other Type-Moon works, most notably Kara No Kyoukai, but that would be getting into spoiler territory so I'll leave it for now.
The Ufotable Movie
It has also been announced that Witch on The Holy Night will be getting a movie adaption from Studio Ufotable. This is the critically acclaimed studio that adapted Kara No Kyokai: The Garden of Sinners, Fate/Zero, and Fate/Stay Night.
We still know little about the production but it's going to be released in late 2023. If we're lucky perhaps this one will come to cinemas internationally as well. If Ufotable was able to get the Demon Slayer movie into global theaters, I don't see why that can't here.
Bringing more Type Moon overseas
With all this in mind, if you have any interest in Fate, Tsukihime, or any other part of the Type-Moon universe, I'd highly recommend buying Witch on The Holy Night. So far it's been a great read, but I'll admit, a big part of why I hope it sells well is because it could lead to more Type-Moon visual novels getting localized.
Witch on The Holy Night's success could very well lead to the Tsukihime Remake and perhaps even Fate/Stay Night Realta Nua also appearing overseas, allowing long-time fans to more easily access them and bringing them to a wider audience. There's even a chance we could get more of the various Type-Moon light novels like Fate/Apocrypha, Fate/Strange Fake, or Kara No Kyoukai. Nothing is set in stone, but if people vote with their wallets, it's always possible.
I'm excited to see what else Witch on The Holy Night has in store and I'll likely get my full review out sometime next week. Nasu's works consist of some of the best fantasy works I've ever read and I'd love to see more of them make it over the border. Hopefully, this Night of witches and magic is just the beginning.
---
Check This Out Next
---