The article on 'The Importance of Visual Novels and Why They Shouldn't Be Overlooked' was available a week earlier through the Gamerbraves Newsletter. Sign up for free to gain access to more articles about news and trends in the gaming industry and community.
Pokemon Go may not have invented the AR mobile game but they certainly popularised it. For two months in the summer of 2016, Pokemon Go united the world with the goal of sneaking into your neighbor's garden looking for AR pocket monsters.
The mainstream fad ended as summer passed but that hasn't stopped developers from making their own versions of Pokemon Go and unfortunately, they haven't all been quite as successful as the original.
Just this year we've seen both Transformers: Heavy Metal and Harry Potter: Wizards Unite both games attached to bigger big licensed IPs shut down their servers due to a lack of player interest. Transformers didn't even make $1000 USD before it was shut down, not even making it to global release.
Despite this, however, there are still many Pokemon Go-style AR games either on the market or coming soon from a number of different franchises including Dragon Quest Walk and The Witcher: Monster Slayer. This leads to a big question why are there so many Pokemon Go clones especially if so many of them end up shutting down?
Pokemon Go Is Still Popular
While Pokemon Go never quite got that initial spike back, the game is actually still one of the highest-earning mobile games of all time.
Looking at App Magic, the game made over 60 million USD in revenue just last month, with it even climbing to over 100 million early in July, right in the middle of summer. Keep in mind, the highest revenue the game has ever gotten was its launch month of July 2016 at over 135 Million, meaning even six years later it's not that far off.
The reason for this is while many people may have dropped off from Pokemon Go, the game still has a devoted following, who continue to follow Pokemon around their towns to this day.
It should also be noted that part of the initial dip in players in September and October of 2016 was because the game took a long time to add more generations of Pokemon to the game and after a whole summer of catching the original 151 there wasn't much for people to do. Once they started adding new mons consistently the number started to rise again.
Are Other Pokemon Go Clones Doing Well?
When it comes to other Pokemon Go clones in general they're pretty successful. Looking at ten notable Pokemon Go-style AR Games on App Magic, the majority of them are bringing in a steady revenue with Dragon Quest Walk seeing total profits of over 1 Billion USD.
Likewise, The Walking Dead: Our World, Harry Potter: Wizards Unite, Pikmin Bloom, Ingress, and The Witcher Monster Slayer while not as successful as Pokemon Go have passed 1 million which is still pretty impressive.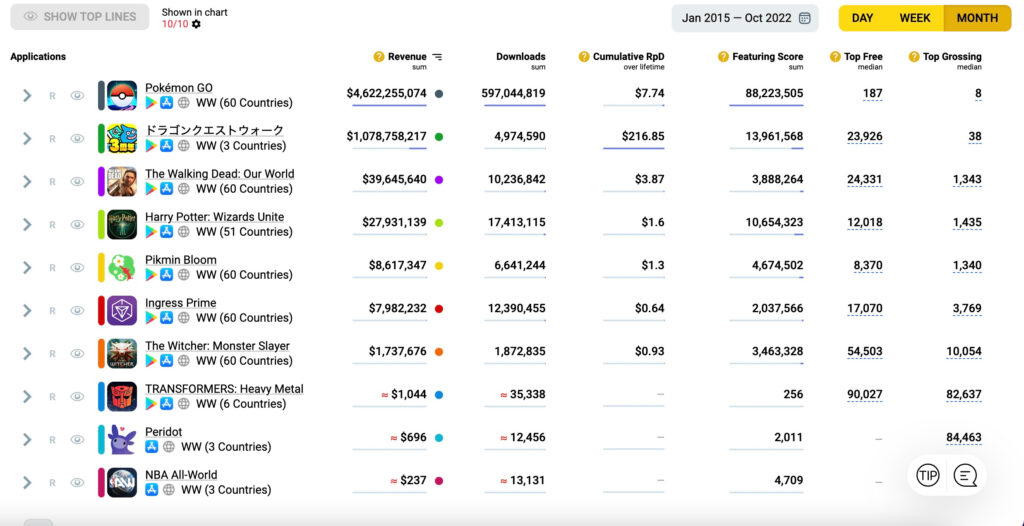 Sadly they can't all be winners as the revenue for the bottom three, Transformers, Peridot, and NBA All-World are far lower than their contemporaries. A notable trend in all three however is that they were only released in a few countries which understandably led to lower sales.
The main outlier here is Harry Potter: Wizards Unite which shut down despite having a decent revenue stream. The developer of the game Niantic said the following regarding the game's shutdown:
"Not all games are meant to last forever. Our goal with Harry Potter: Wizards Unite was to bring the magic of the wizarding world to life for millions of players as they stepped outside and explored their neighborhoods. We accomplished that together, delivering a two-year narrative story arc that will soon be complete."
It seems Niantic simply intended for the game not only to be live for a short time. The majority of popular Pokemon Go clones are actually made by Niantic including Pokemon Go itself as well as Pikmin Bloom, Transformers, and Peridot. Further in the Harry Potter blog post, they actually said this:
"Looking ahead, the power of AR allows us to layer many magical worlds on top of the real world, and there is so much potential out there that we've yet to explore. We recently launched Pikmin Bloom, and are hard at work making Transformers: Heavy Metal, where you'll be able to battle giant robots in AR. With nine games and apps in our development pipeline, some of which will go into soft launch in 2022, there are many more amazing worlds that we want to bring to life in new and unique ways."
They've very much capitalized on the niche that Pokemon Go sparked and with the high amount of profit from most of these games, they have a lot of resources to experiment with different licenses to work with the genre.
Closing Thoughts
From what the data shows, it is easy to understand why Pokemon Go-style games are still being made. There's a heavy risk vs reward factor to these titles, the ones that don't succeed, don't last long but the ones that do can rake in millions.
A good reason for this is that the genre is very flexible and can be applied to a number of different franchises. Most series have a large number of lovable characters to collect and fight alongside and doing this in real life can be appealing to people.
That being said, you can just throw any franchise into AR and expect it to work. There's a reason Pokemon Go in particular is the highest-grossing of these games.
Pokemon is the perfect franchise for a genre that runs on the concept that you "gotta catch 'em all". With over 900 different monsters, each one probably someone's favorite. Combine that with the game released in a pre-covid era when people actually wanted to go outside and there is a reason the game was super effective.
Seriously, in a post-covid era, where people are still cautious to meet up in person, a game that involves large amounts of people meeting in one location is thriving. That is the power of Pokemon.
---
Check This Out Next
---