Melty Blood: Type Lumina has revealed its first DLC character, Dead Apostle Noel. And she's coming to the game for free!
Dad Apostle Noel is a brand new character to the Melty Blood games and is an alternative form of base game character Noel, albeit with a completely different design and move set.
But who is Dead Apostle Noel? Here's a quick rundown of her character.
Warning: this article contains spoilers for the Tsukihime Remake and Melty Blood: Type Lumina (although this entire character is basically one big spoiler).
Who is Noel
Well, the first part of learning about Dead Apostle Noel is learning who Noel is.
Noel first appeared as a brand new character in Tsukihime – A Piece of Blue Glass Moon (2021), a remake of the original Tuskihime (2000) visual novel and is a playable character in the base game of Melty Blood: Type Lumina (2021), a fighting game spin-off from Tsukhime.
She appears as a teacher at Misaki Municipal High School which Tskuhime's main character, Shiki Tohno attends. It is later revealed that she is an executor for The Church, assigned to hunt down the Dead Apostle (vampire) Roa who has caused a string of recent killings in Misaki Town. She works alongside her partner and one of the game's main heroines Ciel.
The two colleagues however have a far darker history together. Ciel and Noel both grew up in a small French town where, 13 years before the events of the visual novel, Ciel was possessed by Roa, who has the ability to reincarnate into another person's body when he dies.
Roa/Ciel goes on a rampage, murdering everyone in the village with Noel being the sole survivor. Roa is eventually killed by the true ancestor vampire Arceuid Brunestud but Ciel somehow managed to survive and both girls were taken in and became agents of The Church. With Roa emerging again in Japan, both have been sent to kill him once more.
They narrow down the search to a high school. Ciel disguises herself as a student and Noel as a teacher. While Ciel takes the mission seriously, in Melty Blood, we see that Noel more or less treats the mission like a big holiday, spending her time shopping and eating tasty food.
Turning into Dead Apostle Noel
Of the two routes in the Tsukihime remake, Noel plays a major role in the Ciel route.
She ends up bitten by the Dead Apostle Vlov Arkhangel. The bite isn't deep enough to turn her into a dead apostle however the fear still drives her mad.
Eventually, she meets with another new character, Dr. Arash, who tells Noel she's not a vampire but Dr. Arash could turn her into one since she likes to give weak people the strength they desire. She injects Noel with 'Idea Replica' which turns her into a dead apostle with a younger appearance and butterfly-like motif. Without going into too much detail, she goes on a rampage, and eventually, Ciels kills her by the end of the game.
As a dead apostle, Noel reverts to her fourteen-year-old appearance as that was when she was at her happiest, before the massacre of her town. It's also symbolic of the fact that Noel is basically one big woman-child, never really maturing or moving on from that hellish night, leaving her with an immense hatred for dead apostles and Ciel.
Noel ultimately serves as a foil to her partner. Ciel, disguised as a student, is mature, kind and one of the Church's best agents. Noel, disguised as a teacher, is childish, cowardly, and sadistic. She's noted to be a subpar Church executor who tortures and bullies those weaker than her to make up for her own lack of strength.
Noel/ Dead Apostle Noel in Melty Blood
Noel now appears twice in Melty Blood: Type Lumina. She's in the base game in her regular executor form and now as Dead Apostle Noel, coming to the game as DLC.
She primarily fights with a spear and you can definitely see her more sadistic 'bully the weak' side in some of her moves and quotes. Her story mode, which serves as a prequel to the Tsukihime Remake, has her attempting to track down Roa and eventually defeating Vlov. After that, it's back to shopping and cafes.
It'll be interesting to see what Dead Apostle Noel's story mode will be like considering Type Lumina is a prequel and Dead Apostle Noel shouldn't exist yet. It's probably a sort of 'what if' scenario, kind of like what Red Arceuid and Saber's story modes were.
Are you interested in playing as Ciel or Dead Apostle Ciel in Melty Blood Type Lumina?
Melty Blood Type Lumina is available for PS4, Nintendo Switch, and PC via Steam. Tsukihime – A Piece of Blue Glass Moon is available for PS4 and Switch but is currently Japan exclusive.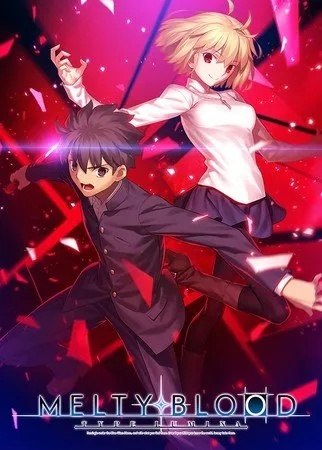 Melty Blood Type Lumina
Nintendo Switch, PlayStation 4, Steam, Xbox One
Explore an all-new MELTY BLOOD world from scenario writer Kinoko Nasu, based on the events of Tsukihime -A piece of blue glass moon-. Unique story events for each character give each playthrough its own feel, adding to the overall experience. Visuals have been updated with HD graphics, and include animation sequences by A-1 Pictures for special attacks. Dialog is fully voiced and will change depending on which characters are brought into battle, giving more insight into the characters' interpersonal relationships.
---
Check This Out Next
---