Pheonix Wright hasn't had the best experience with clowns, everyone remembers the pain that was cross-examining Moe in Justice For All, and yet a new clown girl has risen up from the depths of the big top to go on trial in the 2016 visual novel Ace Attorney: Spirit of Justice. And now six years later, she's started making the internet horny. This is Geiru Toneido, the clown girl from Ace Attorney.
Geiru Toneido is a 34-year-old balloon artist that appears in the sixth mainline Ace Attorney game, 'Spirit of Justice' as part of the fourth episode: Turnabout Storyteller.
So how did she spread clown girl fever six years after the game came out?
Well, a big part of it is probably the youtube video 'Disgraced Attorney: Phoenix Wright' which was released five days ago by animation Youtuber speedoru. It's a parody that features a more sexualized depiction of Geiru, and Prosecutor Miles Edgeworth getting rather excited over her. It also popularized the term 'clussy'.
That being said, it seems that clown girls have sort of always been a thing. I was able to find a group on Facebook called 'Clown Girl Honk Heaven' with over 109K members. The group was started in 2020 and seems to still be going strong. Despite how much people say they're afraid of clowns, I suppose for every phobia there's a philia as well. Some people just really, really like clown girls.
So what role does Geiru Toneido play in the Ace Attorney saga?
( Warning – Spoilers for Chapter Four of Ace Attorney – Spirit of Justice, skip to the next subheading if you don't want to be spoiled)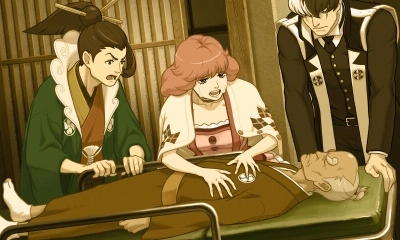 It turns out that she's not only a clown but a killer clown. Yup, she's the murderer of the chapter. She was the daughter of a famous deceased Rakugo artist called Uendo Toneido and wished to follow in her father's footsteps.
Her master Taifu Toneido however gave the title of Uendo Toneido to her childhood friend since her talents in rakugo were lacking. He instead tells her she should consider becoming a balloon artist, thus setting her on her clowney path.
Unfortunately, she didn't take it very well and decided to kill him as well as frame the now-current Uendo Toneido to take the title for herself.
While in court, defense attorney Athena Cykes was able to see through her lies and eventually get her to confess to being the real killer. In her quintessential Ace Attorney mental breakdown, it is revealed that her pink hair is really a wig and her large boobs were actually balloons, popping when she pulls her suspenders too far and causing them to snap back. This reveals her glamorous clown facade to be fake and she shows her true face.
The Clown Girl Trend
The youtube video has caused Geiru to start trending on Twitter and other parts of the internet, getting terms like 'Ace Attorney', 'Clown Girl', and well 'clussy' to trend with her in the process. This has also resulted in a lot of fan art and memes.
is ace attorney trending cus of the SEXY GODDAMN CLOWN GIRL????? pic.twitter.com/uiL8I9kews

— soap connoisseur (@leeeeeeef_) June 25, 2022
Twitter encouraging everyone to get into smashing girls who look like clowns is so fucking insane

I'm all for it pic.twitter.com/GhJPaeuAu6

— 𝐓𝐞𝐬𝐬𝐨✨ (@Tesso_dan) June 24, 2022
Can we all unanimously agree we have a bad case of clussy syndrome? #AceAttorney #Clown pic.twitter.com/uFbnc878Vl

— ⌜༒⌟ — ⋰𝐋𝐨𝐫𝐝 𝐑𝐮𝐭𝐚𝐛𝐚⋱ — ⌜༒⌟ (@LordRutaba06) June 27, 2022
Edgeworth being known as the clussy connoisseur gotta be like a historical monument getting tarred and feathered

— Mlick (@Mlickles) June 26, 2022
Phoenix Wright: Ace Attorney – Spirit of Justice is available for 3DS and Mobile Devices. The 3DS version will soon be unavailable for purchase since it's digital-only and the 3DS eShop is closing down soon but considering what we've discussed in this article perhaps it's best that it never sees the light of day.
---
Check This Out Next
---