That Time I Got Reincarnated as a Slime aka Tensura, will make its way into SINoALICE in 3 days' time, on 18th February 2021.
For a limited time, Rimuru Tempest, Shizu, Shuna and Milim Nava will appear in SINoALICE. The trailer also teased new versions of Alice and Snow White. So far, an adorable Snow White in the form of a slime, Snow White/Slime, is confirmed. Snow White/Slime will be a login reward for players.
As for Alice, the trailer teased horns on her character. Considering that the story of this event sees Alice and Snow White reincarnating into the world of Tensura, Alice will likely be an Ogre or Kijin.
As for the event characters, their classes remain unknown. It is extremely likely that there will be at least one Breaker character since both Rimuru and Shizu use swords in the anime. This is just speculation, but there are likely to be rearguard characters, since all four Tensura characters can use magic.
The Slime collab will also bring soundtrack from Tensura into the world of SINoALICE.
Finally, a social media campaign is ongoing for this event. All players can get up to 300 Twilight Crystals depending on the overall participation.
To take part,
Follow @sinoaliceglobal on Twitter
Retweet the following tweet.
One lucky winner will be walking away with a Rimuru T-shirt.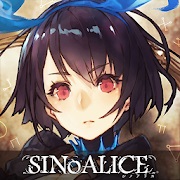 SINoALICE
Android, iOS
Fairy tale characters fight to "revive their author". Enter the dark world of SINoALICE as imagined by Yoko Taro (Drakengard, NieR).