Puzzles & Survival is, at its core, a match-3 puzzle game, complemented with a number of other mechanics to add more layers to its gameplay. You fight off zombies, build up your base, help others, and survive!
If that sounds interesting to you, then get the game via the GameCenter, then check out our tips here to help you along the way!
---
STARTING OUT
You'll need to familiarize yourself with the match-3 puzzle gameplay to defeat the zombies. It's simple enough: match 3 tiles of the same colour either horizontally or vertically to break them and shift more tiles into the field. Tiles come in from the bottom of the screen, with any unbroken tiles staying in place at the top. Matching 4 tiles will create a grenade that destroys tiles in a cross shape, while 5 tiles or more will create a grenade to destroy all tiles that matches its colour. Being able to make as many combos as possible will greatly increase your attack.
Here comes the twist. You have up to 5 characters whose colours correspond to the tiles. If you don't break tiles of their colours, they won't attack, nor charge up their special skills. Having one character of each colour would greatly increase your odds of being able to at least take an action even if they're not of an advantageous colour. The weakness chart can be seen at the top left of the screen.
Additionally, you also need to keep in mind the position of the tiles you're breaking. You may be building up your combo, but if the tiles miss completely, you won't be able to defeat the zombies anyway. The stages can become more complex in that there will be obstacles you need to break first too, or needing to target specific things. They will be well worth your time to complete for the resources for either strengthening heroes or upgrading buildings, and recruitment tokens to get heroes.
BUILDING BASE
Once you've completed the tutorial, you'll be able to start managing your base. This means building and upgrading various facilities to get resources for more upgrades, and more functionality.
One of the first things you should definitely prioritize building is the Alliance Hall. Joining an Alliance is one thing; the Alliance Hall is what allows you to send Help requests to speed up your own building, and be able to assist with requests from your fellow Alliance members. Do be sure to donate to your Alliance as well to upgrade the various skills to improve everyone as a whole.
Upgrading your buildings should be a natural process of progression. Upgrading your resource buildings in the Farm, Lumber Mill, and Virology Labs can be some of the highest priority ones as these will give you the materials needed for further building upgrades and strengthening your heroes. Later on, you'll be able to train troops, get gear, and so forth, to ensure you will always be able to tackle the challenges in your way.
DON'T FORGET THE BASICS
Be sure not to lose sight of the simple, yet important things as you and your alliance members make the best life out of this zombie apocalypse.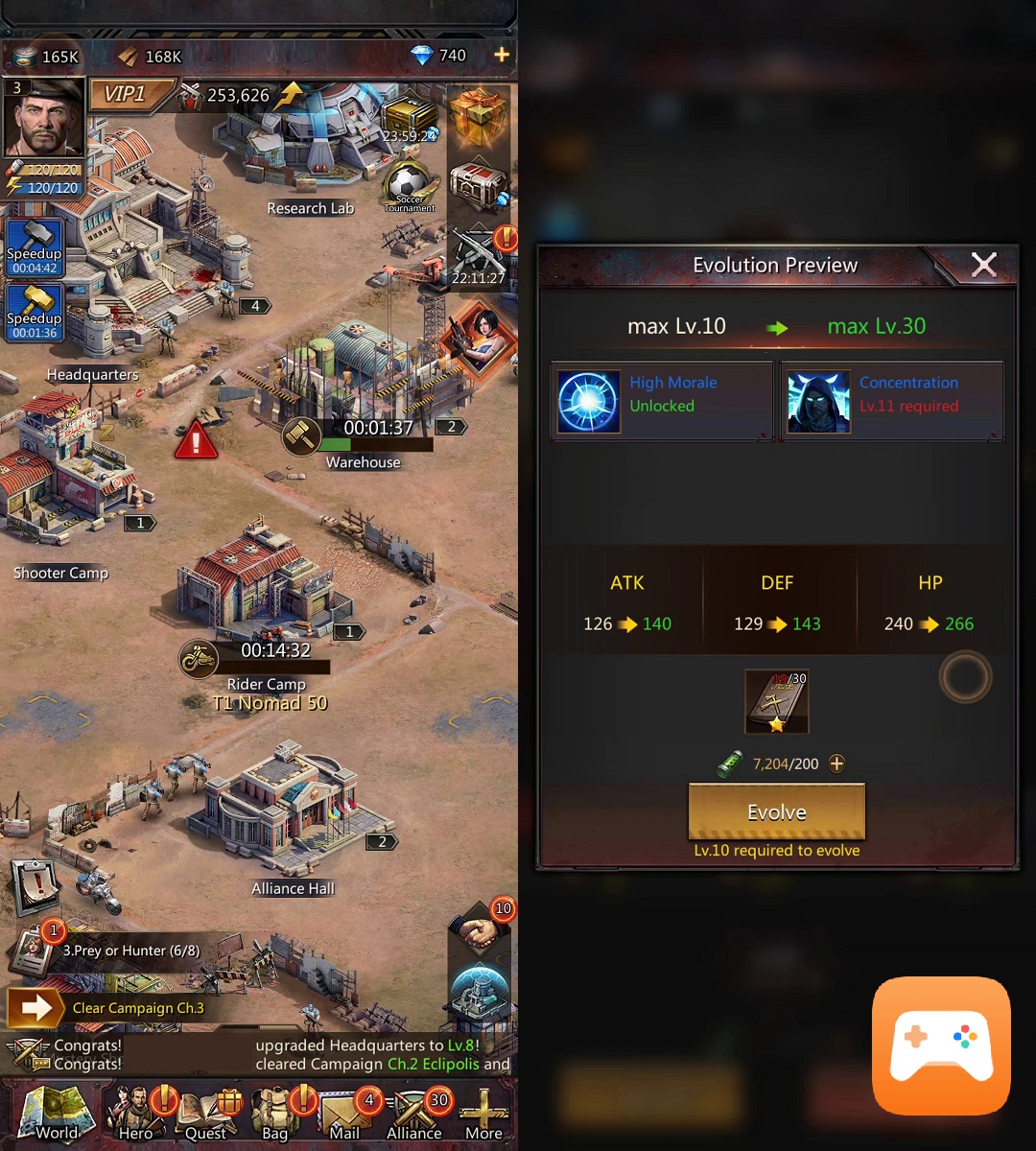 Check out the events and participate where you can for various rewards! Following the recommended quests will provide plenty of resources to help you get to the level you need to participate and improve your heroes and base. They make good guidelines to ensure you are on par with those at your level.
Keep an eye out for these mini events marked by these red triangles around for even more stuff!
Heroes can be upgraded not just in levels, but also through evolution to increase their level cap to get you access to more of their skills. Don't look down on lower star rarity heroes; efficient use of skills, a well-rounded team and general upgrades can get you far.
Last but not least, there's freebies you can pick up every now and again, outside of the mini events. The Radio will present you quizzes with participating and winner prizes if you can answer them correctly. Noah's Tavern offers materials or more importantly, hero frags, the latter which can let you recruit new heroes to add to your team.
---
As with any game, there will be more things to juggle the more time you put into the game. However, let's ensure that our foundation is solid enough so that we don't get overwhelmed in our continuous battle against the zombies of Puzzles & Survival.
Get Puzzles & Survival through the GameCenter, and help us help you fight the good fight!
---
Check This Out Next
---