As the Slime collaboration ends today, two banners will take over its place. Dorothy/Cleric and Gretel/Alternative are coming to SINoALICE. They will be available today (4th March 2021) at 8.00 am UTC after the maintenance.
Decked out in what seems to be an old diving suit, Dorothy/Cleric will make her SINoALICE debut in the Invader of Territorial Waters grimoire. Players can get her by pulling her SR weapon, Staff of Curiosity in the banner. Other featured SR weapons in the banner include Scherzo (instrument), Toxic Snake Spear (polearm) and Shatterer (heavy weapon).
Gretel/Alternative will also make a return in the STEP grimoire, Purple Smoke Jester Redux. Gretel/Alternative is of the Paladin class and first appeared in November last year. If you did not obtain her the first time around, this will be your chance.
Like all the other STEP grimoires, the fifth pull guarantees a featured SR weapon. The featured SR weapons are Gun of Obsession (projectile), Steel Flute (instrument), Voltage Dictionary (tome) and Intent of Delusion (polearm). Getting Intent of Delusion unlocks Gretel/Alternative.
A new promotion also makes its way to the shop. Purchasing this promotion gives players the SR Nightmare, Rikone, Nine-tailed Rejection and 354 Twilight Crystals.
Recently, the game added the world chat feature as promised during the previous SINoALICE TIMES live stream. In addition, players can expect another crossover event to drop either this month or the next, based on the game's roadmap.
Follow SINoALICE on Twitter for more news.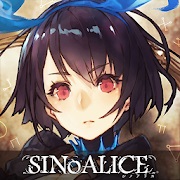 SINoALICE
Android, iOS
Fairy tale characters fight to "revive their author". Enter the dark world of SINoALICE as imagined by Yoko Taro (Drakengard, NieR).