The next Act of in the story of SINoALICE, Act of Fusion, is finally available alongside new characters and weapons to obtain.
Act of Fusion Available Now!
Open your eyes to a new world, and a new story unfolding within!

Not only that, but to celebrate the story's release, we've got a special mission available now!
Don't miss your chance to rake in some twilight crystals!
Check in-game for more details. pic.twitter.com/c6XEoDkUmG

— SINoALICE Global (@sinoaliceglobal) February 7, 2022
Besides the new story chapters and verses, the highlight of the new content is Alice/Alternative-Blood, a bloody version of Alice in her school uniform. Just like the Alternative version, Alice/Alternative-Blood is a Breaker. She is obtainable via the Act of Fusion Release Celebration Grimoire by obtaining the featured SR weapon, Blade of Binding Blooding. Note that this is a STEP Grimoire which guarantees an SR weapon with every fifth pull. Other featured SR weapons include Amor Fati Accompaniment (instrument), Mischievous Spirit (polearm) and Hexwood Staff (staff).
Besides the Act of Fusion Release Celebration Grimoire, there is also another STEP Grimoire available in SINoALICE, Covetous Onyx Crow & Wolves' Wrathful Ruin. This banner adds Little Mermaid/Greedy Crow Paladin and Red Riding Hood/Wrath Wolf Crusher to the game. They can be obtained by pulling the featured SR weapons, Singing Scythe of Greed (Kageuchi) and Mace of Wrath (Kageuchi) respectively. Other featured SR weapons in this 5-Step Grimoire include Blossoming Melody (instrument) and Meadowland Codex (tome).
For more information on the game and its new content, be sure to follow the SINoALICE Twitter account.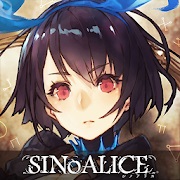 SINoALICE
Android, iOS
Fairy tale characters fight to "revive their author". Enter the dark world of SINoALICE as imagined by Yoko Taro (Drakengard, NieR).
---
Check This Out Next
---