With the recent reveal of Apex Legends Season 16, the class system that we all know is getting an overhaul.
In Season 16, the roster of Legends will be divided into 5 new classes: Assault, Skirmisher, Recon, Controller, and Support. Each class will get their own set of perks, and players can choose the right Legend based on their position in the team. This system will allow some of the more obscure Legends have more opportunities to shine.
Assault Clas
Ash
Bangalore
Fuse
Mad Maggie
Revenant
The Assault Class will let Legends open a special red box with the intelligent loot system (Similar to ones from the IMC Armoury in Storm Point). The boxes will provide a higher tier attachment based on the ones that you and your squad have.
Aside from that, the Assault Legends can carry additional capacity of bullets which can come in handy when poking and prodding enemies.
Skirmisher Class
Wraith
Octane
Pathfinder
Valkyrie
Horizon
Mirage
The Skirmisher perk allows Legends to scout for the loo in the airdrop that's about to land. Players can use this information to work around the airdrop.
Recon Clas
Seer
Bloodhound
Crypto
Vantage
Recon Legends can use the Survey Beacon to scan enemies on the map that for 30 seconds. Although, the enemies that get scanned will know someone is tracking them, which would also expose your location.
Controller Class
Caustic
Wattson
Rampart
Catalyst
The ability to scan for the next ring is now part of the Controller Class perk. Controller Legends will get a new machine called the Ring Console that lets you scan following rings.
Support Class
Lifeline
Loba
Newcastle
Gibraltar
Lifeline's second passive that lets her open blue supply boxes for extra regen supplies will now be a Support Class perk instead. In addition, they're also able to buy back a teammate's banner at a Replicator that's already been timed out.
Legend Update
Seer and Bloodhound
Seer will be getting a massive nerf in the upcoming season. The duration of his ulti will decrease and also see an increase in its cooldown. While his passive of being able to see enemy heartbeats will remain, there will be a spacing between heartbeats instead of being constantly shown. Enemies in Seer's ulti will no longer show an icon over the enemy, but only their footsteps.
Bloodhound's Tactical Ability will no longer have its cooldown decreased while in his ulti. Bloodhound's ulti will also be getting a rework that will have their pet raven fly to the closest enemy team instead.
Mirage
When successfully reviving a teammate as Mirage, both you and your teammate will remain invisible for 3 seconds. Although, the invisibility will break prematurely if you pull out your weapon. In addition, enemies that shoot a Mirage decoy will be tracked for a short time.
Wraith and Pathfinder
The distance between Wraith's ulti is increased and Legends travelling in the rift will also now move faster. Meanwhile, Pathfinder's ulti has its ranged increased as well increasing zipline speed. Both changes will allow players to move more efficiently on the map and cover more ground.
Horizon and Lifeline
The shooting accuracy while mid air when using Horizon's Gravity Lift will be decreased but lift up speed is increased. Whereas with Lifeline, the animation of putting down the healing D.O.C is smoother and her ulti's drop speed and range is increased.
Weapon Update
Season 16 will feature a new Energy Assault Rifle called the Nemesis that fires four rounds per burst. With a ramping burst delay that decreases the time between bursts makes it simulate a fully automatic weapon. The ramp up will be maintained for a short period of time, even if players are reloading or in battle.
The fan favourite R301 will be getting a nerf by decreasing 1 damage per pullet, as well as reducing hip fire accuracy. The nerf makes sense since they would want to debut the new weapon and balance out the usage of the guns.
Shotguns will be getting a buff by adding a Standard Stock slot and the addition of a gold shotgun bolt. The Standard Stock improves handling, reduces reload speed while the gold shotgun bolt lets you auto-reload your shotgun when sliding.
The Volt SMG and the Longbow will be put into the Crafter to replace the C.A.R SMG and G7 Scout. The Rampage will be taken out from the care package and is replaced with an enhanced version of the Hemlock.
Anniversary Event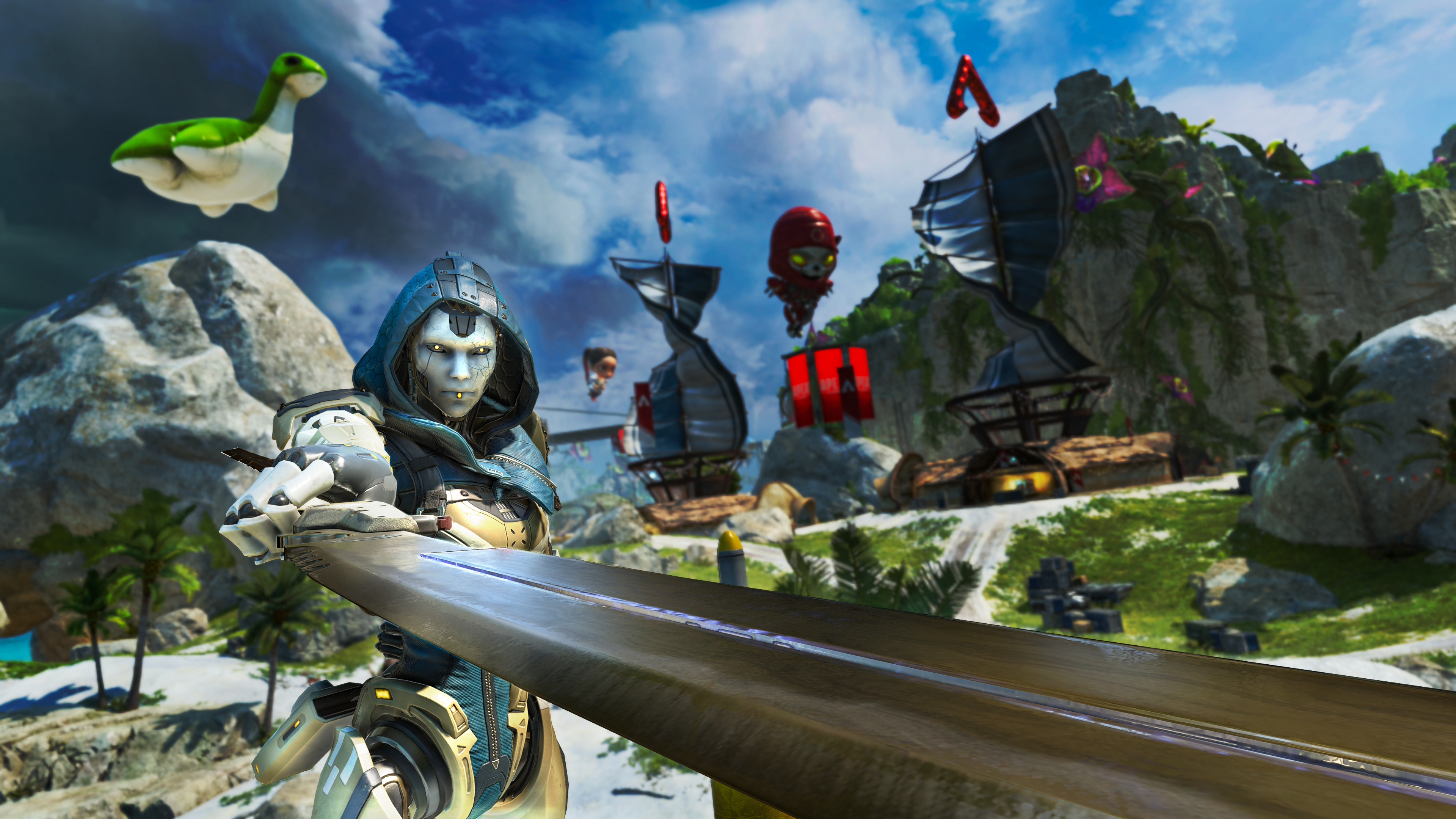 Season 16 also marks Apex Legend's 4th Anniversary and to celebrate, all maps in-game will be decorated with Chibi parade balloon of Legends, as well as other apex anniversary decorations. Additionally, an in-game air show will feature at the start of each match which leaves colourful smoke trails in the sky.
On top of that, everyone's favourite party boat will be making its return. Now dubbed the Mirage Voyage, this POI provides an interactive loot party like no other. The boat has been upgraded to feature new elements including a dance floor and a golden Mirage Mask Head.
The Mirage Voyage is a limited time POI and will only be available for the duration of Season 16 and features on Broken Moon, Storm Point and Worlds Edge.
---
Check This Out Next
---