Developers GY Games set sail with their latest entry Sailing Era, a simulation RPG game that takes place in an era of great geographical discovery in the 15th to 17th century. Published by BiliBili, Sailing Era is available on PC via Steam and Epic Game Store.
Setting Sail
In Sailing Era, you are introduced with four characters: Andrew, Abdullah, Yun Mu and Yoshitaka Shizuma. Getting to know the characters, you'll get to see that each of them have their own aspirations and goals in mind while exploring the world.
You have Andrew who wants to be the world's greatest navigator, Abdullah who wants to take revenge on the pirates, Yun Mu who strives to be a successful trader, and Yoshitaka wanting to be a good shipbuilder.
But throughout my time with the game, it seems like the main characters doesn't meet up with each other. This is mainly because of the timeline of the game itself. You are provided with the dates and number of days for sailing but it doesn't mention the year. Honestly, it would've been nice if we could see all of them cross paths and how they would interact with one another.
Facing the Waves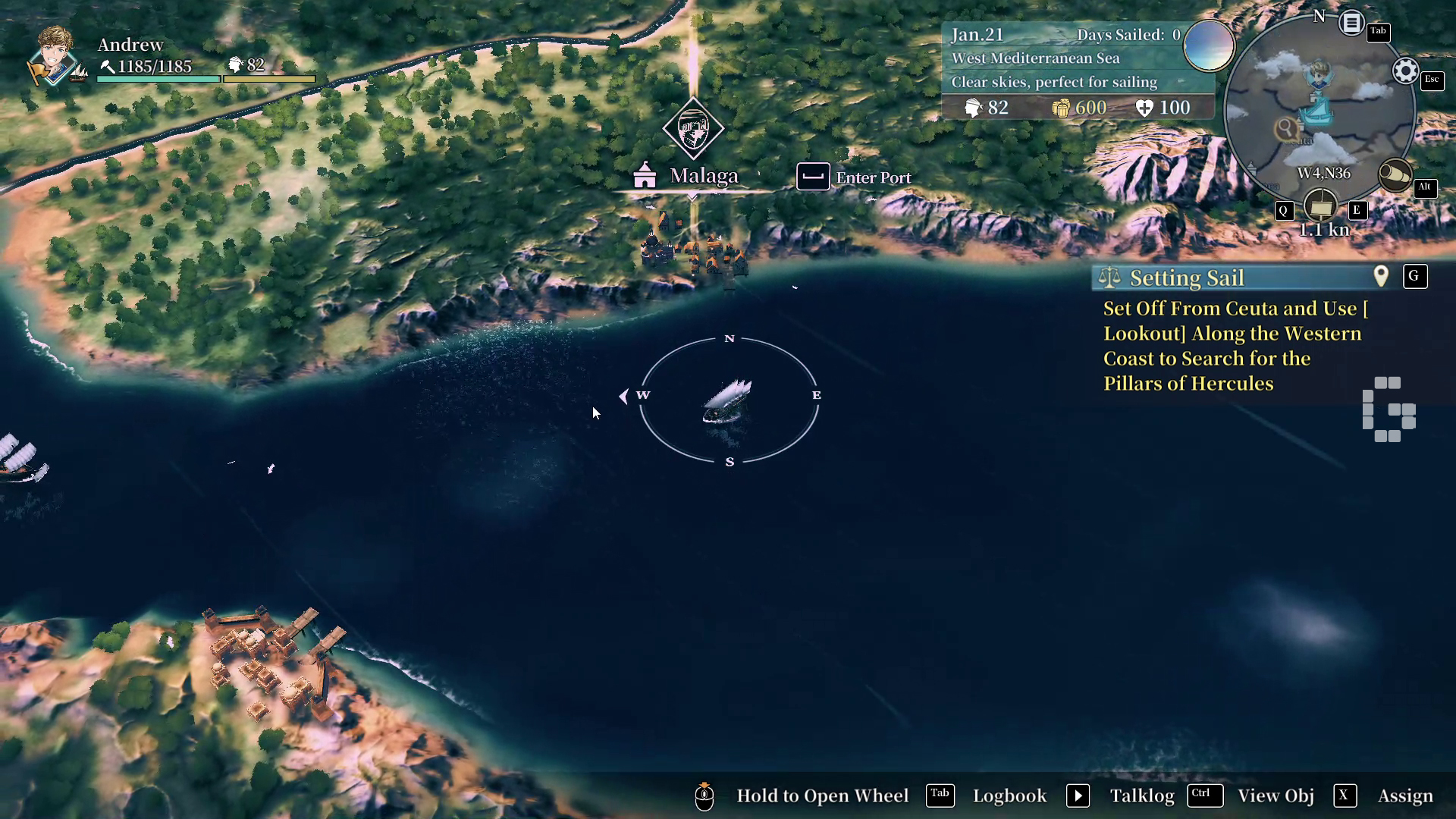 There are surprisingly a lot of intricacies that you need to pay attention to in Sailing Era. There's the sailors, ships, funds, supplies, etc. Even before setting sail, you'll need to assign characters to different rooms available since this expands as you upgrade your ship. Each character has their own specialty and by assigning them to the designated room, you'll get certain bonuses when exploring the sea.
After that, you'll need to hire sailors and load up your supplies before you set off. You're able to set the amount of space you'll need to sell off items around the world. After completing all of that, you're able to set off and meet all sorts of wonders around the world.
Navigating your ship is pretty easy with either a mouse and keyboard or a controller. Do keep in mind that you won't be able to remap any of the buttons while on controller, so you'll need to get used to the pre-existing buttons. Thankfully, you're able to map out the buttons with the mouse and keyboard.
Quests and ports
For each chapter, there are certain quests available that you'll need to take care of. But in order to complete each chapter, you'll of course need to complete the main quest. There are also side quests in the game but they're mostly there for you to be familiar with the mechanics, map and trading.
The objectives in each quests often give out vague clues or a simplified map for players to understand. The main map doesn't mark the exact place that you need to go to. And while it does give off a sense of immersion of exploring an unknown land, I did have to spend hours figuring out the exact location, often getting lost in the process.
As you try to get your quests done, you'll find ports along the way, and these ports are important since it's one of the ways to resupply and do trades before continuing your journey. At certain ports, there is a "post" where you explore the land of the region and some of these quests will need you to go on land explorations.
The exploration is done through a hexagonal grid and you'll need supplies and items before commencing it. While it does sound simple on paper, but it's not fun when you don't find the goal of the exploration and burn through your supplies.
Fishing is also another way of resupplying for exploration. You can fish as many times as your rod allows, but once it's broken you'll need to use a new one.
Aside from the "post", there's a tea house and tavern where you can level up your characters. Here you can order drinks to boost your sailor's morale while recruiting new ones. This is also where you can get some extra spicy information and even take up some new side quests.
Libraries offer up a lot of interesting knowledge but that requires a bit of extra brainpower to learn. That said, you'll need to level up your character's skill since there are some quests that will require you to read in the library.
There's also a trade market and even a black market available for players to either buy or sell off your goods. This is one of the ways for you to gain cash in the game. And as the game suggests, always go for "Buy low, sell high".
All Hands on Deck
Getting this right out there, the combat in Sailing Era doesn't play a great part in the game. Normally you'd just need to fight off pirates in the area, and you'll often find them when entering dangerous water. There's two ways of combat: Ship battles and Hand-to-hand combat, where ship battles have you steer your ship and fire off cannon balls.
As with hand-to-hand combat, you'll need to ram the enemy's ship. And honestly, this is probably the easier way to win your battle. Although it does requires high-level characters with high morale.
Combat in the game tends to feel dragged out and is relatively time consuming. There were instances where I spent 15 minutes just to get 2 pirate ships. And since there's no difficulty settings, you'll need to rely on your sailing skills to evade and attack the enemies.
Amass Treasure
Visually, the art style in Sailing Era reminds me a lot of titles such as Granblue Fantasy and Octopath Traveler. Each of the characters have their own unique traits which makes each of your sailing journeys a lot more memorable. Though I personally would love it if the main characters have their own voice lines rather than just sighs or grunts.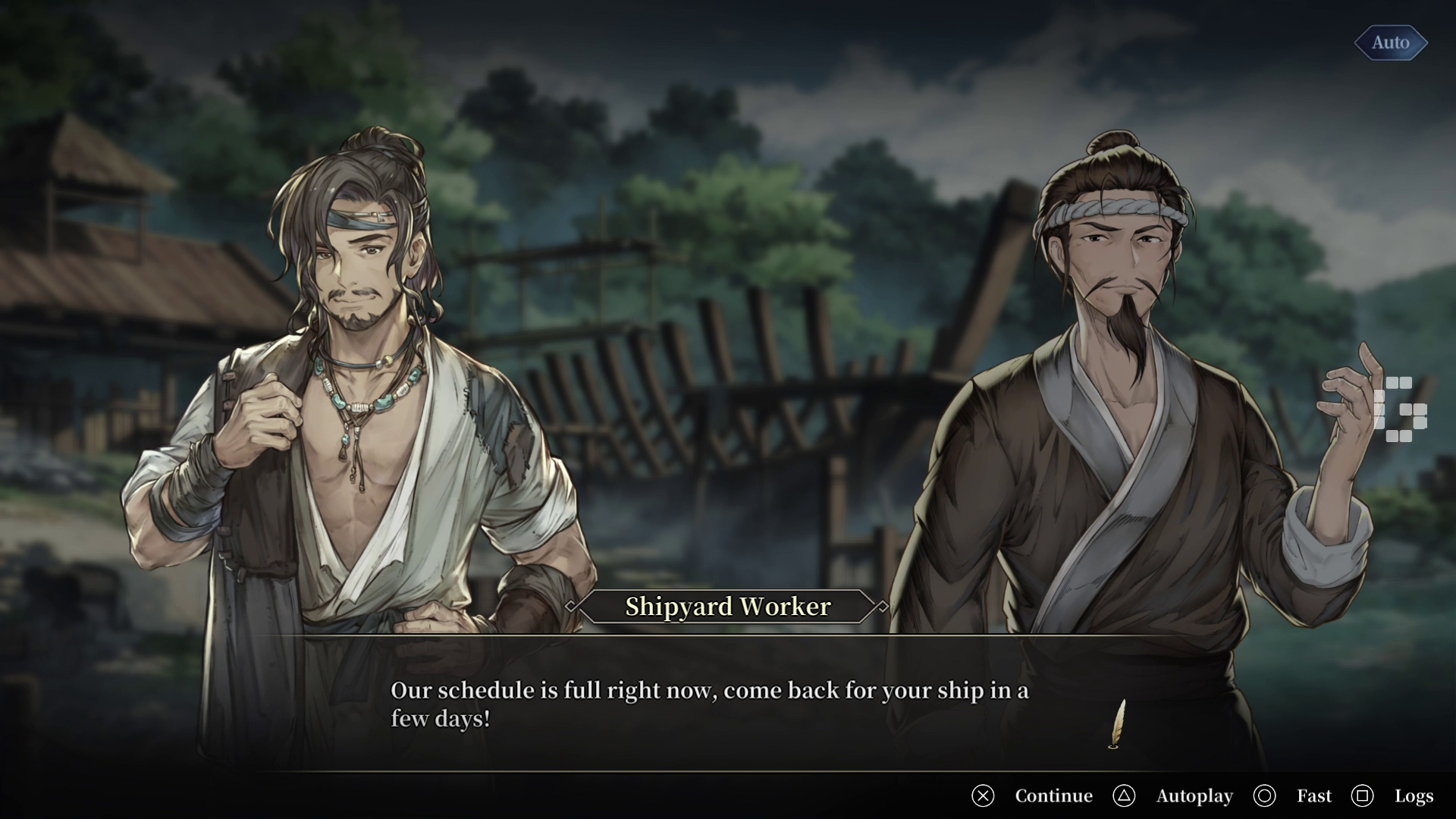 Speaking about the voice, the NPCs in the game have their own voice lines and they're even in different languages based on their native tongue. It's kind of weird that the main characters aren't voiced out while the NPCs are, but I totally welcome it with open hands.
Verdict
Sailing Era manages to give me new experiences while exploring this genre, though you might want to set aside some ample to finish the game. While uncovering the world map, you'll face challenges along the way with pirates and storms.
While trading is easy, you'll really need to pay attention to each port and their specific demands. And it was a really nice surprise to have NPCs that speak in different languages in each region, all in a very natural way too.
| | |
| --- | --- |
| Pros | Cons |
| Full of culture to experience | Mechanics aren't too beginner friendly |
| A vast map to explore | Battles take forever to end |
| NPCs have voice actors for different languages | |
---
Sailing Era was reviewed on PC via Steam.
---
Check This Out Next
---