Thanks to ROG Malaysia, we got our hands on the spiffy new Alan Walker edition of their 2021 ROG Zephyrus G14 gaming laptop.
We'll be unboxing the contents of the ROG Zephyrus G14 AW SE. If you're looking for a review, you can refer to the one we did for the 2021 ROG Zephyrus G14 as the Alan Walker Special Edition is identical to the standard version specs-wise.
Laptop
The laptop comes in a shade of grey with blue accents. The desktop wallpaper features Alan Walker posing like he just came from Avatar: The Last Airbender.
The keyboard also features a unique design, especially for its space bar. Certain keys like Esc, right shift and enter have a light blue accent, while other keys are in various shades of grey. The standout keys are definitely the A and W keys, which has the Alan Walker initials on them.
As for the lid of the laptop, the AniMe Matrix display comes with Alan Walker's A and W initials by default. Below the AniMe Matrix display, two belts with a fabric finish also give a unique look overall. Towards the bottom left corner of the Zephyrus G14 lid, there is a cool reflective "ROG x Alan Walker" plate.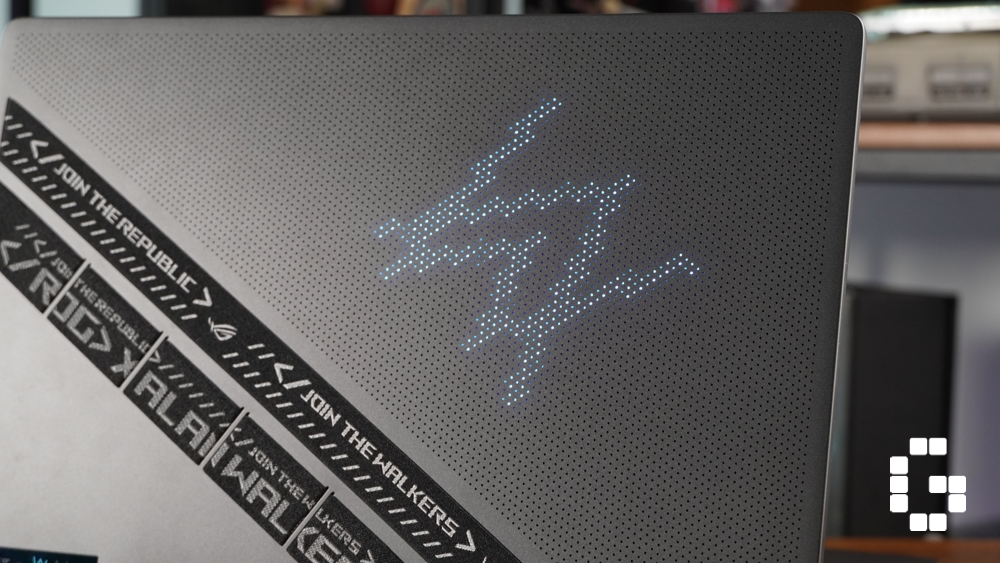 Box
The box for the Zephyrus G14 isn't just a regular package, it actually doubles up as a DJ Deck! Simply connect the box to the laptop and you can start making music.
The symbols on the top of the box are basically DJ deck buttons. While it's debatable if the box can actually compete with a proper DJ deck, it's still a great tool to impress your friends.
Case
The laptop case also has accents similar to the belts on the lid of the laptop.
Cap
The ROG Zephyrus G14 AW SE also comes with handy paraphernalia, such as this cap.
Socks
For the ultimate Walker, these ROG x Alan Walker socks will be a perfect fit, covering your feet as the cap covers your head.
---
That is all for this unboxing. Once again, thanks ROG Malaysia for the cool product!
For those interested in getting their own ROG Zephyrus G14 AW SE, visit the ROG website.